Willow Tree Road Repairs Update
Council is holding an information session on the progress of the Willow Tree Road repairs.
The meeting will be held at 6:00 PM on Thursday 3 February 2022 at the Merriwa School of Arts.
More details on Council's website at:
https://www.facebook.com/events/1540558359707916/?ref=newsfeed
_____________________________________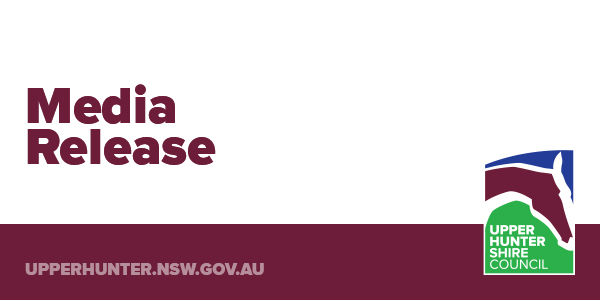 2022 Upper Hunter Australia Day Award Winners
Community members have gathered across the Upper Hunter Shire to celebrate the 2022 Australia Day award winners and nominees at ceremonies in Cassilis, Murrurundi and Scone.
The Australia Day ceremony in Scone also included a citizenship ceremony for 13 individuals from eight different backgrounds.
Australia Day Ambassadors author Catherine DeVrye, founder of national charity Every Little Bit Helps Katryna Robinson, and Managing Director of Good for the Hood Jo Taranto shared their inspiring stories at the ceremonies.
Winners were announced across a variety of categories including the overall Upper Hunter Citizen of the Year and Young Citizen of the Year.
The 2022 Upper Hunter Shire Citizen of the Year is John Brooks.
John is currently the Chairperson of the Scone Legacy Group and leads a team of dedicated people.
John previously ran a local engineering business, Brooks Bros. During this time, he was always a supporter and sponsor of many sporting groups, including horse sports and the Murrurundi King of the Ranges. He is also a member of the local Westpac Helicopter Support Committee.
The 2022 Upper Hunter Shire Young Citizen of Year is Dylan Denley.
Dylan has been an active member of the Upper Hunter Youth Council. He currently attends Scone High School, where he will complete the HSC in 2022.
Dylan shows initiative by researching ideas and approaching community members to seek support for issues he feels most strongly about. The Youth Council decided to raise awareness of the issue of homelessness by participating in a stay at home sleep out. To show his support, Dylan recently slept out of his bed for a month. During this challenge, Dylan single handedly raised significant funds for homelessness services.
Maurice Collison, Mayor for the Upper Hunter said it was great to see such a high calibre of nominee across all districts.
"It's great to see so many valuable members of our community recognised for their efforts," said Cr Collison
"There are so many outstanding individuals that really deserve to be acknowledged.
"I sincerely congratulate the winners of this year's awards as well as all those who were nominated, " she said.
A full list of Australia Day winners across all categories can be viewed below.
Aberdeen
Citizen of the Year: Robert Dixon
Young Citizen of the Year: Dylan Denley
Young Achiever of the Year: Ciennah Sullivan
Merriwa
Citizen of the Year: Robert Smith
Young Citizen of the Year: Brodie McMillan
Achiever of the Year: Beatrice Voysey
Achiever of the Year: Sharee Witney
Young Achiever of the Year: Ruby Wong
Sustainability in Business: Merriwa Petroleum & Ag Supplies
Community Group of the Year: Merriwa Pony Club
Murrurundi
Citizen of the Year: Dayna Hynes
Achiever of the Year: Sam Levik
Young Achiever of the Year: Montana Rando
Community Group of the Year: PUSH48
Special Award:
Excellence in Community Service: Doing it for our Farmers Murrurundi
Scone
Citizen of the Year: John Brooks
Young Citizen of the Year: Emily Grainger
Achiever of the Year: Janie Jordan
Young Achiever of the Year: Samuel Barry
Special Awards:
Excellence in Health Services: Dr John Paradice
Excellence in Mental Health Services: Pauline Carrigan
Upper Hunter Shire Australia Day Awards
Upper Hunter Shire Citizen of the Year: John Brooks
Upper Hunter Shire Young Citizen of the Year: Dylan Denley