Senator the Hon. Bridget McKenzie
MEDIA RELEASE
HITTING THE ROAD IN SUPPORT OF DROUGHT-AFFECTED COMMUNITIES
10 January 2019
The Liberal and Nationals Government is partnering with NBN Co to help farmers and local businesses in drought-affected areas access support.
Minister for Regional Services, Sport, Local Government and Decentralisation Bridget McKenzie said the Liberal and Nationals Government would be using NBN Co's Sky Muster satellite vehicles to provide a free WiFi service to assist in lodging online claims for drought assistance at outreach events across New South Wales.
"I urge anyone affected by the drought to attend local outreach activities, where a variety of support services will provide representatives to assess individual situations and provide advice," Minister McKenzie said.
"I also want to remind people who may be feeling the pinch at this time of year that there are a range of community mental health and telehealth services available to regional Australians to support them in this trying time.
"This outreach is about putting communities in touch with support networks such as Government agencies, charity groups and other organisations that can provide or facilitate crucial support services.
"Representatives from Australian Government agencies will be in attendance to provide assistance to enable people to access the range of support available.
"Representatives from the Salvation Army, St Vincent de Paul Society and Rotary Australia World Community Service have also been invited to attend to distribute a range of immediate support as part of the Government's $30 million Drought Community Support Initiative for people across parts of drought-affected parts of Australia."
The outreach will occur from mid-January through to March, kicking off from 15 January in West Wyalong, Condobolin, Parkes and Forbes.
"People are doing it tough, and some are reluctant to ask for help because they think other people are worse off than them, but there is plenty of support to go around," Minister McKenzie said.
"We have established a $5 billion Future Drought Fund that guarantees support against future droughts faced by farmers and communities in rural and regional Australia along with boosting the Drought Communities Program and increased the number of local councils that can apply for funding up to 81. This provides an opportunity for each of these communities to invest $1 million to stimulate their local economies.
"Information will also be available about the Government's range of other support measures, including the Farm Household Allowance, tax assistance measures, farm investment and drought loans, employment assistance, insurance rebates and the Rural Financial Counselling Service.
"The importance of better regional telecommunications cannot be over-estimated. Since being elected, our government prioritised the roll-out of the NBN in regional Australia with around 98% of regional homes, farms and businesses now able to connect or under construction.
"It is fantastic to see NBN Co getting behind drought-affected communities as the company continues to rollout Sky Muster satellite internet to regional areas – over 93,000 active services to date."
More information on the Liberal and Nationals Government's drought support initiatives is available at www.agriculture.gov.au/ag-farm-food/drought
Outreach session details: See attached image.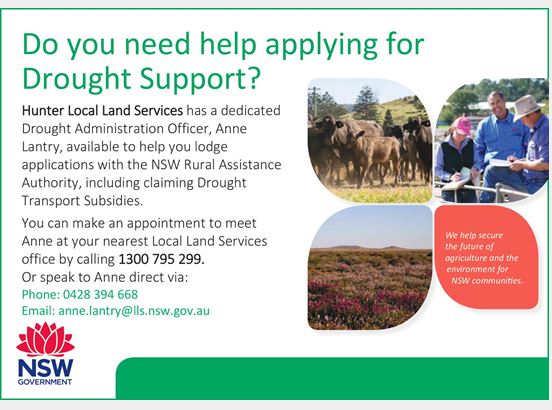 _________________________________________
MERRIWA MEN'S SHED
COMPUTER COURSE
Merriwa Men's Shed, in conjunction with
TAFE, are planning a computer course
in DIGITAL MEDIA and TECHNOLOGY
starting with an information session on
February 5, 2019 at 10.00am-2.00pm.
This will continue Tuesdays at this time
until June 18, 2019.
The TAFE course is free but there will be
a charge of $50.00 for the use of the
shed and amenities.
Expressions of Interest are to be placed
by contacting Peter Reed on 0428 513
113, via email to [email protected]
or Jim Alker on 0427 482 868 or email
[email protected]
All participants MUST be over 16 years
and not attending school.
Jim Alker
____________________________________
Merriwa Non Emergency
Medical Transport
VOLUNTEER POSITION
VACANT
Car drivers with good driving record are needed
urgently to work for a vibrant local business
responsible for transporting passengers to special
appointments.
Interested drivers are invited to join this
highly respected and long established local
organisation.
Hours are flexible on a needs basis and when
drivers are available.
Conditions of employment include provision of
uniform, car provided and meal reimbursements.
First aid course training is required and provided.
Applicants will be required to a Police Check
and be certified to work with Children.
If you have the aptitude and the interest
in transporting passengers for a fast paced
organisation please contact Lorna 0466 876 106.
Merriwa and District Non Emergency Medical
Transport will be closed from: Monday December
17 – Monday January 14, 2019.
Any appointments for January 14 and onward,
please leave your name and telephone number
on our office phone 6548 2653 and I will contact
you the week prior to January 14.
Merry Christmas to all from all of our staff.
Lorna Parnell
_________________________________________
Merriwa Business Gift Card
____________________________________________
NEMTS Merriwa
FREE TRAVEL FOR FARMING FAMILIES
Merriwa Non Emergency Medical Transport is
offering all Farming Families in our District FREE
travel to Medical Appointments for the duration
of this severe drought.
Just mention that you are a farmer when making
your booking. Phone 6548 2653 or at the office in
the Bottle Museum, 9.30am to 3.00pm. All types
of Medical Appointments are covered by this
offer. We travel to Newcastle, Tamworth and
Orange and all in between plus to Sydney.
Bryan Baker
_______________________________________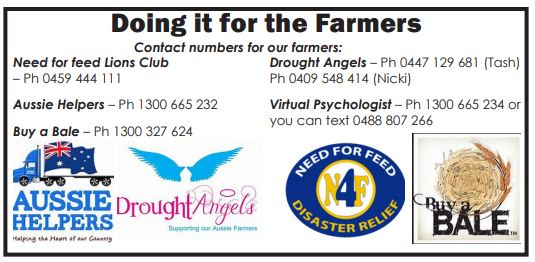 ________________________________________________
Businesses save fees with Upper Hunter Country branding
There's also $1000 grants for a shopfront make-over
The simple act of adding an 'Upper Hunter Country' sticker to an A-frame, chalkboard or tables and chairs on the footpath, will save a business its 2018/19 annual footpath trading licence fees in the Upper Hunter Shire.
Upper Hunter Shire Council is also offering financial assistance to business owners to help revitalise streetscapes in towns across the Shire by way of a grant of up to $1000 to refurbish shopfronts.
The Upper Hunter CBD Shop Front Assistance Fund is to provide one-off assistance to businesses in Aberdeen, Merriwa, Murrurundi and Scone central business districts (CBDs). Council will contribute a one-off allocation of up to $1,000 ex GST (or 50% of project costs – whichever is the least) per standard 15-metre shop front.
These initiatives are part of Council's strategy to encourage shop owners to promote tourism as well as improving the look of Upper Hunter town's CBDs.
The Upper Hunter CBD Shop Front Assistance Fund Application Form and Guidelines are available on Council's website www.upperhunter.nsw.gov.au under Do It Online / Apply for It / Community Grants.
Live link: http://upperhunter.nsw.gov.au/f.ashx/a-zdocuments/Scone-CBD-Shop-Front-Assistance-Program-Guidelines-and-Application-Form-June-2017-Fields_distributed.pdf
Copies are also available from Council offices.
To find out more about Upper Hunter Country branding contact Council's Environmental and Community Services department on 6540 1100.
Daele Healy
Communications OfficerPhone: 02 6540 1110 (Mondays & Wednesdays)02 6540 1358 (Tuesdays)Fax: 02 6545 2671Email:

[email protected]

UPPERHUNTER.NSW.GOV.AU A Quality Rural Lifestyle – in a vibrant, caring and sustainable community
_________________________________________________________
Routine X-Rays available at MPS Again
Routine X-Rays are available in Merriwa again, as of last Wednesday, at the MPS, and every Wednesday from then.
If you are a patient of either of the local GPs they can make a booking for you. If you go to an out of town GP or would like to make your own X-Ray booking phone 6542 2093 and ask for an appointment in Merriwa.
___________________________________________________________
____________________________________
Merriwa Community Diary
________________________________
TransCare Bus Timetable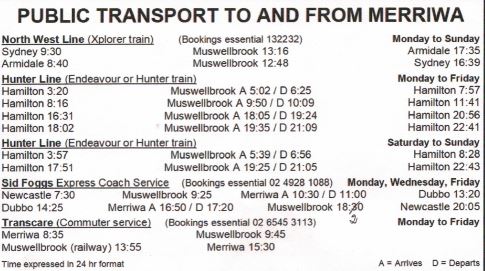 Merriwa Weather Conditions Currently