Merriwa RSL Club
As most of you will be aware the club is currently open for up to 50 patrons at any one time, and as from July 1 this will increase to 100 patrons. We are hoping to restart our Sunday raffles on July 5, with the Friday raffles planned to kickoff on July 10, with our courtesy bus also restarting on July 10 also for pickups, drop offs and home deliveries of meals.
Our current hours of trade are;
Bar – Monday to Wednesday 11.30am – 8.30pm
Thursday 11.30am – 10.00pm
Friday 11.30am – 11.00pm
Saturday 11.00am – 11.00pm
Sunday 11.00am – 3.00pm
Bistro – Tuesday/Wednesday 5.30pm – 7.30pm
Thursday/Friday/Saturday 12 noon –
2.00pm/5.30pm – 8.00pm
Sunday 12 noon – 2.00pm
As restrictions are lifted these time may vary a little. Once again I would like to take this opportunity to thank you all for your understanding and
support during these strange and unusual times.
Matt Morgan
________________________________________
MERRIWA WOMENS BOWLING CLUB
Merriwa Womens Bowling Club Annual General Meeting will be held Monday July 27, 2020 at the Merriwa Sports Club at 3.30pm.
Nomination forms are available on the Ladies Notice Board at the Sports Club. For more information please contact Loretta
Cooper.
Loretta Cooper
__________________________________________
_____________________________________
Can Assist
Can Assist is committed to ensuring that all people, regardless of where they live in NSW, have access to cancer treatment and care. By providing accommodation, financial assistance and practical support to people from
rural and regional areas, we ensure that country people are given the same opportunities and treatment choices as those who live in city centres.
Travelling near 150kms a day for six weeks of Radiotherapy treatment is expensive. an Assist Merriwa will help with the petrol vouchers, or accommodation, where appropriate. here is complete flexibility, the exact form of assistance depends on the unique needs of the patient. For assistance please call 1300 226 227.
Merriwa Can Assist membership forms are available at IGA Merriwa. Merriwa Pharmacy and Merriwa Home hardware. membership fees are
$5.00 for 12 months. Come along and support a worthy, grassroots organization where all monies raised locally supports patients diagnosed with Cancer locally.There will an official launch of our Can Assist branch in October 2020.We look forward to holding fundraising events as soon as
the COVID-19 virus allows.
Marlene Rogers
___________________________________
_______________________________________
_______________________________________
Merriwa to Willow Tree road reconstruction
Preparation and planning is underway for major reconstruction on sections of the Merriwa to Willow Tree road (MR 358, also known as Coulson Creek Rd).
Sections of the road which passes across the Great Dividing Range, remain single lane with a five tonne load limit.
Upper Hunter Shire Council apologises to users of the road, the NSW and Federal governments who provided funding, and the Liverpool Plains Shire, for the ongoing delays in completing the work.
"This was always going to be a highly technical challenge on a difficult site. However, the work undertaken last year by Upper Hunter Shire Council has not met the specifications and the job needs to be redone to meet specifications," General Manager Steve McDonald said.
"We are committing more funds to the project and bringing in the necessary expertise to fix the deficient sections of road. It has not been completed to the standards and requires significant reconstruction work.
"The absolute priority is driver safety. The load limit will be in place until the road is fixed, which could take up to three years," he said.
"Once the design works are complete, the detailed cost and indicative timeline for construction will be known. We want to get it done as quickly as we can to the required B-Double standards."
Council is applying for pre-approval of a loan of up to $5 million to complete the major road infrastructure works to connect the west of the Shire – including Merriwa and Cassilis – to the New England Highway.
Member for New England, Barnaby Joyce, welcomed council's continued commitment toward upgrade of the Merriwa-Willow Tree Road.
"This is a crucial link for people in the Upper Hunter which is also helping connect our corridors of commerce in the New England so it's important we get it right," Mr Joyce said.
Background
Cracking of the pavement and downslope fill embankment appeared after completion of earthworks in October and November 2019, with further cracking in February 2020. After a site inspection on 3 March 2020, Council engaged Geotechnical engineers Douglas Partners who were on site within 48 hours. After geotechnical advice on the condition of road and associated infrastructure on 5 March 2020, a 5 tonne load limit and single lane was put in place.
Investigations, field work and daily monitoring have continued since then.
Rectification works
Last week Council received the draft Geotechnical report on the road condition and initial recommendations for rectification works. An independent project review and audit is also underway.
Council is working closely with Transport NSW on the project, who have agreed to allocate a Project Manager for the duration of the work. The Transport NSW Project Manager will work within a Project Control Group, to manage the preparation of the new design and tender documents for the construction work, and oversee the construction work.
The design process for the works, will require the usual environmental, and geotechnical assessments. Council has completed a detailed survey for the 3.4km section of road.
It is expected the designs will be complete and the construction work will be put to tender within a year.
The detailed design will include a dual lane road with a minimum 9 metre formation and 8 metre seal, as well as associated infrastructure such as guardrail, rock fall protection, rock fencing, retaining structures, drainage structures and appropriate earthworks.
Further information about the MR 358 project is available here. https://upperhunter.nsw.gov.au/your-council/media/news/council-to-seek-loan-pre-approval-to-complete-major-road-projects-in-west-of-shire.aspx
Steve McDonald
GENERAL MANAGER
_______________________________________
Merriwa Tourist Welcoming
Centre and Men's Shed
RE-OPENING
FRIDAY JUNE 19, 2020
We are delighted to announce our re-opening this Friday at 10.00am – like all businesses here and everywhere we have suffered financially from the three month lock down and are hoping to "hit the place running".
The Centre is well stocked with new products and we would also like to welcome a few new traders – it is always great to introduce new products into our large inventory.
Initially our hours will be 10.00am to 2.00pm, Friday, Saturday and Sundays – we will review in a few weeks time – hope we will see many visitors and our own local residents – the Centre will be adhering to all the Covid-19 guidelines laid out by the appropriate authorities – see you all soon!
In closing I would ask the person or persons who are maliciously or otherwise spreading unsubstantiated rumours/gossip about the Welcoming Centre's involvement with the Tourist Information Centre to stop doing so – it is without any solid foundation and is merely creating an unnecessary annoyance to everyone.
Edith Shipway
_______________________________________
_________________________________
Merriwa CWA
CWA and Hunter River Group is offering two educational grants to students living in their district. Each year the Hunter River Group of the Country Women's Association (CWA) awards two educational grants for which any students residing in the boundaries of the Hunter River Group area can apply.
The two grants are:
The Hunter River Group Education Grant, valued at $500.00, for a student entering Tertiary Education, whether it be University, TAFE or College. This Grant was originally established by the Diamond Jubilee Fund to provide financial assistance to a student in pursuing a chosen career.
The Jean Latham Education Grant – Year 11 students who are entering Year 12 and reside in the bounds of hunter river group. Value $300.00 To be eligible to apply for these Grants, the student must meet the following criteria:
Reside in an area bounded by Murrurundi in the north, Merriwa in the west, Belmont in the south and Nelson Bay in the east.
• Be Entering Tertiary Education
• Demonstrate a need for financial assistance
• Mature students may apply.
How do you apply?
Students need to apply through the branch closest to where they live regardless of where they go to school or work. Please contact the Branch Secretary for further information, and application forms.
Applications must be with your local branch before December 1, 2020.
If you live in the Merriwa area, but go to any of the following schools: Merriwa Central School,
St Joseph's School, Aberdeen, Scone Grammar School or Scone High School, please contact Kim Clydsdale at kmclydsdale@gmail.com or 0265 482 558 or 0421 910 658. If you send an email address I can then send you an application form.
Kim Clydsdale
____________________________________
Wool Press
Attention history buffs! We are lookingfor a suitable location to house a Koerstz wool press that has been generously offered by the Raymond Terrace Museum.
Unfortunately, the Merriwa Museum does not have sufficient room to house or display this item, so we are looking for someone who is interested in conserving part of Merriwa's wool growing history by accepting this generous offer. The press is ready to pick up from Raymond Terrace, but would require a truck to carry it due to its weight.
If you can help, or are interested, please contact Bryan Baker (02 6548 5000) or Stephen Gowlland (0438 572 908).
________________________________________
_________________________________________
_________________________________________________________________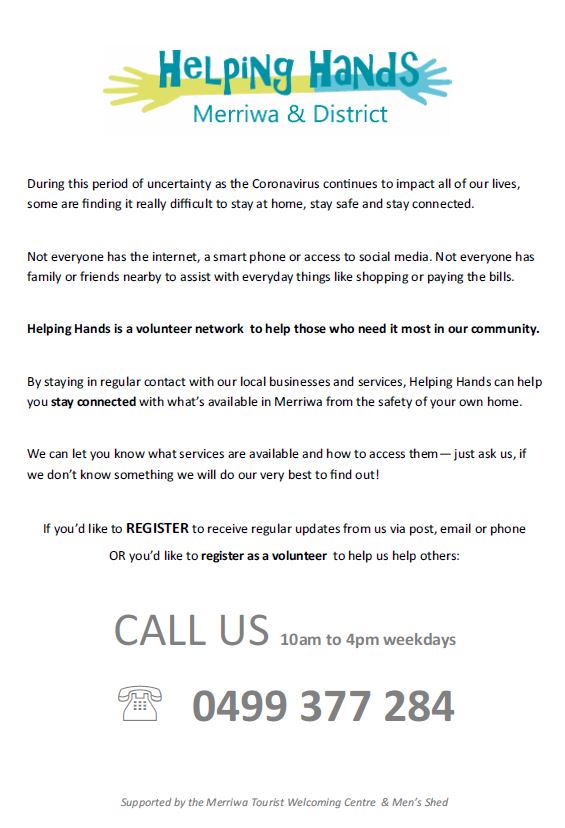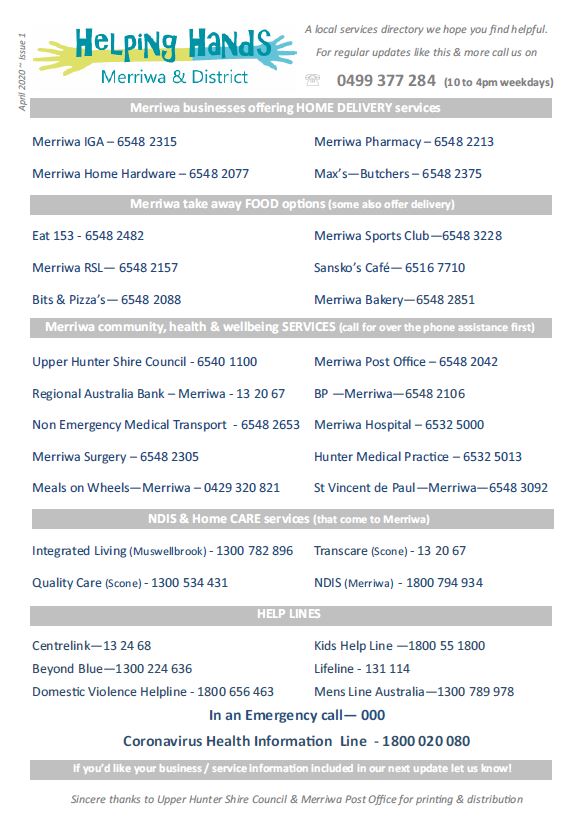 ___________________________________________
Merriwa and District
Community Drought and
Recovery Assistance
Community groups and service clubs are donating funds and goods from time to time to the Merriwa CWA and Merriwa Rotary Club to distribute in our local district for drought and
recovery assistance.
We are asking farmers, farming families,rural workers, agricultural contractors and anyone affected by the drought to register for Merriwa and District Community Drought and Recovery Assistance consideration via our new form. We cannot guarantee what help will be available and when. However the
plan is by giving people the opportunity to register, we will be able to equitably distribute funds and goods when available to people who need it. This is especially important in these uncertain times so we hope this form will give people the opportunity to reach out for assistance and maintain their privacy.
The details provided will be kept confidential and only made available to the drought committee lead for each organisation. Please when registering indicate your preferred contact method and any other comments in the notes section.
Please register and pass on this link to anyone else affected by the drought in the Merriwa, Cassilis, Gungal areas and surrounding district. You may also register others with their permission especially where they have no internet access. This information will only be used to distribute assistance from available funds and donated goods.
To register go to:
https://merriwacwa.snapforms.com.au/form/community-drought-assistance
Maria Cameron
_________________________________________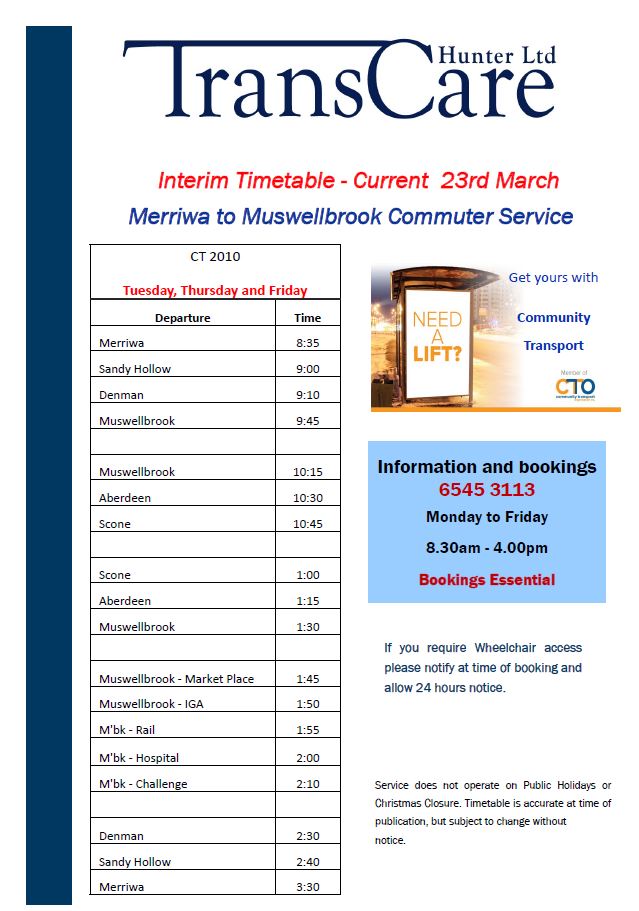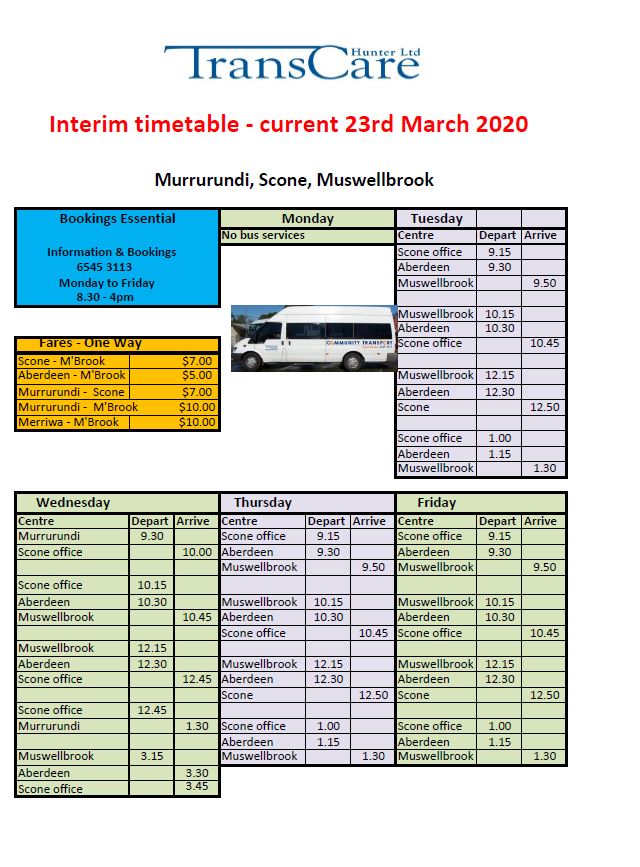 ___________________________________________
Merriwa Surgery
Dr Emad Jasem
Dr Adrian Plaskitt (3 days a Month)
For all your medical needs
Opening hours
Monday, Tuesday, Thursday & Friday 8.30am
-5.30pm
Wednesday 8.30am- 2.00pm
Closed for lunch 2.00pm to 3.00pm daily
For bookings please call the surgery on 02 6548-2305
COVID – 19 INFORMATION FOR MERRIWA
SURGERY PATIENTS
We are asking that patients who have respiratory symptoms of Corona Virus (COVID – 19) or similar, Please DO NOT present yourself to Merriwa
Surgery. If you are a patient with respiratory symptoms, we ask that you, in the first instance call the healthdirect hotline on 1800 022 222, prior to calling the surgery.
Presenting yourself to the surgery could result in the surgery being closed and quarantined, leaving the Doctor and staff also quarantined and preventing healthcare to the community. Please think of others during this time.
A phone consult can be arranged for those with symptoms following contact in the first instance with the healthdirect hotline as above. For up
to date information on COVID – 19 please visit www.health.gov.au
Dr Emad Jasem
_____________________________________________
Chance for teens to shine at Burn Bright Camp
Upper Hunter Shire Council is offering a free, life-changing opportunity to local young people aged 15 to 18 years, interested in experiencing a Burn Bright Camp during the July 2020 school holidays.
Burn Bright Camps help young people develop their well-being skills, to face challenges and adversity.
The Camp provides a range of fun activities including sharing of stories, music and video to establish a safe space for freedom of thoughts and self-expression and a collaborative, inclusive team culture. Over four days and three nights the young people will focus on values, service, grit and vision with group activities, motivational speakers and youth mentors.
Burn Bright Camp will run from 9-12 July 2020 at Vision Valley Conference Centre, Arcadia.
Council will cover all costs of the Camp including transport.
In 2020 the Camp is an alternative experience to the Upper Hunter Shire Young Endeavour Scheme, which Council has offered for 20 years.
To apply, young people must submit a short written explanation of why this opportunity would be beneficial to them and must be nominated by a school representative, parent or guardian or community member over 18 years of age. Young nominees must be an Australian citizen, have a normal postal address within the Upper Hunter Shire and be aged between 15 and 18 years at the time of the camp.
More information and expressions of interest forms are available at any Council administration office, http://upperhunter.nsw.gov.au/our-services/youth-services.aspx or email youthservices@upperhunter.nsw.gov.au
For more information about the camp visit www.burnbright.org.au
Nominations close Friday, 6 February 2020. 
__________________________________________
Merriwa Parkrun
WEEKLY FREE 5KM TIMED RUN
What is Merriwa parkrun? It is a 5km run – it's you against the clock.
When is it? Every Saturday at 8.00am.
Where is it? The event takes place at Rotary Park, Telfer Street, Merriwa, NSW 2329.
What does it cost to join in? Nothing – it's free! but please register before your first run. Only ever register with parkrun once. Don't forget to bring a printed copy of your barcode If you forget it, you won't get a time.
Register at https://www.parkrun.com.au/register/
How fast do I have to be? We all run for our own enjoyment. Please come along and join in whatever your pace.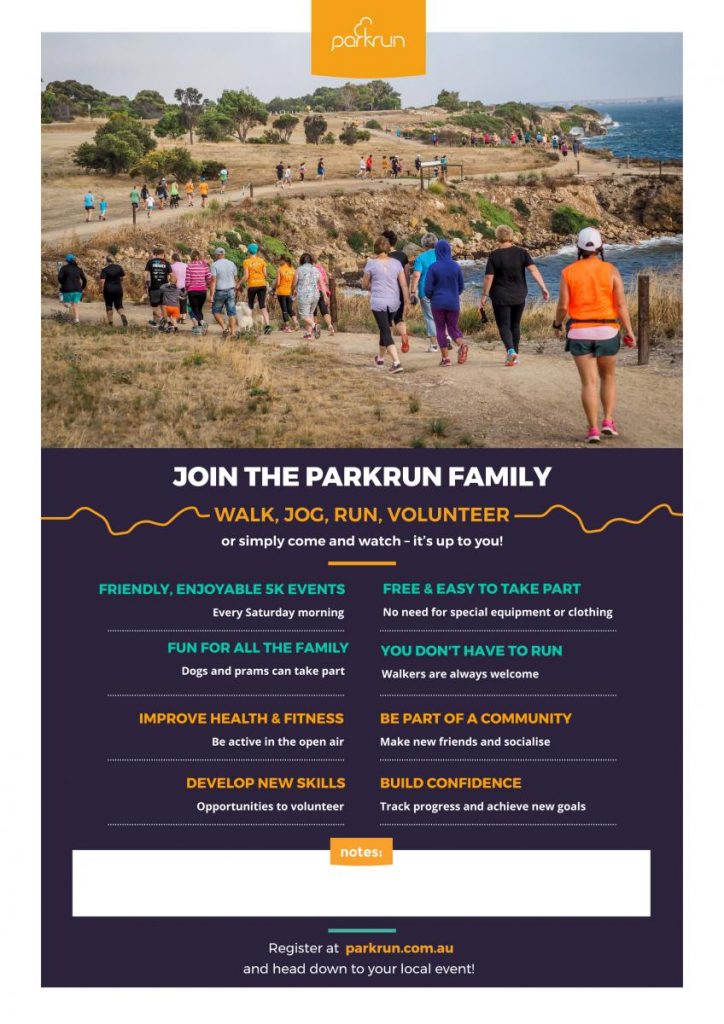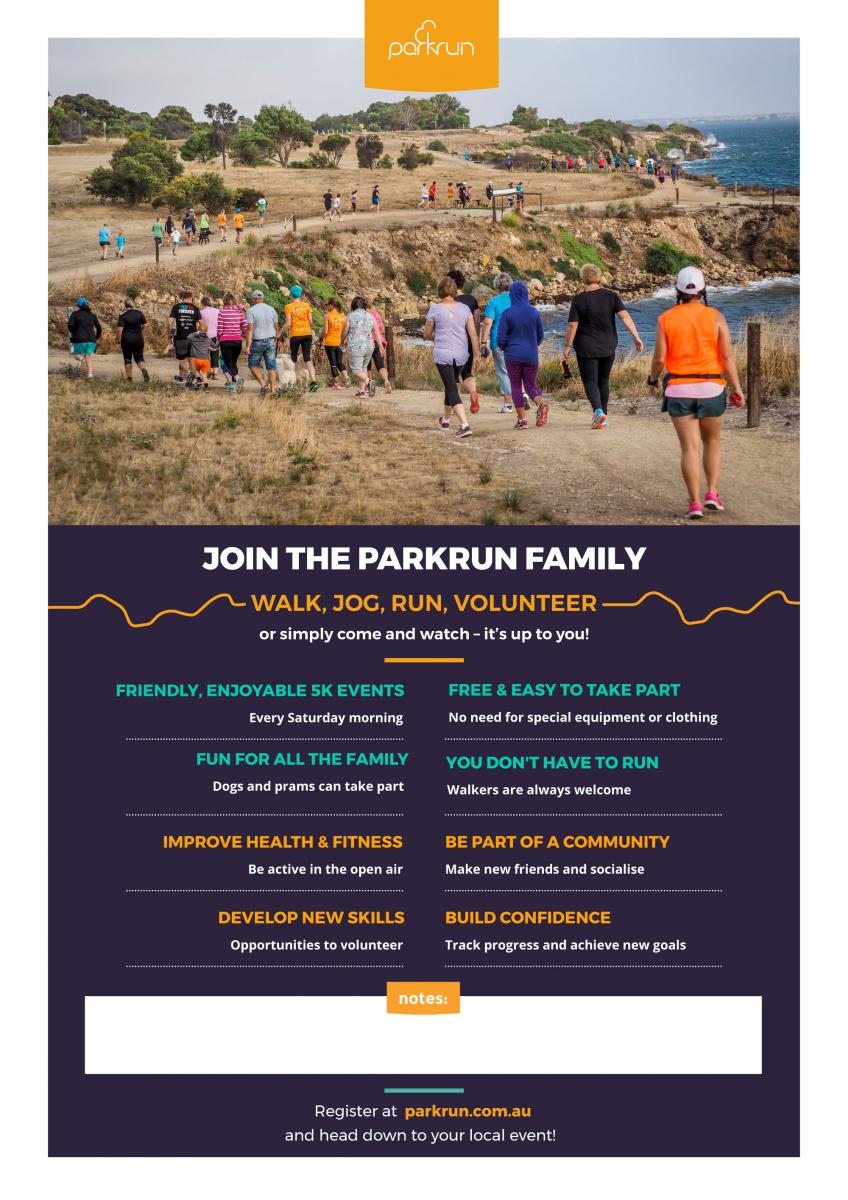 Merriwa parkrun needs you!
It is entirely organised by volunteers – email merriwahelpers@parkrun.com to help. We are friendly.
Every week we grab a post parkrun coffee in Sansko café – please come and join us! Participate in parkrun on Show Day to receive a free ticket to the Merriwa Springtime Show. You must show your barcode and walk/run/ volunteer to receive your ticket.
Ashleigh Golden
__________________________________________
Non Emergency Medical
Transport
We are required to give Area Health at least 48 hours notice of planned trips. To do this we need Clients to make their booking
with us in that time.
Telephone 6548 2653 or Office, Bottle Museum, between 9.30 and 3.30 weekdays.
Lorna Parnell
Office Manager
_____________________________________
Hunter Medical Practice -Update
Dr Noman Jawaad
Dr Ahmed Jalal
Dr Joe Paul
Merriwa – Cnr Brisbane and Mackenzie Streets – 65325013
Denman – 51 – 53 Ogilivie Street – 65473955
Muswellbrook – 80 Brook Street – 65431717
 Currently ours hours are 8am – 6pm over the 3 practices 
Merriwa hrs currently are Monday 1 Dr, Wednesday 1 Dr and Thursday 2 Drs 1 week then the next week is Wednesday 1 Dr and Thursday 2 Drs 
Denman is Wednesday 2 Drs and Thursday 1 Dr 1 weekthen the next week is Monday 1 Dr, Wednesday 2 Drs and Thursday 1 Dr
Muswellbrook is Monday 2 Drs , Tuesday 3 Drs and Friday 3 Drs 
We also have a Diabetes Educator attend our Denman and Muswellbrook rooms, a dietitian attending Muswellbrook as well as a Podiatrist. 
______________________________________________
Merriwa Business Gift Card
_______________________________________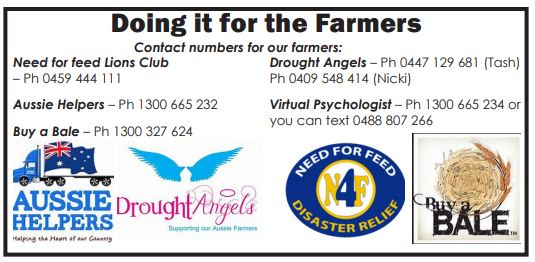 ___________________________________________________________
Merriwa Cup Race 2019
________________________________________________
Timelapse Painting Merriwa Silos
________________________________________________
  Merriwa Community Diary
________________________________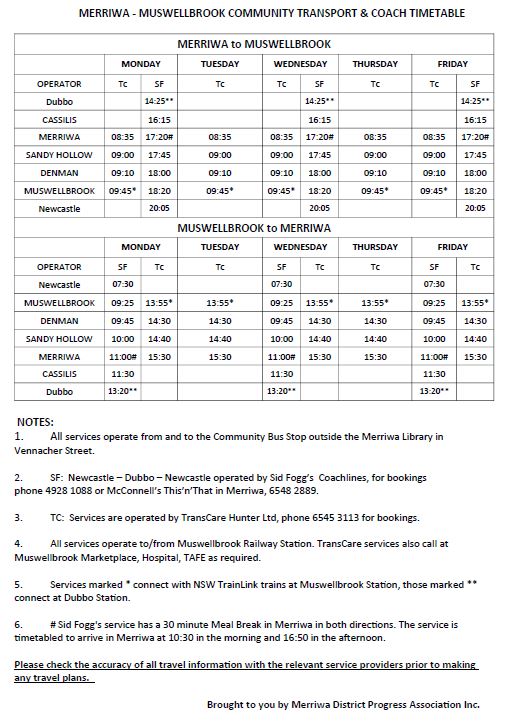 Merriwa Weather Conditions Currently