Le Tour de Merriwa
Come and ride along Coulson's Creek Road towards Willow Tree …
Coulson's Creek Road is a quiet rural road with minimal traffic and a relatively good road surface.
All riders will roll out of Merriwa at 8.00am and will need to be back in Merriwa by 12.00pm.
Riders can turnaround at any point, tailoring the distance to suit their ability.
Refreshments and toilet at 21kms, far turnaround and refreshments at 41kms (approx).
When: On Sunday March 7, 2021 at 8.00am to 12.00pm
Location: Merriwa Tourist Welcoming Centre, car park at the rear
Address: 161 Bettington Street, Merriwa, NSW 2329
Following on from Merriwa's first ever cycling event last March entries have just opened for the second Edition of Le Tour de Merriwa. The course winds out of town and up Coulsons Creek Road which crosses the Great Dividing Range 41km South of Willow Tree.
Last year we went to the top of the range and back and this year we were hoping to go down the other side onto the Liverpool Plains before turning around however, due to subsidence, the road has been temporarily closed 3km from the top on the Merriwa side.
That means that unfortunately this year's course misses the really big mountain climbs.
The good news is that 72km of the ride (total distance 78km) will now be on a road with no through traffic – a cyclist's paradise.
Registration is $45.00 and includes:
• Freshly baked date loaf, banana bread (and gluten free options) made by our local Country Women's Association
• A post ride BBQ run by Merriwa Mens Shed
• Electrolytes
• Energy Gels
• Insurance
• Bottled Water
The fee also includes a $10.00 donation to the Merriwa Volunteer Rescue Squad who will be managing traffic control.
This is a fair dinkum, grass roots country ride through one of the most beautiful dry land agricultural areas in Australia.
The whole town really gets behind this event and will be decorating in the blue white and red.
If you can't make it to France this year then this is the next best thing.
Please share this post to anyone you think may be interested.
Vive Le Tour!
Vive les escargots!
https://www.trybooking.com/events/landing/713703
__________________________________
Merriwa Uniting Church
"WORLD DAY OF PRAYER"
The World Day of Prayer this year is to be held at St. David's Uniting Church commencing at 7.00pm this Friday, March 5.
All are welcome and Covid 19 conditions will apply. For more information please contact Betty Campbell on 6548 5153.
Betty Campbell
__________________________________
Merriwa Rotary
THE FESTIVAL OF THE FLEECES
We learned during last week, that this year's festival has been cancelled. This is another casualty of Covid 19. The festival has traditionally been a big day for our community, as well as being, in particular, a very intense day for Rotary Merriwa with work starting on our barbecue well before the sun rises and ending as the sun sets. It has also been a day on which we have been able to raise significant funds to help the causes we support.
This year is also the one in which the Rotary Club of Charlestown had generously offered to come here on masse to run the barbecue on our behalf.
We respect the decision to cancel the festival for 2021. The numbers attending every year would have made the necessary compliance with Covid rules impossible to handle. Covid 19, having gone on its less-than-merry way, we shall be sizzling back into action in 2022.
SENIORS WEEK
This year, Merriwa Rotary will be joining with the Merriwa Hospital local committee in celebrations to mark Seniors Week in the second half of March. Activities are being planned and details will follow as we get closer to the date.
ROTARY BOWELCARE
This important annual lifesaving program runs from March until the end of May. Kits are available now and may be ordered by phoning 02 4341 6695, Tuesdays to Thursdays between 9.00am and 3.00pm or by using the internet Mail Order form, copies of which are available at Merriwa Pharmacy.
The cover-all cost is $25.00 which includes postage both ways, pathological testing of the samples and a report to the participant and to their nominated doctor.
This year, KITS ARE NOT AVAILABLE at PHARMACIES and MUST BE POSTED BACK DIRECTLY to Rotary BowelCare in the reply paid envelope provided.
Mark Smith
__________________________________
Hunter Local Lands Services
GOULBURN RIVER WILD DOG ASSOCIATION AGM
The committee of the Goulburn River Wild Dog Association would like to invite all Merriwa and Cassilis district landholders to attend the annual general meeting to be held at Merriwa RSL on Wednesday March 4 2021.
The meeting will start with a BBQ dinner at 6.00pm followed by the meeting at 7.00pm.
Membership of the Goulburn River Wild Dog Association is critical to landholder/community ownership of wild dog management in the local area.
The benefits of membership are:
• Update on local wild dog issues/ management
• Biannual ground baiting programs
• Assistance and support with a professional trapper from the Professional wild dog controller program (PWDC).
• Annual aerial baiting services
Location: Merriwa RSL
Date: Wednesday March 3 2021
Time: 6.00pm BBQ for 7.00pm Meeting
Please RSVP for catering purposes to Peter Campbell Ph: 0428 485 126 E: pw_campbell@bigpond.com or Hunter LLS senior biosecurity officer, Richard Ali Ph: 0429 722 944 E: richard.ali@lls.nsw.gov.au
Maria Cameron
__________________________________
Merriwa Hospital Auxiliary
LET'S CELEBRATE OUR SENIORS WITH A FREE LUNCHEON
The Rotary Club of Merriwa and the Merriwa Hospital Auxiliary have combined to host the Merriwa SENIORS FESTIVAL, a FREE LUNCHEON, commencing at 10.00am on Wednesday April 7, 2021 at the Merriwa School of Arts. We are celebrating the role SENIORS play and the value of the contribution they make to our community.
The festival aims to support people to remain active and socially connected within the Merriwa community by offering a mix of activities, to have fun, to learn, be engaged, be challenged and most importantly get out and about meeting new people and linking up with old friends. Make the MOST of this Seniors Festival. The event is free for Over 60's and a Gold Coin donation for Under 60's. Transport to and from the venue can be arranged – call the organisers to book a pick up. Bookings for the day are essential for numbers for catering, dietary requirements and of course COVID restrictions. First in best dressed. Numbers may have to be limited. RSVP by Tuesday March 30, 2021 to Elaine Sparrow 6548 8560/0427488 560.
The day will commence with Devonshire Morning Tea, followed by some fun, friendly and inclusive activities then a scrumptious hot and cold finger food luncheon. Everyone is welcome, YOUNG or OLDER. We love to celebrate, especially to showcase our wonderful Senior people within our beautiful community. A lot of you have made Merriwa what it is today and we wish to say THANK YOU for your valued contribution. So come along, bring your friends but most importantly BOOK YOURSELF in. The early bird catches the worm so they say, so do it NOW and get your name on the list of attendees. Your own personal TAXI can come pick you up if needed.
For bookings or more information call Elaine on 6548 8560/ 0427 488 560 /e: jesparrow46@gmail.com. We will need your name, dietary requirements and pick up or own transport. On the day we will have a sign in registry (COVID) and COVID related questions to answer but apart from that we want to celebrate, have fun, fill our hall with laughter and friendship and celebrate the SENIORS who live within our Merriwa District.
Elaine Sparrow
__________________________________
Merriwa District Progress Association
CLEAN UP AUSTRALIA DAY CANCELLED FOR 2021
The Merriwa District Progress Association is disappointed to announce it will not be organising the Clean Up Australia Day event in Merriwa this year.
Severe constraints imposed by the Clean Up Australia Day Organisation due to COVID-19 restrict the number of participants allowed to participate and impose control measures on the method of operation making it impractical to run this activity.
We sincerely regret this outcome, but plan to resume the Clean Up Australia Day in Merriwa in 2022.
Enquiries can be directed to Beron Arden-Wood on 02 6548 2245.
Stephen Gowlland
__________________________________
Arts Upper Hunter
A NEW DANCE THEATRE WORK BY CATAPULT DANCE CHOREOGRAPHIC HUB
Directed by: Cadi McCarthy and Craig Bary
Catapult Dance Company will visit the Upper Hunter in early March, introducing local audiences to their latest production; "Awkward, where a group of people come together for a party, having been invited by friends of the host. They don't know each other. They don't know anyone else at the party. They don't even know whose house it is, and their friends don't show up".
This contemporary dance performance will resonate with everyone who's ever felt socially AWKWARD and live performance enthusiasts over 13 years of age.
Enjoy a new and exciting experience in venues across the Upper Hunter;
When: March 10 at 7.00pm
Where: Merriwa School of Arts Hall, Bow Street;
Free Tickets can be arranged online by calling Arts Upper Hunter – 6541 4776 or online www.123tix.com.au
Supported by Create NSW and Arts Upper Hunter
These performances will be dedicated in memory of late Mark Reedman, Executive Director Arts Upper Hunter.
For more information, please contact Carolyn O'Brien – Acting Regional Arts Development Officer on 0409 382 509 or email rado@artsupperhunter.com.au
Arts Upper Hunter is supported by the NSW Government through Create NSW.
Sandra Reichel
__________________________________
Upper Hunter Shire Council
FESTIVALS' NEW FLEECE OF LIFE FOR 2021!
Due to the constantly changing nature of the pandemic the Festival of the Fleeces organising committee have unanimously agreed that the event, as it has traditionally been delivered for 29 years, cannot be held in a manner that is safe and economically viable in 2021.
The Festival of the Fleeces is adapting and the committee has gotten 'COVID-creative' for 2021. Designed to embrace and capture the same community enthusiasm and spirit that this event is known for, the hybrid version will be experienced through a mix of activities.
There will be a showcase of Merriwa from the main street, to the storefronts, to the footpaths, and to front yards. Visual displays and tributes to the history of the festival will lead up to a festival first – an online digital display that brings together two icons of the town – silo art and the traditional running of the sheep.
"We are looking forward to presenting a scaled down digitalised event that still captures the great spirit of the festival of the fleeces. The committee acknowledges the support of the UHSC in running this signature event at Merriwa." Cr Campbell said.
Upper Hunter General Manager Greg McDonald, was informed of the committee's decision and understands the position taken. "it is the committee and the community that guides and leads the organisation of Festival of the Fleeces and I know they have the best interests of the event at heart."
"The support Council has provided for the event in the past as part of the chartered agreement will continue this year and into the future."
Mayor Collison said "I recognise the value of this festival to the Merriwa Community not just in financial terms but in bringing people together to celebrate all that is great in the Australian Wool Industry. I can understand residents may be disappointed that we are not yet able to return to 'life as normal' and have the festival as we want it in 2021, but we are still in the midst of a pandemic, and as such I respect the committee's decision to scale down the event in 2021."
"I encourage you to support the event in 2021, and look forward to attending the Festival of the Fleeces, in all its red sock and sheep glory in 2022."
Maurice Collison
Mayor
__________________________________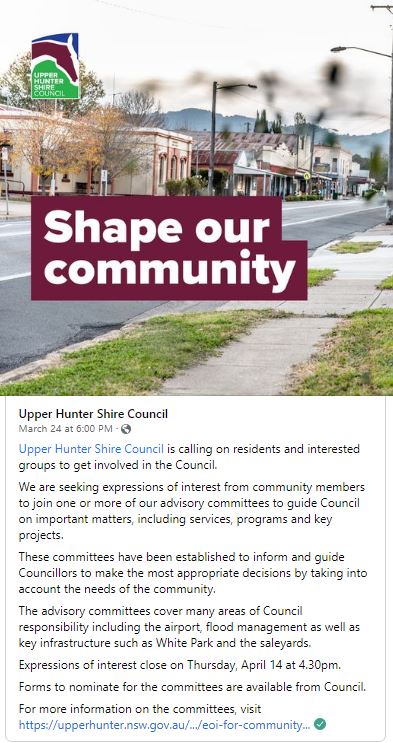 Notice: Change to DA lodgement and approvals in 2021
Upper Hunter Shire Council, like many other Councils across NSW, has changed the process for DA applications, with submissions solely accepted online through the NSW Planning Portal. This means Upper Hunter Shire Council can no longer accept applications over the counter or by email.
The Council has adopted a phased approach to this change allowing residents to become more familiar with the system.
Since January 2021, ALL development applications, construction certificates, appointments of a principal certifier, occupation certificates, subdivision certificates and complying development certificates have been required to be submitted through the portal. Private Certifiers have also been submitting their certificates through the portal.
From March 1, 2021, ALL applications under section 68 of the Local Government Act 1993 and sections 138 and 125 of the Roads Act 1993 will need to be submitted through the NSW Planning Portal website as well.
Mat Pringle, Director of Environmental and Community Services said "Upper Hunter Shire Council has been using the NSW Planning Portal for a few months now and applicants are benefitting from this fully online process, where they can lodge their application at any time from their home or office. They receive email notifications at every stage of the process and can track their application by logging in to the planning dashboard.
"The step-by-step process greatly decreases the likelihood of application errors being made, speeding up approval times for all involved.
"Everyone benefits from improved public transparency and communication between the applicant and Council."
Applicants must have an email address and be able to provide electronic files to upload. Hand-drawn plans must be scanned, not photographed. Photographs create distortions that alter the accuracy of the drawing.
Those who do not have access to technology can use a computer for free at their local library.
Council staff are available to assist with enquiries regarding the application process and can provide preliminary quotes.
The NSW Planning Portal is located at www.planningportal.nsw.gov.au
Greg McDonald
General Manager
__________________________________
Merriwa RSL Club
All raffles and badge draws have now resumed. Members must be present to claim any of the draws and present their current membership card upon request. It is an offence to NOT have your membership card on your person when on
the premises.
In line with Covid Safe regulations, ALL visitors MUST sign in upon entering the premises.
Wednesday Nights from 6.00pm – $6.00 PINTS – For every pint sold between February and June 30, the RSL Club will be donating $1.00 to help with Miranda Boland's recovery.
Entertainment – Friday March 26 live entertainment in the main lounge from 8.30pm.
Saturday nights – free juke box, pool comp$100.00 first prize, $5.00 schooners and House spirits. From 6.00pm till 10.00pm.
Courtesy Bus – the clubs courtesy bus if available for pickups on Friday's from 5.30pm (you must book by ringing club), with drop offs at 9.15pm, 10.00pm and 11.30pm.
HAPPY HOURS
Friday 5.30pm to 7.30pm
Saturday 6.00pm to 10.00pm
Sunday 11.30am to 12.30pm

Bistro hours
Lunch Thursday – Sunday 12.00/2.00pm
Dinner Monday – Saturday 6.00/8.00pm
Matt Morgan
_______________________________
Merriwa Sports Club
BINGO – No bingo for the time being.
Our bowling and golfing areas are looking absolutely amazing, why not come in for a social game of lawn bowls or golf? Contact the Sports Club on 6548 2028 or Brendan Cowell on 0427 027 891 for more information or bookings.
HONKI HAUS RESTAURANT
For bookings and take away – 0460 817 606
Honki Haus is now doing lunch time specials on a weekend. Come on in for a delicious meal, whether it's for lunch or dinner.
Honki Haus is closed Mondays and Tuesday. Open for dinner Wednesday to Saturday 4.30pm to 8.00pm. Sunday dinners 4.30pm to 7.00pm. Open for lunch Saturday and Sunday 12noon to 2.00pm.
Saturday Night Raffle – draw begins at 7.30pm. Ten meat trays and five fruit and veg trays up for grabs. Thanks to Merriwa IGA and Max's Country Cuts for the amaxing trays that you provide every week.
MEMBERS DRAW – Drawn any time between 6.30-8.30pm. Must be here to win! Member number 96 was not present
at Saturdays draw so jackpots to $275.00 this week.
HAPPY HOURS
Friday 5.00-7.00pm
Saturday ALL DAY! That's right, all day happy hours. $5.00 schooners, house spirits and wine. ALL DAY
CLUBS OPENING HOURS
Monday to Friday 3.30pm
Saturday 12.00pm
Sunday 3.00pm
As everyone is aware, COVID restrictions apply when in the club. Everyone is required to sign inupon entry using the Services NSW site. Please do not be offended if you are asked to sit down inside while drinking alcohol or when we reach our capacity and may be required to move to another area of the club.
Brendon Cowell
MERRIWA WOMENS BOWLING CLUB
Merriwa Lady Bowlers have commenced playing Mixed Social Bowls on Wednesdays commencing at 11.00am. Bowlers and non bowlers are welcome to come and join in a fun day of bowls and friendship. Casual Dress and flat soled shoes to be worn.
For further information contact Loretta Cooper on 0428 482 679, Beatrice Voysey on 6548 2065 or Philomena Constable on 6548 2320.
Loretta Cooper
________________________________________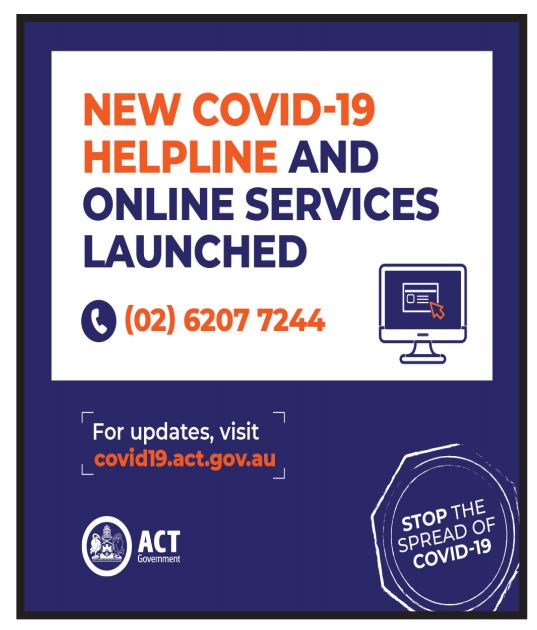 ___________________________________________
Helping Hands
During this period of uncertainty as COVID continues to impact our lives, some are finding it really difficult to stay at home, stay safe and stay connected. Not everyone has the internet, a smart phone or access to social media. Not everyone has family or friends nearby to assist with everyday things like shopping or paying the bills.
Helping Hands is a volunteer network to help those who need it most in our community extending across the old Merriwa Shire boundary. By staying in regular contact with local businesses and services, Helping Hands can help you stay connected with what's available in Merriwa from the safety of your own home.
We can let you know what services are available and help you to access them. We also work with other charities and community organisations to help distribute donated items such as food hampers, gift cards, clothing even occasionally the odd bale of mulch hay for the garden!
We would love to hear from you if you are a senior, living with a disability or someone doing it tough in some other way. There will be more donated items and groceries coming into the district over the next few months so if this is something that could make a difference to you or your family, let us know.
In keeping with Covid restrictions, we can only assist people who have registered with Helping Hands and given us permission to contact them.
To go on the register call (m:) 0499 377 284 Monday to Friday during business hours. Leave a message and we will get back to you! You can also call this number if you'd like to be a volunteer yourself.
Tash Taaffe
Helping Hands
________________________________________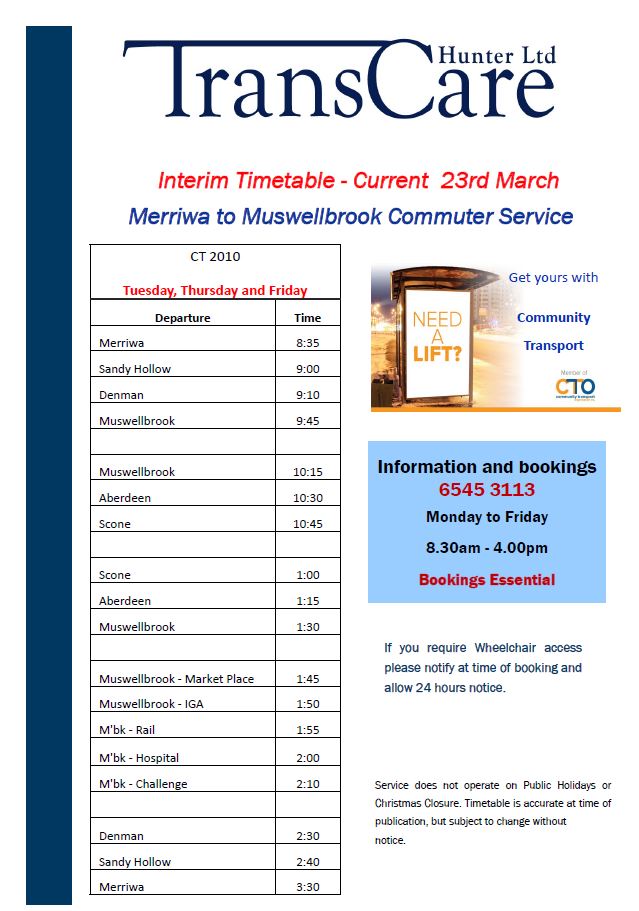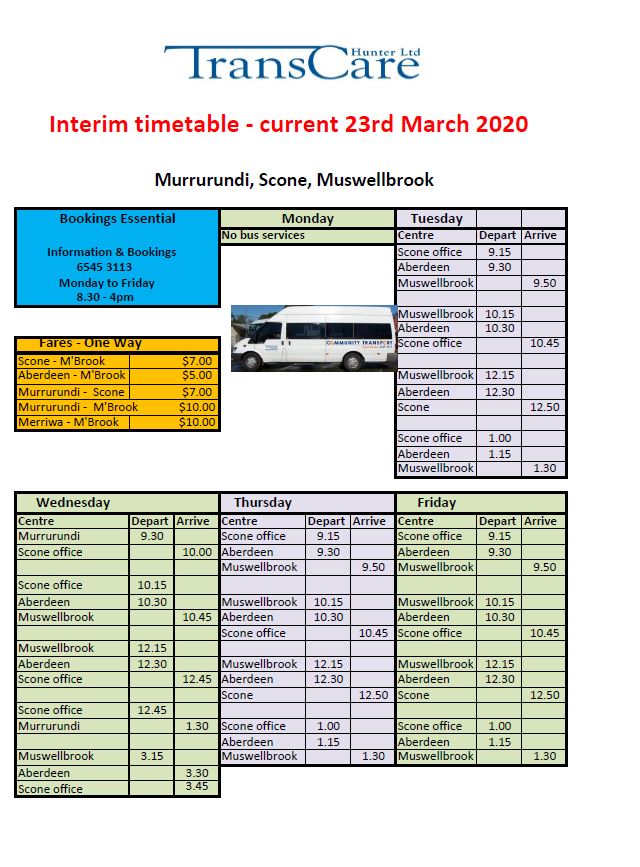 ___________________________________________
Merriwa Surgery
Dr Emad Jasem
Dr Adrian Plaskitt (3 days a Month)
For all your medical needs
Opening hours
Monday, Tuesday, Thursday & Friday 8.30am-5.30pm
Wednesday 8.30am- 2.00pm
Closed for lunch 2.00pm to 3.00pm daily
For bookings please call the surgery on 02 6548-2305
COVID – 19 INFORMATION FOR MERRIWA
SURGERY PATIENTS
We are asking that patients who have respiratory symptoms of Corona Virus (COVID – 19) or similar, Please DO NOT present yourself to Merriwa Surgery. If you are a patient with respiratory symptoms, we ask that you, in the first instance call the healthdirect hotline on 1800 022 222, prior to calling the surgery.
Presenting yourself to the surgery could result in the surgery being closed and quarantined, leaving the Doctor and staff also quarantined and preventing healthcare to the community. Please think of others during this time.
A phone consult can be arranged for those with symptoms following contact in the first instance with the healthdirect hotline as above. For up to date information on COVID – 19 please visit www.health.gov.au
Dr Emad Jasem
_____________________________________________
Merriwa Parkrun
WEEKLY FREE 5KM TIMED RUN
What is Merriwa parkrun? It is a 5km run – it's you against the clock.
When is it? Every Saturday at 8.00am.
Where is it? The event takes place at Rotary Park, Telfer Street, Merriwa, NSW 2329.
What does it cost to join in? Nothing – it's free! but please register before your first run. Only ever register with parkrun once. Don't forget to bring a printed copy of your barcode If you forget it, you won't get a time.
Register at https://www.parkrun.com.au/register/
How fast do I have to be? We all run for our own enjoyment. Please come along and join in whatever your pace.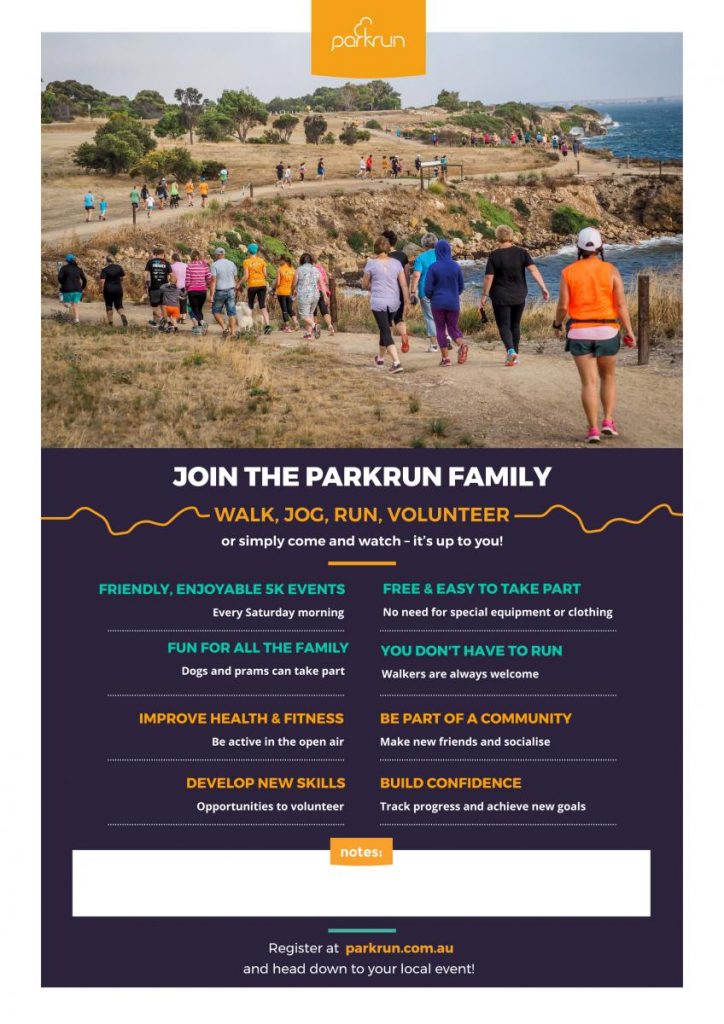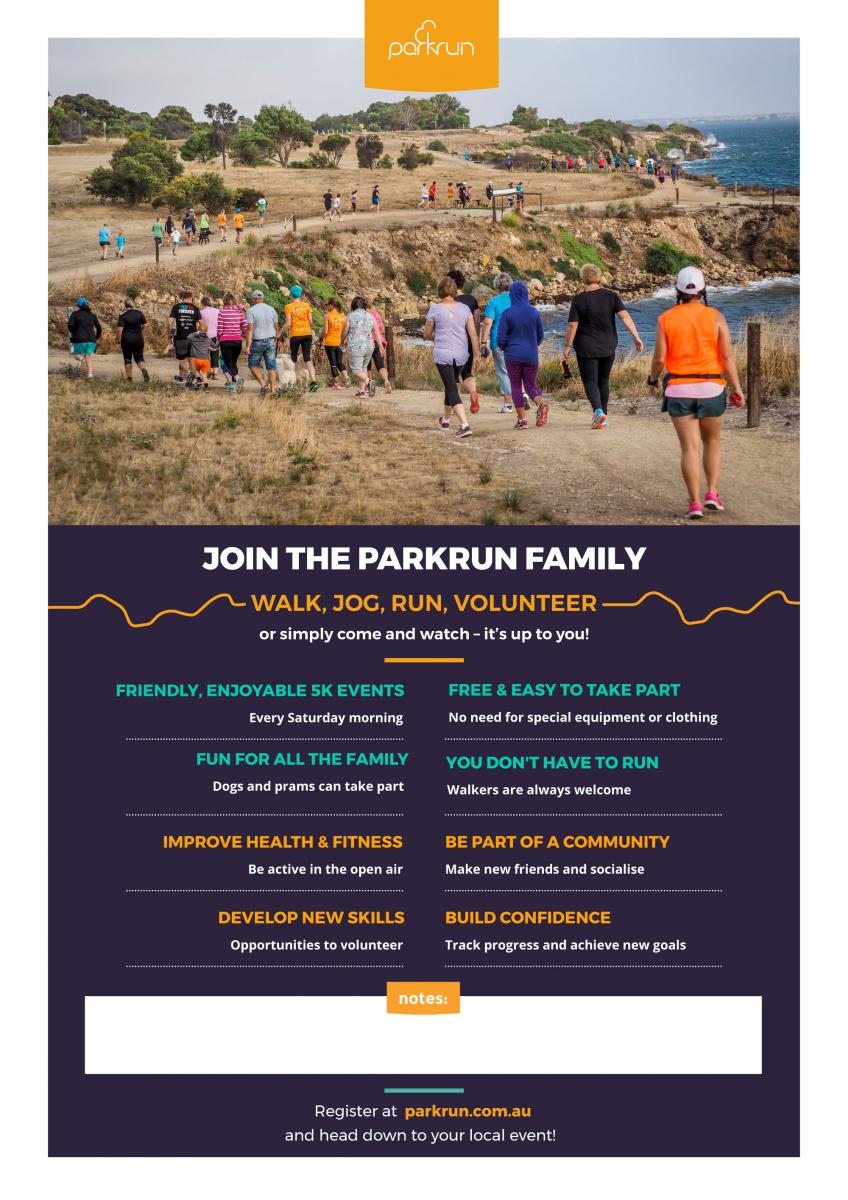 Merriwa parkrun needs you!
It is entirely organised by volunteers – email merriwahelpers@parkrun.com to help. We are friendly.
Every week we grab a post parkrun coffee in Sansko café – please come and join us! Participate in parkrun on Show Day to receive a free ticket to the Merriwa Springtime Show. You must show your barcode and walk/run/ volunteer to receive your ticket.
Ashleigh Golden
__________________________________________
Non Emergency Medical Transport
We are required to give Area Health at least 48 hours notice of planned trips. To do this we need Clients to make their booking with us in that time.
Telephone 6548 2653 or Office, Bottle Museum, between 9.30 and 3.30 weekdays.
Lorna Parnell
Office Manager
_____________________________________
My Merriwa Local Investment Gift Cards
_______________________________________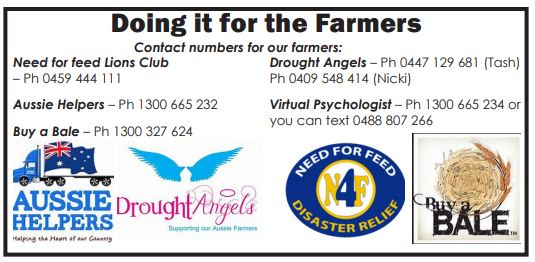 ___________________________________________________________
Merriwa Cup Race 2019
________________________________________________
Timelapse Painting Merriwa Silos
________________________________________________
Merriwa Community Diary
________________________________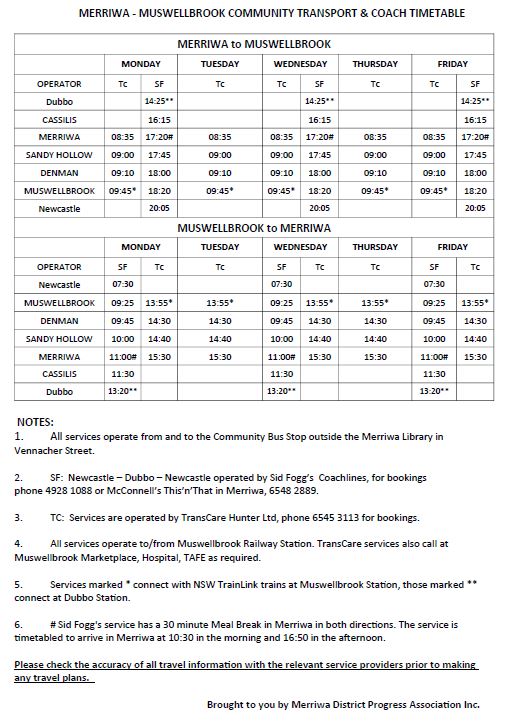 Merriwa Weather Conditions Currently