_____________________________________________
Have your say on Upper Hunter Shire Council's Operational Plans
Upper Hunter Shire Council encourages residents to provide written comment on the Draft Delivery Program 2017/2018-2020/2021 and Operational Plan 2020/2021, which include operational budgets, capital works program and fees and charges. The draft plans outline Council's proposed activities including information about services provided, capital works to be undertaken and proposed fees and charges. 
The documents are on public exhibition from 29 April 2020 and written submissions are welcome by 28 May 2020, submitted via the website, emailed to council@upperhunter.nsw.gov.au or posted to PO Box 208 Scone NSW 2337.
The Draft Plans and a summary of the key points are available on Council's website under 'Hot Topics' www.upperhunter.nsw.gov.au
Questions and comments can be submitted through the website or emailed. This year public meetings about the draft Plans will not be held, due to COVID-19 restrictions.
A summary fact sheet on the operational plans will be mailed to all residents at the start of May 2020.
Council is forecasting a balanced budget for the 2020/2021 year of $105 million in both revenue and expenditure.
Some of the key projects that will be delivered or progressed in the coming year include:
Cameron Bridge Replacement
Bill Rose Complex Project
Scone CBD Revitalisation
Murulla Street Causeway
Omadale Brook Bridge Replacement
Bunnan Road Upgrade (Main Road 62)
Cassilis Sewerage Scheme
Scone Regional Airport Upgrades including creation of a Warbird Aviation Visitor Attraction
Mayor Wayne Bedggood said Council was keen to get community input on the plans.
"This exhibition period is the best opportunity for the community to have their say, to improve or approve of Council's plans and budgets for the Upper Hunter Shire.
"Infrastructure, particularly roads, bridges, footpaths, water supply and sewerage are mostly the 'big ticket' projects however all Council's proposed activities and funding are included," he said.
"It's a big document of around 400 pages but you can choose the areas you are interested in, whether that is sports facilities, fees and charges, road repairs or something else. Residents should particularly examine the proposed capital works, and fees and charges for Council services and make their views known to Council."
Council will adopt the final Delivery Program 2017/2018-2020/2021 and Operational Plan 2020/2021 at its ordinary meeting on 29 June 2020.
These plans are a statutory requirement under the Integrated Planning and Reporting (IP&R) framework. Every NSW council is required to undertake long term planning, based on comprehensive community engagement, and resourced by robust plans for finances, assets and workforce.  The IP&R framework provides a systematic and rigorous approach for making well-tuned plans aligned with community's vision and priorities, as well as Government priorities and plans for the region.
The framework lays out where the Shire is heading over a ten-year period, backed up by detailed plans for the short and medium-terms.
This provides the community and Council with a clear picture of:
Where we want to go (Community Strategic Plan)
How we plan to get there (Delivery Program, Operational Plan/Budget, Resourcing Strategy)
How we will report our progress (monthly/quarterly, annual and end-of-term reports).
This ensures that our planning and implementation are transparent and accountable.
Daele Healy
Communications Officer
Phone 0407 739 512
Email: dhealy@upperhunter.nsw.gov.au
_________________________________________________________________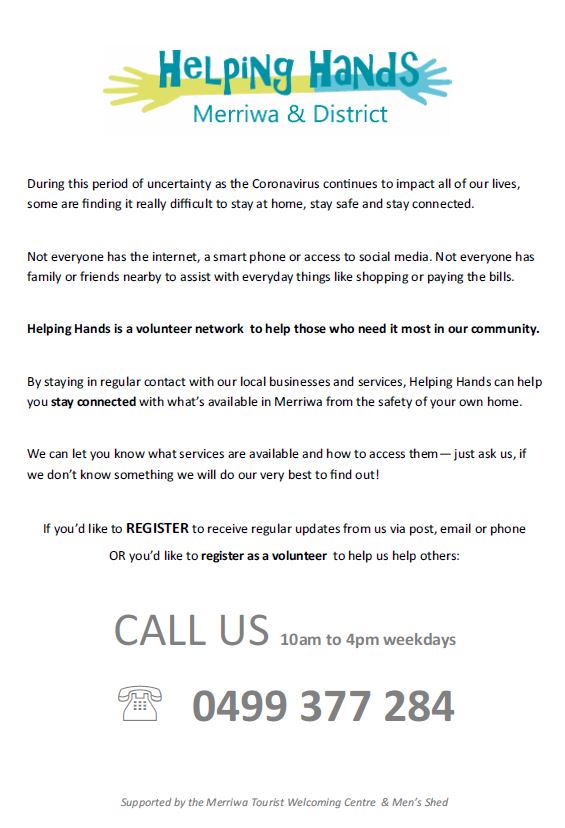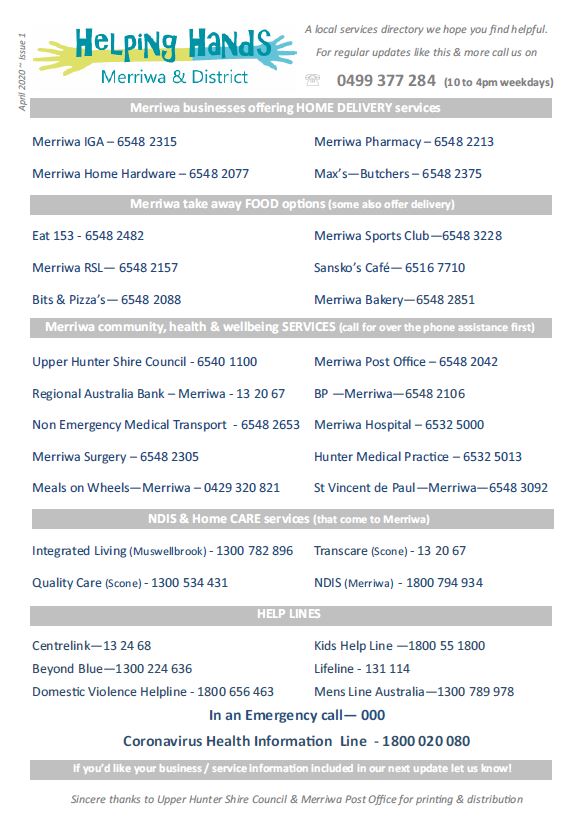 ____________________________________________
CWA Merriwa Branch
Due to the coronavirus restrictions, April and May 2020 meetings have been cancelled.
CWA Rooms will be unavailable for hire until further notice.
Kim Clydsdale
___________________________________________
Merriwa and District
Community Drought and
Recovery Assistance
Community groups and service clubs are donating funds and goods from time to time to the Merriwa CWA and Merriwa Rotary Club to distribute in our local district for drought and
recovery assistance.
We are asking farmers, farming families,rural workers, agricultural contractors and anyone affected by the drought to register for Merriwa and District Community Drought and Recovery Assistance consideration via our new form. We cannot guarantee what help will be available and when. However the
plan is by giving people the opportunity to register, we will be able to equitably distribute funds and goods when available to people who need it. This is especially important in these uncertain times so we hope this form will give people the opportunity to reach out for assistance and maintain their privacy.
The details provided will be kept confidential and only made available to the drought committee lead for each organisation. Please when registering indicate your preferred contact method and any other comments in the notes section.
Please register and pass on this link to anyone else affected by the drought in the Merriwa, Cassilis, Gungal areas and surrounding district. You may also register others with their permission especially where they have no internet access. This information will only be used to distribute assistance from available funds and donated goods.
To register go to:
https://merriwacwa.snapforms.com.au/form/community-drought-assistance
Maria Cameron
_________________________________________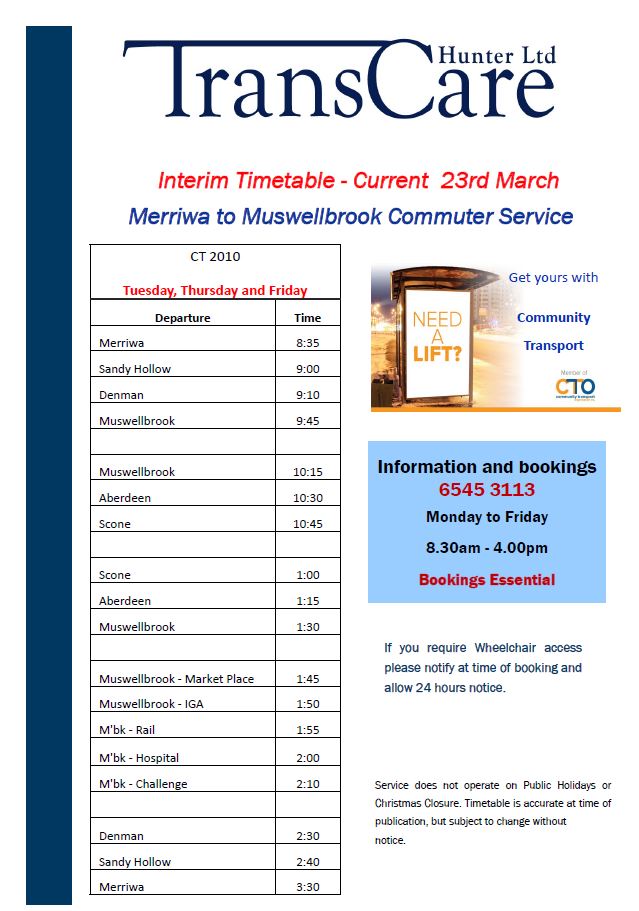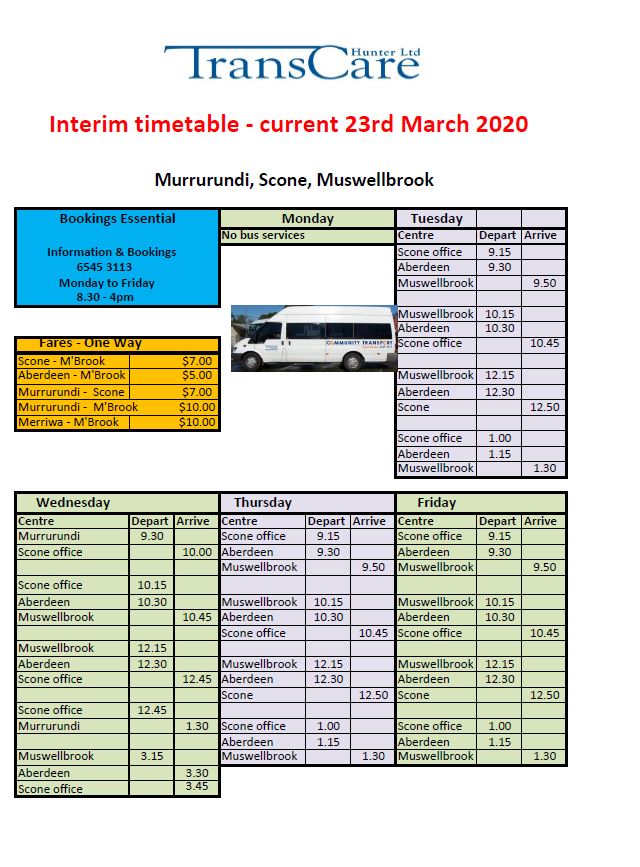 ____________________________________________
Merriwa Rotary
ROTARY BOWELCARE 2020
Merriwa Rotary Club has been a participant in the annual BowelCare Program for many years. Merriwa Pharmacy will once again be distributing BowelCare kits on behalf of Rotary for one month, commencing on April 1.
This year's BowelCare kit will cost $20.00. The price includes pathology testing, with notification of your result to both yourself and your nominated
doctor. Your result will be issued within 30 days of your test kit being received by pathology.
PLEASE USE THE PRE-PAID ENVELOPE PROVIDED WITH THE KIT.
BowelCare Australia is a division of CancerCare Australia Ltd. Please continue to look after your health by participating in our annual Rotary
BowelCare Program.
Mark Smith
___________________________________________
Merriwa Surgery
Dr Emad Jasem
Dr Adrian Plaskitt (3 days a Month)
For all your medical needs
Opening hours
Monday, Tuesday, Thursday & Friday 8.30am
-5.30pm
Wednesday 8.30am- 2.00pm
Closed for lunch 2.00pm to 3.00pm daily
For bookings please call the surgery on 02 6548-2305
COVID – 19 INFORMATION FOR MERRIWA
SURGERY PATIENTS
We are asking that patients who have respiratory symptoms of Corona Virus (COVID – 19) or similar, Please DO NOT present yourself to Merriwa
Surgery. If you are a patient with respiratory symptoms, we ask that you, in the first instance call the healthdirect hotline on 1800 022 222, prior to calling the surgery.
Presenting yourself to the surgery could result in the surgery being closed and quarantined, leaving the Doctor and staff also quarantined and preventing healthcare to the community. Please think of others during this time.
A phone consult can be arranged for those with symptoms following contact in the first instance with the healthdirect hotline as above. For up
to date information on COVID – 19 please visit www.health.gov.au
Dr Emad Jasem
_____________________________________________
Chance for teens to shine at Burn Bright Camp
Upper Hunter Shire Council is offering a free, life-changing opportunity to local young people aged 15 to 18 years, interested in experiencing a Burn Bright Camp during the July 2020 school holidays.
Burn Bright Camps help young people develop their well-being skills, to face challenges and adversity.
The Camp provides a range of fun activities including sharing of stories, music and video to establish a safe space for freedom of thoughts and self-expression and a collaborative, inclusive team culture. Over four days and three nights the young people will focus on values, service, grit and vision with group activities, motivational speakers and youth mentors.
Burn Bright Camp will run from 9-12 July 2020 at Vision Valley Conference Centre, Arcadia.
Council will cover all costs of the Camp including transport.
In 2020 the Camp is an alternative experience to the Upper Hunter Shire Young Endeavour Scheme, which Council has offered for 20 years.
To apply, young people must submit a short written explanation of why this opportunity would be beneficial to them and must be nominated by a school representative, parent or guardian or community member over 18 years of age. Young nominees must be an Australian citizen, have a normal postal address within the Upper Hunter Shire and be aged between 15 and 18 years at the time of the camp.
More information and expressions of interest forms are available at any Council administration office, http://upperhunter.nsw.gov.au/our-services/youth-services.aspx or email youthservices@upperhunter.nsw.gov.au
For more information about the camp visit www.burnbright.org.au
Nominations close Friday, 6 February 2020. 
__________________________________________
Merriwa Parkrun
WEEKLY FREE 5KM TIMED RUN
What is Merriwa parkrun? It is a 5km run – it's you against the clock.
When is it? Every Saturday at 8.00am.
Where is it? The event takes place at Rotary Park, Telfer Street, Merriwa, NSW 2329.
What does it cost to join in? Nothing – it's free! but please register before your first run. Only ever register with parkrun once. Don't forget to bring a printed copy of your barcode If you forget it, you won't get a time.
Register at https://www.parkrun.com.au/register/
How fast do I have to be? We all run for our own enjoyment. Please come along and join in whatever your pace.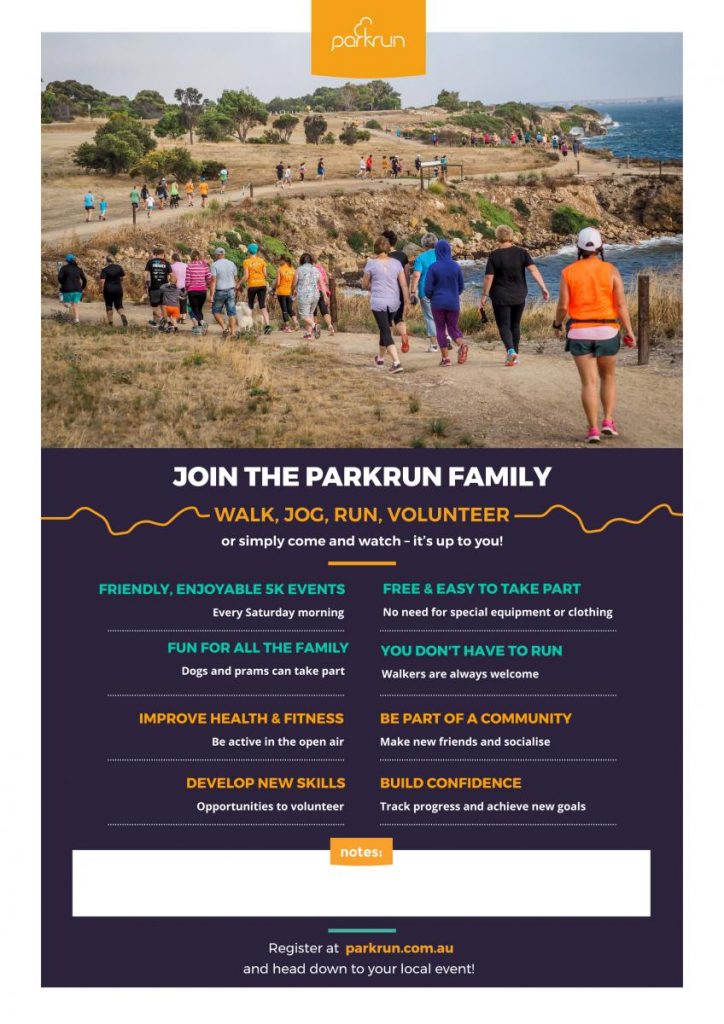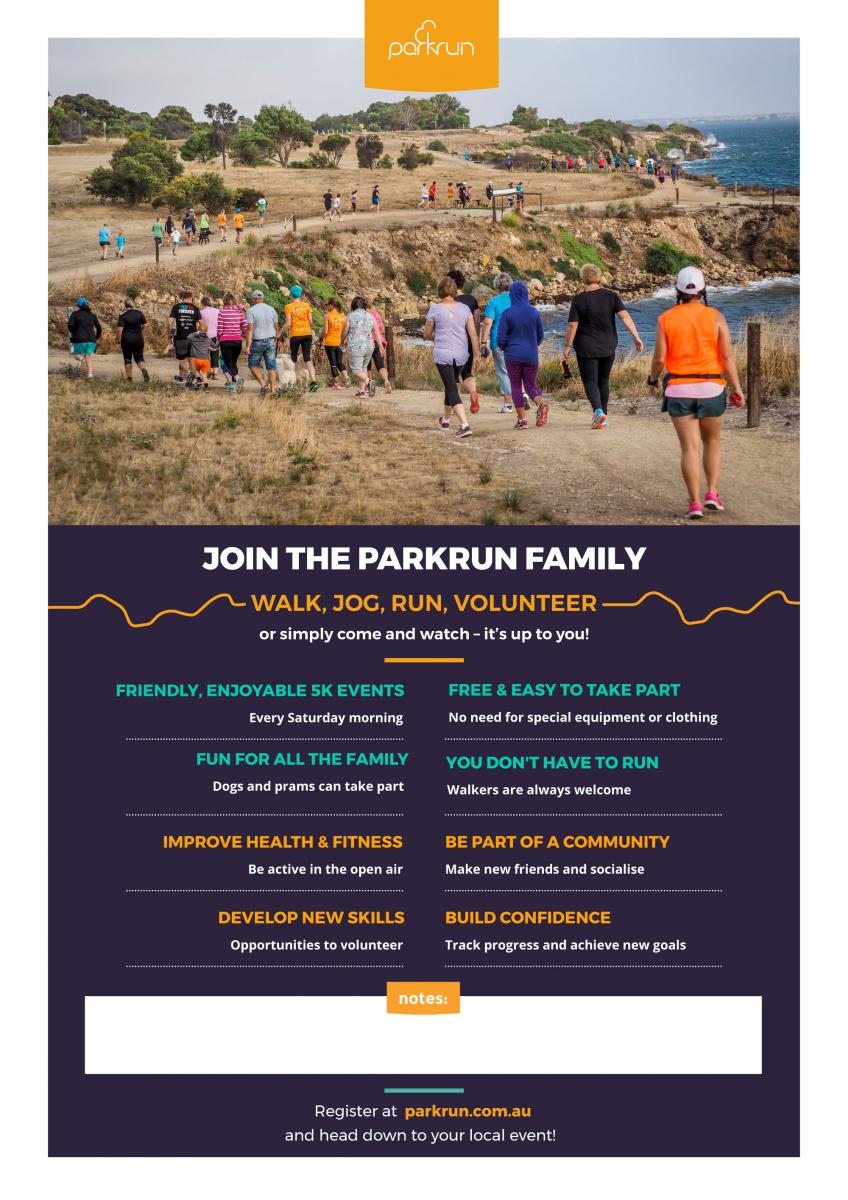 Merriwa parkrun needs you!
It is entirely organised by volunteers – email merriwahelpers@parkrun.com to help. We are friendly.
Every week we grab a post parkrun coffee in Sansko café – please come and join us! Participate in parkrun on Show Day to receive a free ticket to the Merriwa Springtime Show. You must show your barcode and walk/run/ volunteer to receive your ticket.
Ashleigh Golden
__________________________________________
Non Emergency Medical
Transport
We are required to give Area Health at least 48 hours notice of planned trips. To do this we need Clients to make their booking
with us in that time.
Telephone 6548 2653 or Office, Bottle Museum, between 9.30 and 3.30 weekdays.
Lorna Parnell
Office Manager
_____________________________________
Hunter Medical Practice -Update
Dr Noman Jawaad
Dr Ahmed Jalal
Dr Joe Paul
Merriwa – Cnr Brisbane and Mackenzie Streets – 65325013
Denman – 51 – 53 Ogilivie Street – 65473955
Muswellbrook – 80 Brook Street – 65431717
 Currently ours hours are 8am – 6pm over the 3 practices 
Merriwa hrs currently are Monday 1 Dr, Wednesday 1 Dr and Thursday 2 Drs 1 week then the next week is Wednesday 1 Dr and Thursday 2 Drs 
Denman is Wednesday 2 Drs and Thursday 1 Dr 1 weekthen the next week is Monday 1 Dr, Wednesday 2 Drs and Thursday 1 Dr
Muswellbrook is Monday 2 Drs , Tuesday 3 Drs and Friday 3 Drs 
We also have a Diabetes Educator attend our Denman and Muswellbrook rooms, a dietitian attending Muswellbrook as well as a Podiatrist. 
______________________________________________
Merriwa Business Gift Card
_______________________________________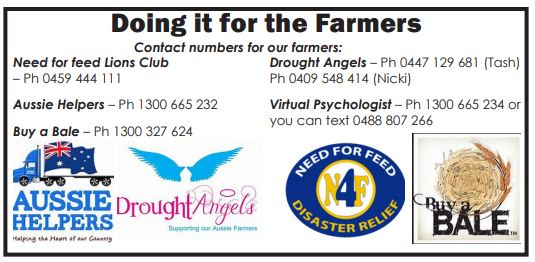 ___________________________________________________________
Merriwa Cup Race 2019
________________________________________________
Timelapse Painting Merriwa Silos
________________________________________________
  Merriwa Community Diary
________________________________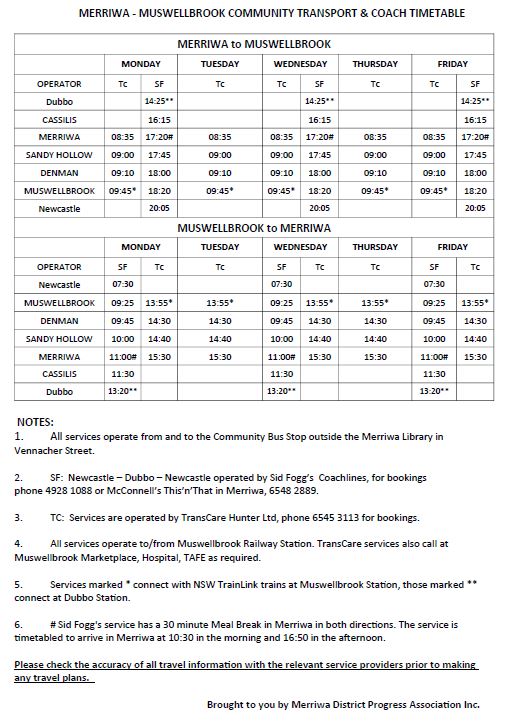 Merriwa Weather Conditions Currently