Hear / View tonight's Council meeting remotely
Do you want to see and / or hear tonight's Council meeting at 5pm
You can HEAR AND VIEW the meeting using a computer, smart phone, tablet, etc.
Or HEAR it on your computer, smart phone, etc, or a LANDLINE phone
(or you can just wait and read the minutes later on our website).
Click here for how: https://upperhunter.nsw.gov.au/your-council/council-business/council-meetings/remote-council-meetings.aspx
The Agenda can be seen here:
https://upperhunter.nsw.gov.au/your-council/council-business/council-meetings.aspx
Daele Healy
Communications Officer
Phone 0407 739 512
Email: dhealy@upperhunter.nsw.gov.au
_______________________________________________
_________________________________________________________________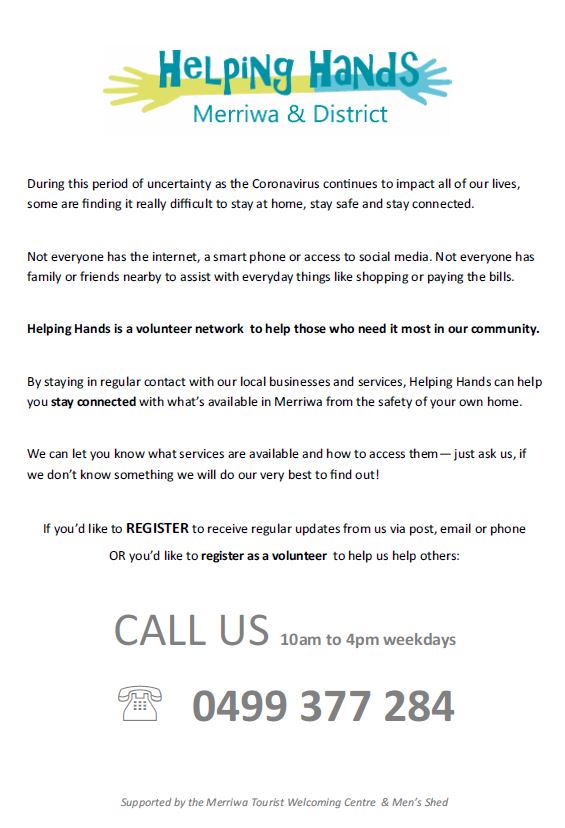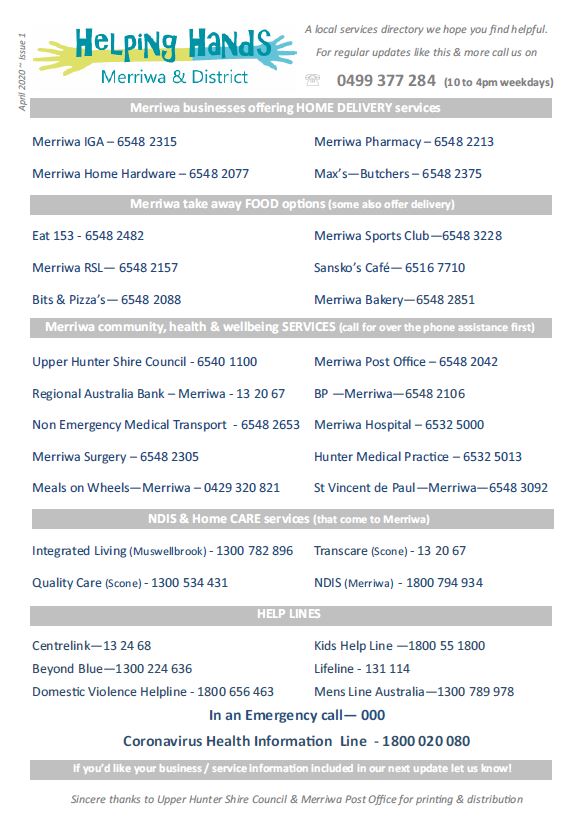 ____________________________________________
Avoid a tip trip if you can
Kerbside collection  – one day delay after Easter
Upper Hunter Shire Waste Management Facilities continue to be open only to Shire residents, who will need to show identification – such as a driver's licence or rates notice – that shows their address.
Residents are urged to visit waste facilities only if it is essential.
Since the closure of waste facilities in some other shires, there has been a surge in visits to Upper Hunter Shire waste facilities. Those who are not Shire residents are already being turned away.
"Do not come to the waste facilities unless you absolutely have to, you are an Upper Hunter Shire resident, and it is absolutely essential you get rid of the waste immediately," said Upper Hunter Shire Council General Manager, Steve McDonald.
"Council hopes to reduce the numbers of visitors to the facilities, to just those without alternate waste services. This will help protect staff and the public from the risk of COVID-19 spread.
"Please double bag household waste to ensure items such as tissues are not exposed.
"No green waste or bulky household items should be disposed of at this time. We need to keep it to essential services.
"We are trying to protect our staff and keep waste services operating."
Cash is no longer accepted at the waste management facilities, instead zero-touch options such as tap-to-pay must be used. 
EASTER Kerbside Collection
Kerbside bin collections are continuing as normal. There will be delay of one day from the Easter Monday public holiday. The Monday collections will occur Tuesday, with a one day delay across the shire continuing for the rest of the week.
Daele Healy
Communications Officer
Phone 0407 739 512
Email: dhealy@upperhunter.nsw.gov.au

A Quality Rural Lifestyle – in a vibrant, caring and sustainable community
___________________________________________
CWA Merriwa Branch
Due to the coronavirus restrictions, April and May 2020 meetings have been cancelled.
CWA Rooms will be unavailable for hire until further notice.
Kim Clydsdale
___________________________________________
Merriwa and District
Community Drought and
Recovery Assistance
Community groups and service clubs are donating funds and goods from time to time to the Merriwa CWA and Merriwa Rotary Club to distribute in our local district for drought and
recovery assistance.
We are asking farmers, farming families,rural workers, agricultural contractors and anyone affected by the drought to register for Merriwa and District Community Drought and Recovery Assistance consideration via our new form. We cannot guarantee what help will be available and when. However the
plan is by giving people the opportunity to register, we will be able to equitably distribute funds and goods when available to people who need it. This is especially important in these uncertain times so we hope this form will give people the opportunity to reach out for assistance and maintain their privacy.
The details provided will be kept confidential and only made available to the drought committee lead for each organisation. Please when registering indicate your preferred contact method and any other comments in the notes section.
Please register and pass on this link to anyone else affected by the drought in the Merriwa, Cassilis, Gungal areas and surrounding district. You may also register others with their permission especially where they have no internet access. This information will only be used to distribute assistance from available funds and donated goods.
To register go to:
https://merriwacwa.snapforms.com.au/form/community-drought-assistance
Maria Cameron
_________________________________________
NSW FARMERS MERRIWA BRANCH
Notice of AGM and General Meeting
A REMINDER to all members that members and their guests are invited to our Annual and General Meetings to be held from 7pm on Wednesday 8 April VIA TELECONFERENCE. 
Please check your personal email inbox for the RSVP LINK and to obtain the phone number and Guest Code in order to be able to link into the Teleconference. 
For further information contact 
Patrick Ryan – Branch Chair 0428 485 090

Mick Collins – Regional Services Manager – Northern 


0439 958 163  Email: collinsm@nswfarmers.org.au
Thank you 
Aileen Hogan, Branch Secretary/Treasurer
______________________________________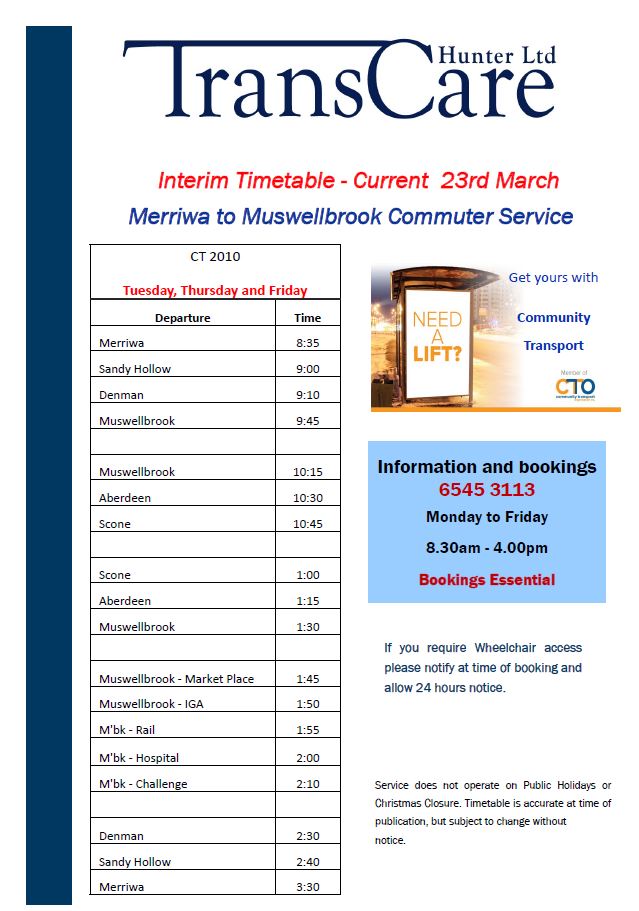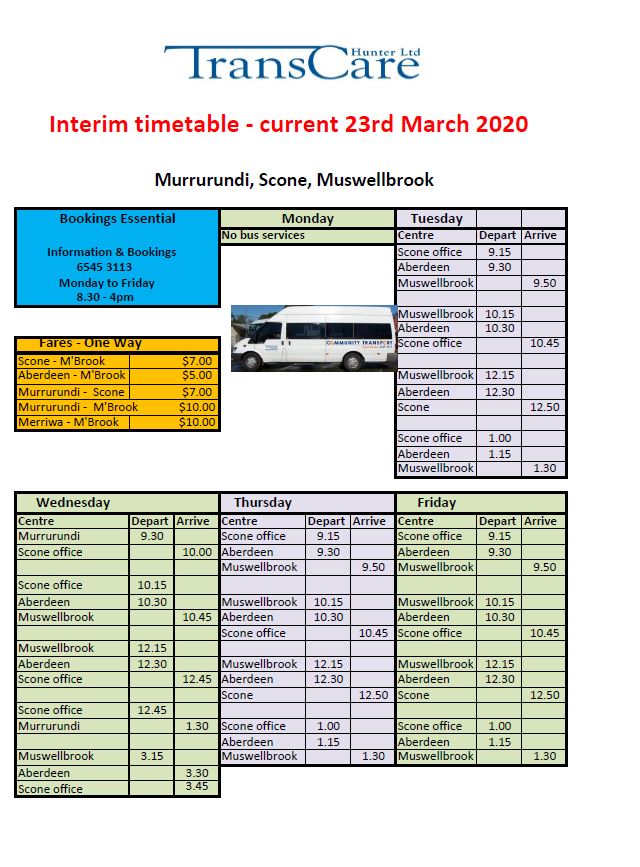 ____________________________________________
Merriwa Rotary
ROTARY BOWELCARE 2020
Merriwa Rotary Club has been a participant in the annual BowelCare Program for many years. Merriwa Pharmacy will once again be distributing BowelCare kits on behalf of Rotary for one month, commencing on April 1.
This year's BowelCare kit will cost $20.00. The price includes pathology testing, with notification of your result to both yourself and your nominated
doctor. Your result will be issued within 30 days of your test kit being received by pathology.
PLEASE USE THE PRE-PAID ENVELOPE PROVIDED WITH THE KIT.
BowelCare Australia is a division of CancerCare Australia Ltd. Please continue to look after your health by participating in our annual Rotary
BowelCare Program.
Mark Smith
___________________________________________
Merriwa Surgery
Dr Emad Jasem
Dr Adrian Plaskitt (3 days a Month)
For all your medical needs
Opening hours
Monday, Tuesday, Thursday & Friday 8.30am
-5.30pm
Wednesday 8.30am- 2.00pm
Closed for lunch 2.00pm to 3.00pm daily
For bookings please call the surgery on 02 6548-2305
COVID – 19 INFORMATION FOR MERRIWA
SURGERY PATIENTS
We are asking that patients who have respiratory symptoms of Corona Virus (COVID – 19) or similar, Please DO NOT present yourself to Merriwa
Surgery. If you are a patient with respiratory symptoms, we ask that you, in the first instance call the healthdirect hotline on 1800 022 222, prior to calling the surgery.
Presenting yourself to the surgery could result in the surgery being closed and quarantined, leaving the Doctor and staff also quarantined and preventing healthcare to the community. Please think of others during this time.
A phone consult can be arranged for those with symptoms following contact in the first instance with the healthdirect hotline as above. For up
to date information on COVID – 19 please visit www.health.gov.au
Dr Emad Jasem
________________________________________________
____________________________________________
_____________________________________________
Merriwa Hospital Auxiliary
The Merriwa Hospital Auxiliary will be having a General Meeting on Friday February 21, 2020. The meeting will be held in the Conference Room inside our Merriwa MPS at 2.00pm. We invite all our members to attend as well as any community members who want to see what we are all about and perhaps join our ranks as a member. We only have four meeting a year and all money raised goes directly to our Merriwa MPS for the purchase of equipment for the betterment of our patients and staff. See you on Friday February 21 at 2.00pm.
Elaine Sparrow
____________________________________________
St David's Uniting Church
PIE/LAMINGTON DRIVE
2020 is moving on very quickly and Easter is just around the corner.
St David's will be running its annual Easter Pie Drive with delivery on Wednesday April 8, 2020. This the ideal opportunity to get in goodies for the School Holidays.
Order sheets will be out and about in the next week or so.
Barbara Campbell
_______________________________________
Merriwa Country
Education Foundation
ANNUAL GENERAL MEETING
When: Monday March 2
Time: 6.00pm
Where: Reg Fletcher Room Merriwa RSL
All welcome to attend.
RSVP Jane Hegarty.
__________________________________
Chance for teens to shine at Burn Bright Camp
Upper Hunter Shire Council is offering a free, life-changing opportunity to local young people aged 15 to 18 years, interested in experiencing a Burn Bright Camp during the July 2020 school holidays.
Burn Bright Camps help young people develop their well-being skills, to face challenges and adversity.
The Camp provides a range of fun activities including sharing of stories, music and video to establish a safe space for freedom of thoughts and self-expression and a collaborative, inclusive team culture. Over four days and three nights the young people will focus on values, service, grit and vision with group activities, motivational speakers and youth mentors.
Burn Bright Camp will run from 9-12 July 2020 at Vision Valley Conference Centre, Arcadia.
Council will cover all costs of the Camp including transport.
In 2020 the Camp is an alternative experience to the Upper Hunter Shire Young Endeavour Scheme, which Council has offered for 20 years.
To apply, young people must submit a short written explanation of why this opportunity would be beneficial to them and must be nominated by a school representative, parent or guardian or community member over 18 years of age. Young nominees must be an Australian citizen, have a normal postal address within the Upper Hunter Shire and be aged between 15 and 18 years at the time of the camp.
More information and expressions of interest forms are available at any Council administration office, http://upperhunter.nsw.gov.au/our-services/youth-services.aspx or email youthservices@upperhunter.nsw.gov.au
For more information about the camp visit www.burnbright.org.au
Nominations close Friday, 6 February 2020. 
_______________________________________
__________________________________________
Merriwa Parkrun
WEEKLY FREE 5KM TIMED RUN
What is Merriwa parkrun? It is a 5km run – it's you against the clock.
When is it? Every Saturday at 8.00am.
Where is it? The event takes place at Rotary Park, Telfer Street, Merriwa, NSW 2329.
What does it cost to join in? Nothing – it's free! but please register before your first run. Only ever register with parkrun once. Don't forget to bring a printed copy of your barcode If you forget it, you won't get a time.
Register at https://www.parkrun.com.au/register/
How fast do I have to be? We all run for our own enjoyment. Please come along and join in whatever your pace.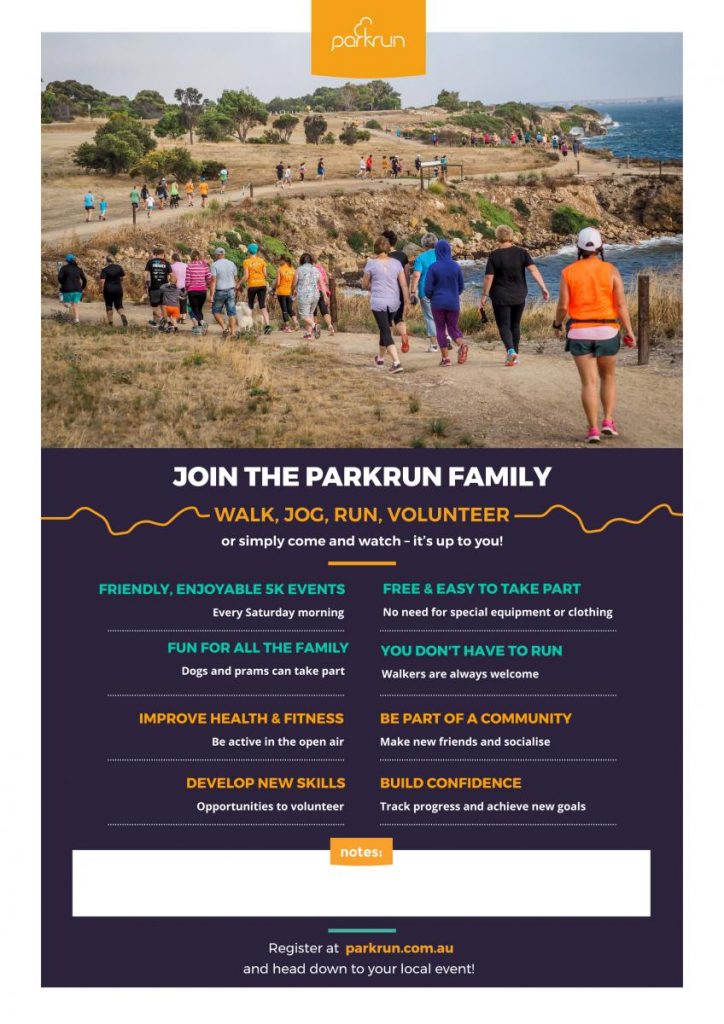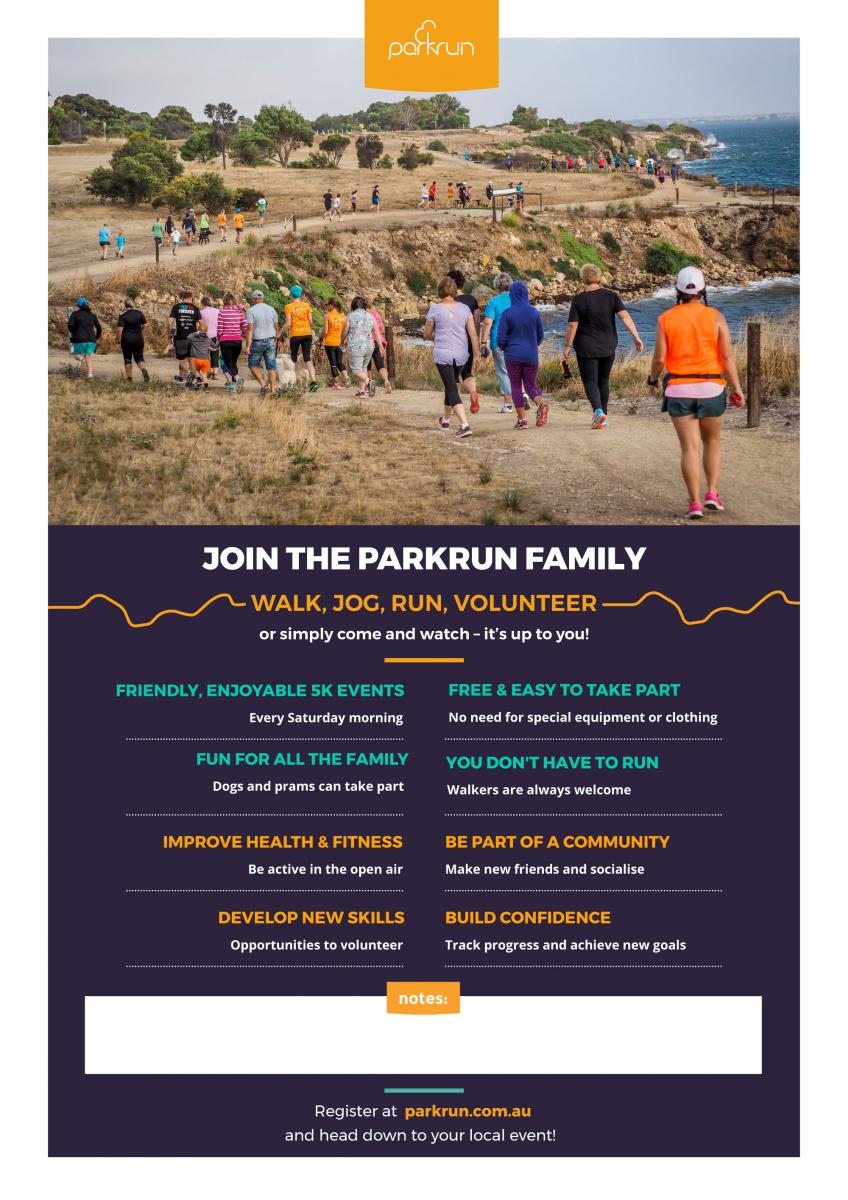 Merriwa parkrun needs you!
It is entirely organised by volunteers – email merriwahelpers@parkrun.com to help. We are friendly.
Every week we grab a post parkrun coffee in Sansko café – please come and join us! Participate in parkrun on Show Day to receive a free ticket to the Merriwa Springtime Show. You must show your barcode and walk/run/ volunteer to receive your ticket.
Ashleigh Golden
__________________________________________
Non Emergency Medical
Transport
We are required to give Area Health at least 48 hours notice of planned trips. To do this we need Clients to make their booking
with us in that time.
Telephone 6548 2653 or Office, Bottle Museum, between 9.30 and 3.30 weekdays.
Lorna Parnell
Office Manager
_____________________________________
Hunter Medical Practice -Update
Dr Noman Jawaad
Dr Ahmed Jalal
Dr Joe Paul
Merriwa – Cnr Brisbane and Mackenzie Streets – 65325013
Denman – 51 – 53 Ogilivie Street – 65473955
Muswellbrook – 80 Brook Street – 65431717
 Currently ours hours are 8am – 6pm over the 3 practices 
Merriwa hrs currently are Monday 1 Dr, Wednesday 1 Dr and Thursday 2 Drs 1 week then the next week is Wednesday 1 Dr and Thursday 2 Drs 
Denman is Wednesday 2 Drs and Thursday 1 Dr 1 weekthen the next week is Monday 1 Dr, Wednesday 2 Drs and Thursday 1 Dr
Muswellbrook is Monday 2 Drs , Tuesday 3 Drs and Friday 3 Drs 
We also have a Diabetes Educator attend our Denman and Muswellbrook rooms, a dietitian attending Muswellbrook as well as a Podiatrist. 
______________________________________________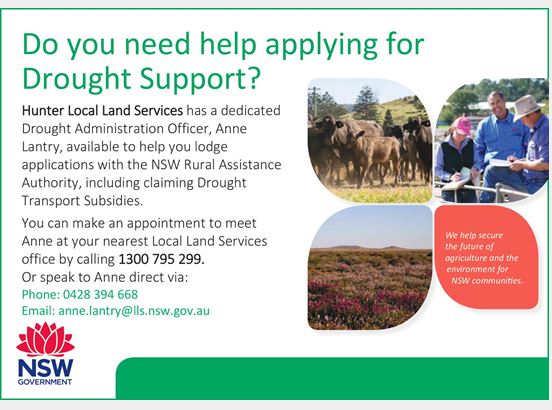 _________________________________________
Merriwa Business Gift Card
____________________________________________
NEMTS Merriwa
FREE TRAVEL FOR FARMING FAMILIES
Merriwa Non Emergency Medical Transport is offering all Farming Families in our District FREE travel to Medical Appointments for the duration of this severe drought.
Just mention that you are a farmer when making your booking. Phone 6548 2653 or at the office in the Bottle Museum, 9.30am to 3.00pm. All types of Medical Appointments are covered by this
offer. We travel to Newcastle, Tamworth and Orange and all in between plus to Sydney.
Bryan Baker
_______________________________________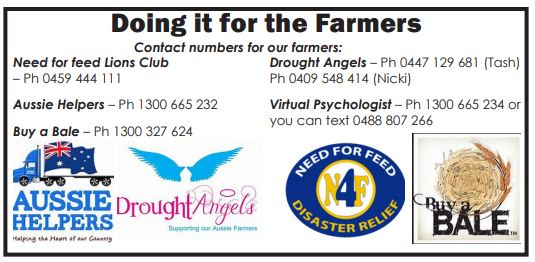 ___________________________________________________________
Merriwa Cup Race 2019
________________________________________________
Timelapse Painting Merriwa Silos
________________________________________________
  Merriwa Community Diary
________________________________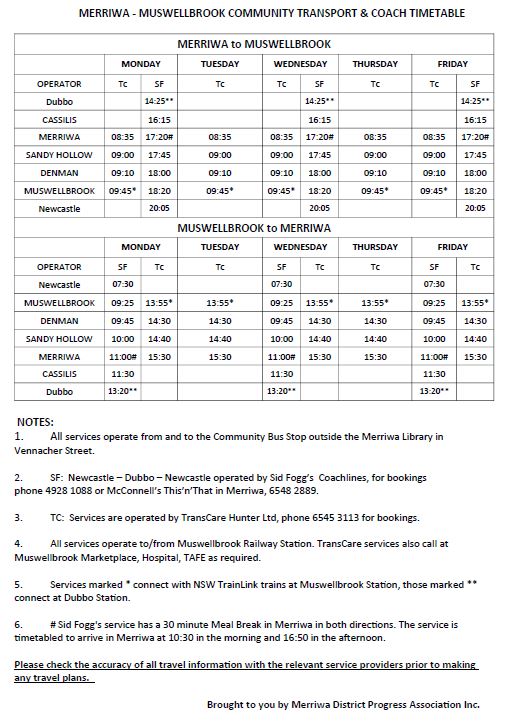 Merriwa Weather Conditions Currently