Merriwa NSW
Merriwa Community Portal provides the community and visitors with a complete source of information on Merriwa for shoping, accommodation, medical, food and other information to make your stay pleasurable.
______________________________

This is your Community Notice Board
Keep up to date with the latest local news updates for Merriwa and the sorrounding area by visiting our 'blog' page – News Updates!
As we regularly update the local news which include meetings, activities and points of interest. Items that are shared via social media are regularly deleted, meaning that the item of interest cannot be viewed any longer. By moving our local news to a 'blog' style, any items of interest can be shared and will be available for unlimited viewing.
___________________________________________
Worondi RFS Brigade AGM
Worondi RFS Brigade AGM will be held on Sunday 5th June at 10 am at the Worondi RFS shed on the Golden Hwy opposite Flaggs Road with a BBQ at the completion of the meeting. All residents within the local Brigade are invited to attend. Further information contact the Captain Kim Fenley on 0418 570 743.
_______________________________________
Merriwa Festival of the Fleeces 2022
30 Years of Memories
COLOURING IN COMPETITION
This year, the Merriwa Portal are holding the Festival of the Fleeces Colouring In Competition. This year, the colouring page can be downloaded and printed at home for your convenience. If you are unable to print at home, pop into R M Property & Livestock, NewsXpress Merriwa or Merriwa Hardware and they can give you a copy.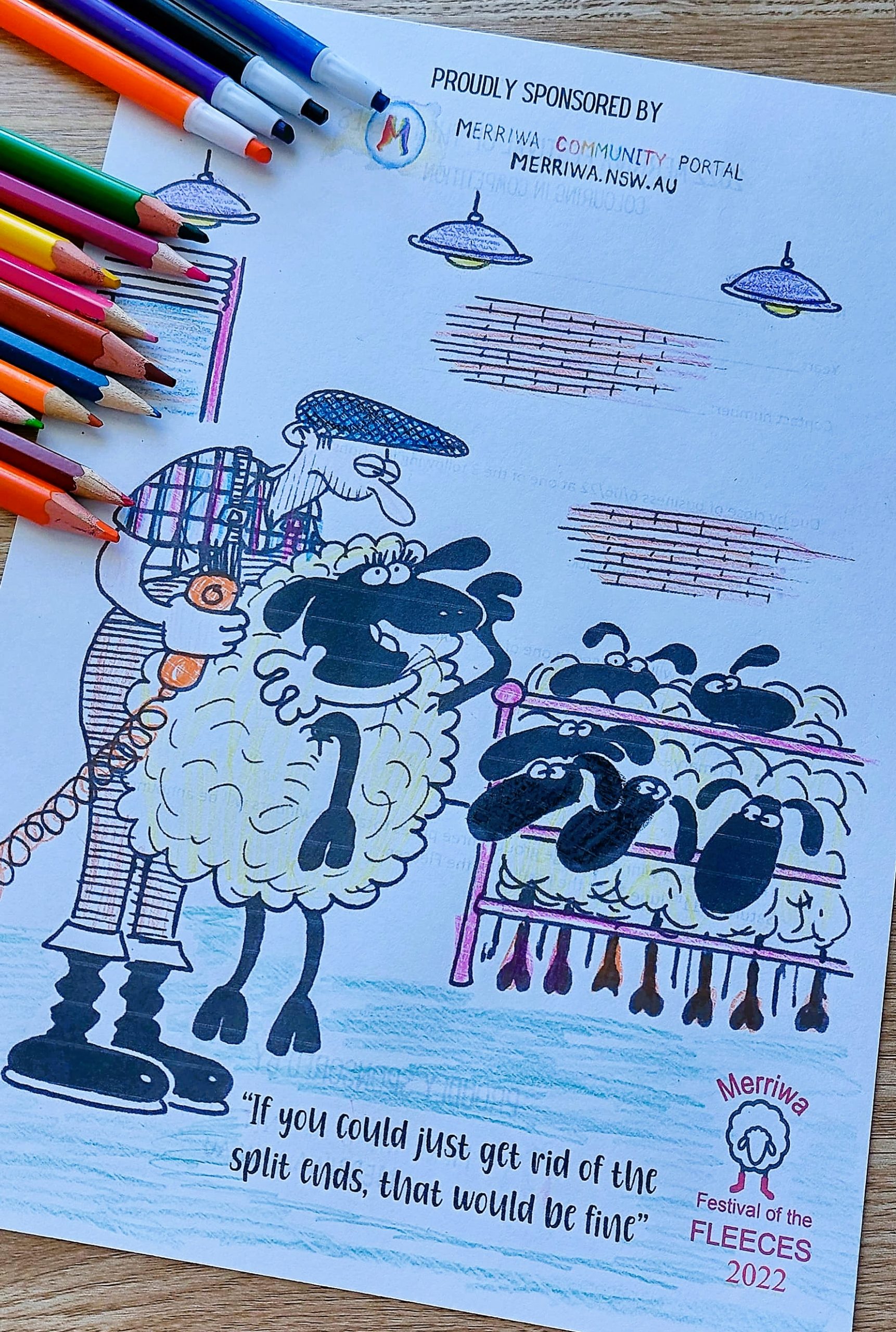 Please print double sided, or staple both pages together. Please do not write names on the front page. We ask this so there is no bias with judging.
Due by close of business 6/06/22 at one of the 3 following locations;
• NewsXpress Merriwa
• Merriwa Hardware
• R M Property & Livestock.
All colouring ins will be judged in one of the 3 following year groups;
• Pre-schoolers
• Infants – Kindergarten to Year 2
• Primary – Years 3 to 6
There will be 1 winner per age group. Three prizes total. The winners will be announced on Saturday 11th June 22 at the Festival of the Fleeces.
You can download the colouring in page by clicking HERE
_____________________
STILL ON THE LOOKOUT
The Merriwa Community Portal is seeking pictures, videos and stories from anyone who has attended a Festival of the Fleeces.
To celebrate the 30th year, we are putting together a display, which will include a slideshow and videos, as well as many images and stories. With 30 years to collate, we are sure there will be some great pictures and stories!
The growth of social media has made it quite easy to find pictures and video that have been shared online, but we have discovered that finding much before 2012, is proving to be a real challange!
We know that many community members, past and present, as well as visitors alike will have some amazing stories, pictures and videos to share, and we would love to display this history for all to see.
A member of the Merriwa Portal Committee has offered to collect any printed/digital images, VHS tapes etc, this weekend to make copies of, and return to the owners within the fortnight.
"First held in 1990 at the historical Brindley Park Wool Shed, the Festival is now held in the Main Street of Merriwa. Starting on the Friday night – when an opening night celebration is held, the festival runs through to Sunday morning where everyone is invited to attend the Bush Poets Breakfast"
All items will be on display at the Merriwa RSL Club from opening night, through the long weekend. For security purposes, we will not use original items. Copies will be made at our cost and any information accompaning those items will be included in the display (if applicable). The name of the person the items came from will be included on each item to provide credit.
To organise collection, please contact us via email (make sure you leave your name and contact number) and one of our team will be in touch asap to confirm this. We would also love to hear from any visitors who may have media and stories. Please don't hesitate to get in touch.
____________________________________
Coulson's Creek Rd Funding Update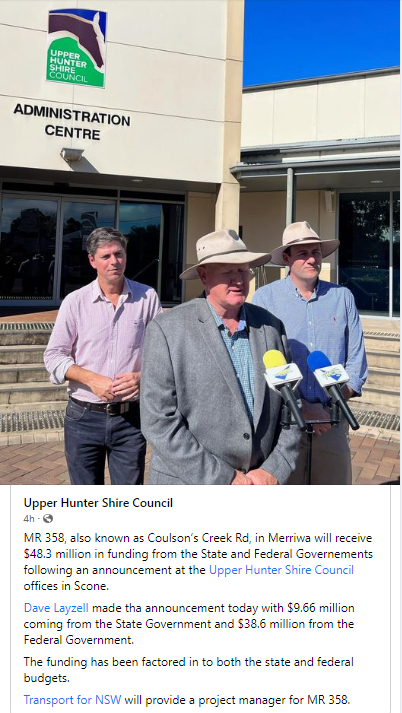 _____________________________
Hunter Medical Practice Merriwa
Merriwa current opening hours are:
Monday 8am – 5pm
Tuesday 8am – 5pm
Thursday 8am – 5pm
Friday 8am to 12.30pm
________________________________________
Tour Merriwa
Click on the link below for a great visual tour of Merriwa
http://www.twominutepostcards.com/…/merriwa-nsw-stay-a…/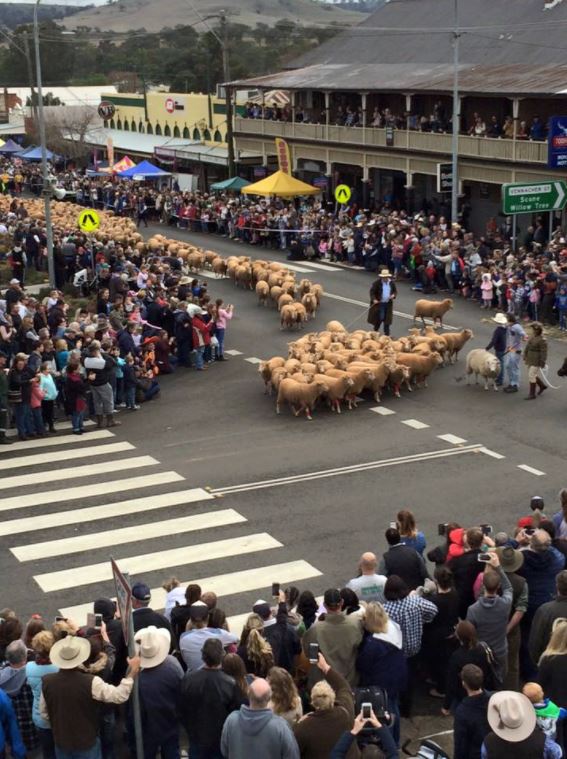 Merriwa in two minutes! While it's impossible to fit everything we love about Merriwa into two short minutes, journalist Cathy Stubbs has done a great job at packing a lot into a short time.
In the spirit of the ABC's Backroads, Cathy showcases towns in her Two Minute Postcards videos, providing brief insights into the attractions and delights of rural Australian communities.
A grant from the NSW state government allowed Merriwa business and community members to engage the Cathy's services to feature our town in one of her Two Minute Postcard videos.
We gave Cathy a few tips but left her to discover for herself the natural beauty, rich history and quirky features that make our town unique.
We hope you love it as much as we do!
_________________________________________
Many people have driven through the Golden Highway town of Merriwa
_____________________________
Hunter Medical Practice
Merriwa 6532 5013
Denman 6547 3955
Muswellbrook 6543 1717
As from Monday August 16 opening times for our Merriwa, Denman and Muswellbrook practices will be:
Merriwa – Monday, Tuesday and Thursday
Denman – Monday, Wednesday and Friday
Muswellbrook – Monday, Tuesday, Wednesday, Thursday and Friday.
Opening Hours: 8am – 5.30pm for all
Closed Lunch: 1pm to 2pm
Carol Cronin
________________________________________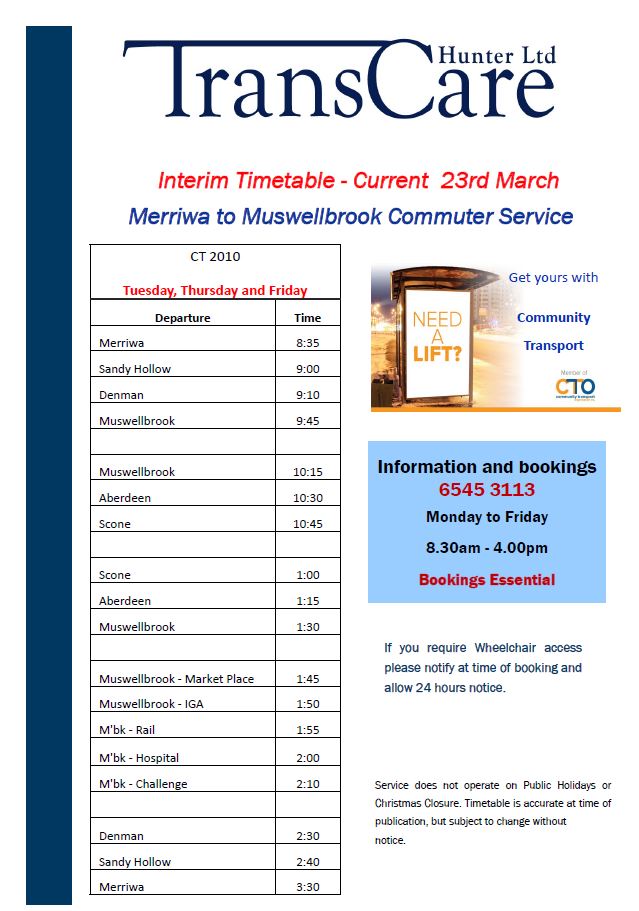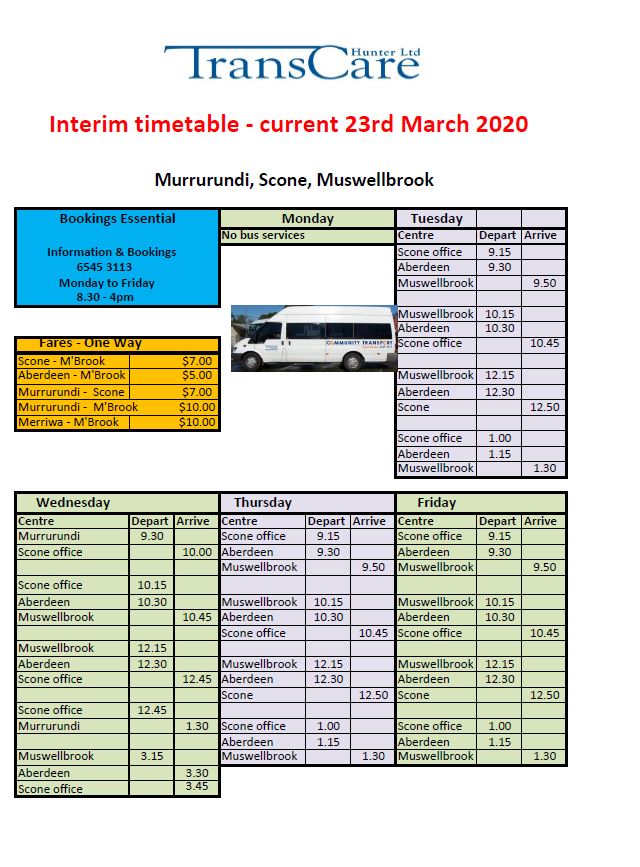 ___________________________________________
Merriwa Surgery
FOR ALL YOUR MEDICAL NEEDS
Opening hours
Monday to Friday 8.30am -5.30pm
Closed for lunch 12.30pm to 1.30pm daily
For bookings please call the surgery on 02 6548 2305
Merriwa Surgery would like to advise Dr Jasem will be on leave from July 15, 2021 until September 6, 2021. For those that are concerned Dr Jasem is returning following his leave and will continue to provide ongoing healthcare to the community.
During this time Dr Plaskitt will be in the practice three days per week working Monday's through to Wednesday's, unfortunately the surgery will need to be closed for one week during Dr Jasem's leave commencing Monday August 9, 2021 through to Sunday August 15, 2021.
As of September 1, 2021, we would like to advise changes to our billing, we have previously been a Bulk Billing practice, this is no longer feasible for the practice and changes to mixed billing will commence in September, this means that unless you hold a pensioner concession card or are a child Under 16 years, there will be a fee for your consultation. These fee's will be available in the surgery in the coming weeks.
Merriwa Surgery continue with our Covid vaccination clinics, please phone reception for more information.
Dr Emad Jasem
_____________________________________________
Merriwa Parkrun
WEEKLY FREE 5KM TIMED RUN
What is Merriwa parkrun? It is a 5km run – it's you against the clock.
When is it? Every Saturday at 8.00am.
Where is it? The event takes place at Rotary Park, Telfer Street, Merriwa, NSW 2329.
What does it cost to join in? Nothing – it's free! but please register before your first run. Only ever register with parkrun once. Don't forget to bring a printed copy of your barcode If you forget it, you won't get a time.
Register at https://www.parkrun.com.au/register/
How fast do I have to be? We all run for our own enjoyment. Please come along and join in whatever your pace.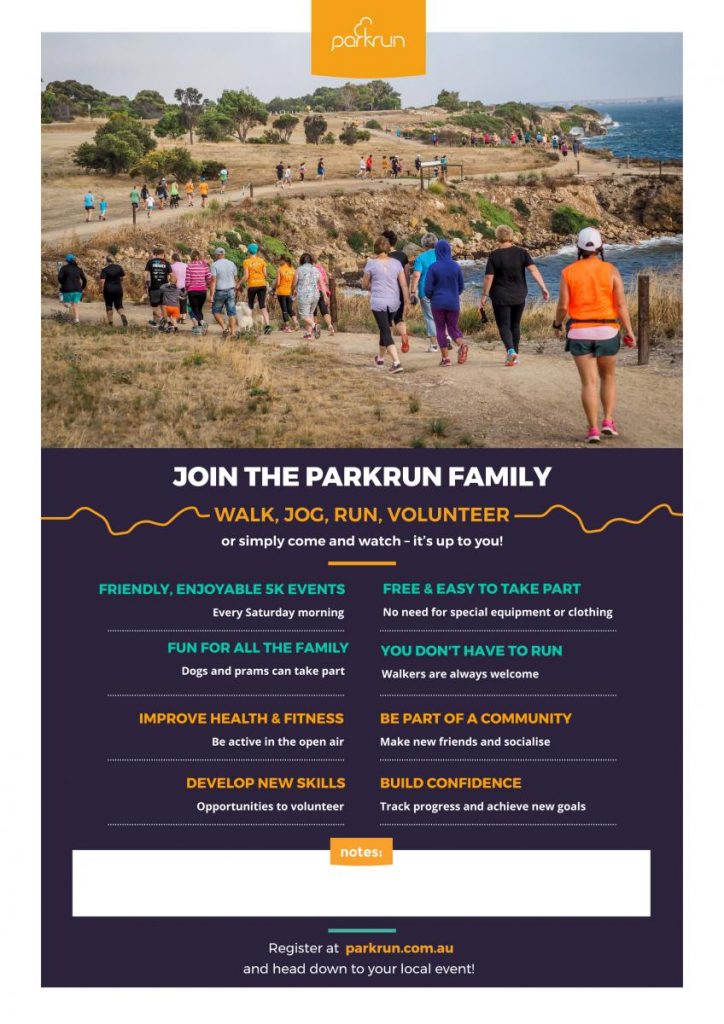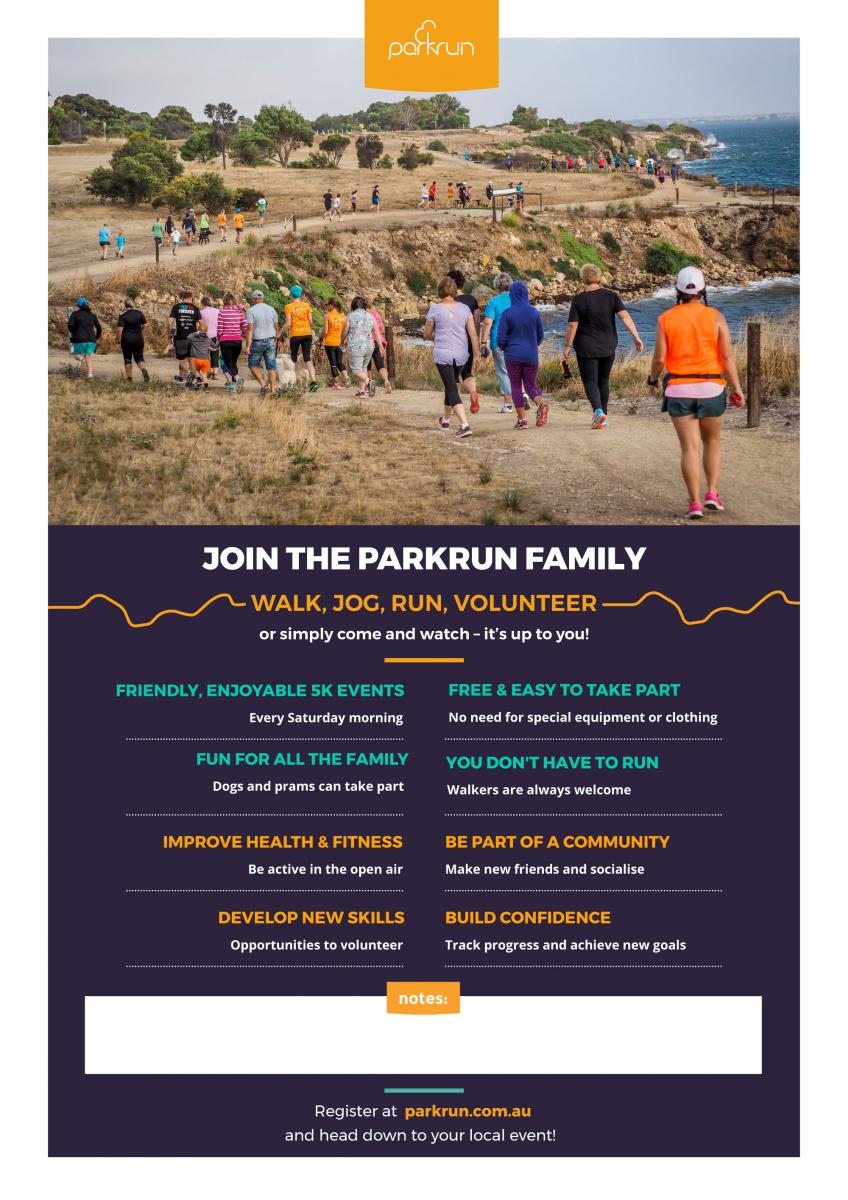 Merriwa parkrun needs you!
It is entirely organised by volunteers – email merriwahelpers@parkrun.com to help. We are friendly.
Every week we grab a post parkrun coffee in Sansko café – please come and join us! Participate in parkrun on Show Day to receive a free ticket to the Merriwa Springtime Show. You must show your barcode and walk/run/ volunteer to receive your ticket.
Ashleigh Golden
__________________________________________
Non Emergency Medical Transport
We are required to give Area Health at least 48 hours notice of planned trips. To do this we need Clients to make their booking with us in that time.
Telephone 6548 2653 or Office, Bottle Museum, between 9.30 and 3.30 weekdays.
Lorna Parnell
Office Manager
_____________________________________
Merriwa Business Gift Card
CHECK. IT. OUT.
Why Leave Town (WLT) gift cards are here and ready to be purchased. These are a great way to support local businesses, as it ensures that the money stays within the Merriwa community.
The WLT gift cards can be purchased from:
Merriwa Home Hardware
Merriwa Pharmacy
newsXpress Merriwa
WLT gift cards can be redeemed at any of the following participating businesses:
Cross Country Merriwa
Di's Clothing Patch
Eat at 153
IGA Merriwa
Landmark Townsend Merriwa
Max's Country Cuts
Merriwa Café & Bakery
Merriwa Petroleum & Ag Supplies
Merriwa Post Office
Merriwa tyre and service centre
Sansko Cafe
Welderup MWA Pty Ltd
These gift cards can also be purchased online, so even if you yourself are not a local, you can still purchase them as gifts, and send them to locals.
https://www.whyleavetown.com/purchase-online
#merriwansw #supportinglocal #shoppinglocal #whyleavetown #whyleavetownmerriwa#WLTMerriwa
_______________________________________
Merriwa Cup Race 2019
________________________________________________
Timelapse Painting Merriwa Silos
________________________________________________
Merriwa Community Diary
________________________________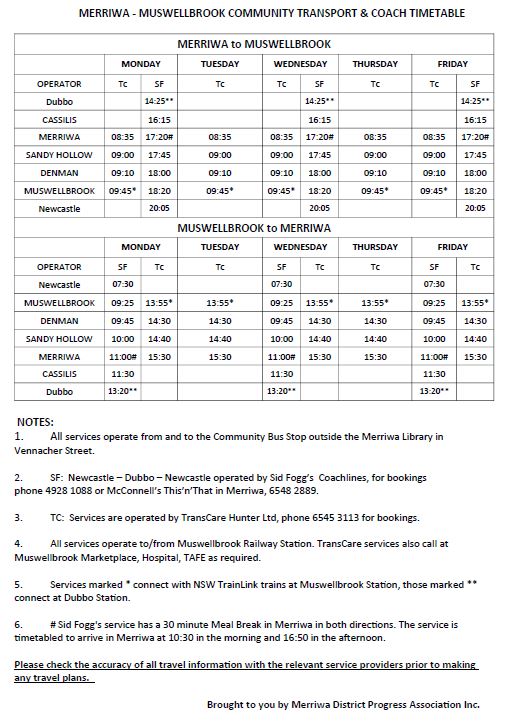 __________________________________
Merriwa Weather
Click on image to receive latest Merriwa weather