merriwa.nsw.au Community Portal Committee
call for not-for-profit Merriwa Organisations to Apply for small Grants
To raise the profile of Merriwa, the Merriwa Community Portal Committee is making available to Merriwa community organisations small grants to help enhance and promote Merriwa locally and beyond.
As part of receiving a Grant, your organisation will be expected to advertise and promote the Merriwa Portal (Visit merriwa.nsw.au) in your communications through signage or when advertising the organisation's activities or assets for which the money is used.
Depending on the number and quality of the applications received by the closing date the committee may decide to allocate one or more grants this time depending on amounts requested. Please note the successful applicante(s) may receive less than requested.
Applications close on the 31st August 2018, the committee hope to make funds available to the successful applicants in October 2018.
How to Apply
To apply send an email or letter to below (limit to one A4 page) which must contain the following information:
Organisation's Name

Applicant's Name

Organisation Address

Phone No.

Email Address

Why you are applying for the Grant

Amount requested
For more information contact Kim Fenley, Ph: 0418 570 743 or 6548-3060 or merriwaportal@gmail.com.
__________________________________________________
Merriwa Park Run
Merriwa parkrun officially launched
last Saturday with a whopping 90
participants, and many more spectators
as well, bringing our total crowd of parkrunner
enthusiasts to well over 100.
We had people travel from Tamworth, Newcastle,
the Central Coast, Sydney, Muswellbrook,
Denman and Scone for the event. It great to see
so many locals out in full force as well – many
participating in their first ever parkrun.
We also loved seeing so many people running/
walking with kids, babies and their dogs. Thank
you to all who braved the 2 deg temp to support
our official launch.
Our warm and fuzzy story of the week goes to Carol
McLoughlin, who whilst volunteering ran into a
school friend who she hadn't seen in 30 years!
You never know who's path you will cross at
parkrun! Also, we would like to give a big thank
you to last week's volunteers: Ashleigh Golden,
Carol McLoughlin, Dominic McDonald, JoAnn
McRae, Marion Ridding, Matthew West,
Micaela McDonald, Michael Ridding and Robert
McDonald. We are always looking for more
volunteers. The following volunteer positions are
needed for the coming weeks. Please contact
Matt West at merriwahelpers@parkrun.com to
help.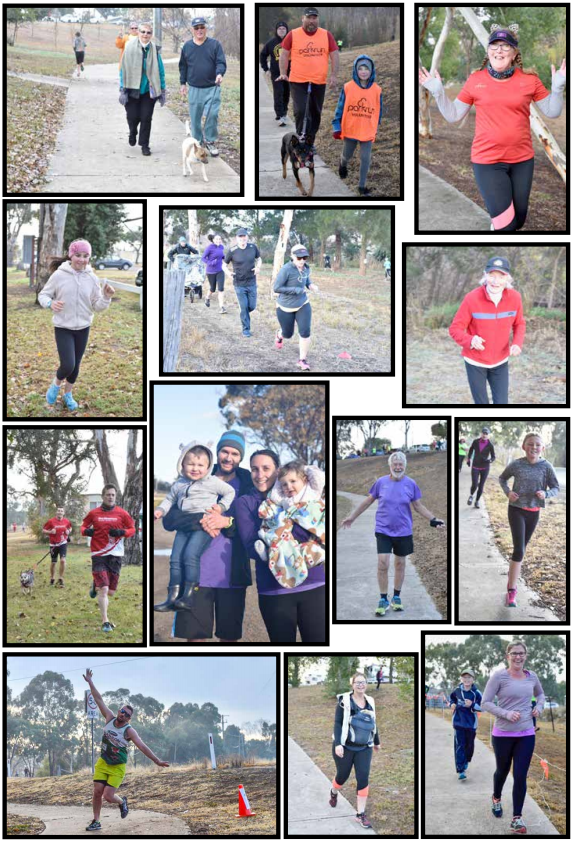 __________________________________________________
Click Image to go to petition
__________________________________________
Merriwa CWA
KID'S COOKING DAY – FREE
Here we go again. Kids bring your parents. We
will be making scones for our morning tea and
for lunch we will be making mini pizza. As well
as making our own cook books to put our future
recipes in. There will also be movies. All this
happens on Wednesday, July 18 at 10.30am.
OUR NEXT MEETING
The next meeting of the CWA Merriwa Branch
will be on Monday July 9 starting at 10.00am
in the CWA rooms. New members are always
welcome.
Enquiries to: Barbara Campbell on 6548 5131 or
0428 485 131 or Robyn McAlister on 0429 487 241.
The CWA rooms are available for hire at very
reasonable rates by contacting Jean Price on
6548 2456.
Kim Clydsdale
_____________________________________________
Merriwa Senior Citizens
Association
GAMES DAY
Please not that there will be a Game's Day on
Tuesday July 10. Singleton seniors will be visiting
us and the usual format will apply.
Mary O'Neill
__________________________________________________
Merriwa Anglican Parish
YULETIDE DOWN UNDER
Where: Anglican Parish Hall
When: August 12
Time: 12.30pm
Tickets: $25.00/pp or $20.00 concession
Children under 12 $10.00
Come along and enjoy a delicious Yuletide
Lunch. BYO is available.
Entertainment details will be provided at a later
date. Tickets can be purchased at Di's Clothing
Patch and Trinity Markets.
For more information please contact Deidre
on 0429 320 821. We invite everyone from the
community to attend.
Deidre Peebles
_________________________________________________
_____________________________________________________
12 months to completion of Merriwa to Willow Tree road
MR 358 upgrade passes the halfway point
Stage 1 of the major upgrade of the Merriwa to Willow Tree road (MR358) is progressing and construction and sealing of the final 7.6 km of unsealed road is due to be completed by September 2018.
Stage 2 of the project is the widening of the cutting over the Liverpool Range. This part of the project is about 3km long with a change in evaluation of 200m requiring over 35,000m3 of rock and earth to be moved. The design and environmental approvals for this work are expected to be completed soon.
The entire Willow Tree to Merriwa road upgrade is due to be completed, including full sealing, in mid 2019, at a cost of over $12 million.
Inspecting the work last week, Upper Hunter Shire Mayor Wayne Bedggood thanked the road crews for their hard work despite the extra challenge created by dry weather conditions and needing to cart water large distances for the construction.
Michael Johnsen MP, Member for Upper Hunter was also pleased with the progress of the road upgrade which he says will deliver vastly improved transport access for all road users, especially the freight industry.
"The Nationals in Government are committed to building efficient freight networks in regional NSW to increase the productivity of industry, so we are proud to be support this important upgrade which will reduce travel times and cut transport costs," Mr Johnsen said.
"The work being undertaken will provide a more direct route for high productivity vehicles between the Golden and New England highways and provide a safer and improved road for our local community and tourists who travel around the area."
The joint project by Upper Hunter Shire Council and Liverpool Plains Council is funded with $5.57 million from the NSW Government's 'Fixing Country Roads' program, adding to the $800,000 NSW Government's funding from the Regional Roads REPAIR Program.
In 2016, The Australian Government made $5.5 million available for the road upgrade through the Heavy Vehicle Safety and Productivity Program.
Cr Bedggood said there were many benefits from completing the project.
"The upgrade will make for a cheaper, faster and safer trip for not only industry operators and farmers but also for tourists, school buses, ambulances, families and individuals," he said.
"This is about helping farmers, truck drivers, and small businesses getting goods to markets. It is about tourists exploring our region, locals accessing education and medical services, and doing so quickly and safely," said Cr Bedggood.
"Costs to local cattle producers will be reduced from over $1500 a load to roughly $900. Local grain producers are set to substantially benefit from this investment as well.".
The linking of Golden Highway and the New England Highways will save around 44km each way and provide enormous benefits to both Upper Hunter and Liverpool Plains shires.
"The upgrade will encourage more commerce, including tourism, across the entire region as well as improving safety for both people and animals.
"This is about helping farmers and truck drivers get goods to markets quickly and safely. It's also about delivering much needed infrastructure that will result in cost savings to residents and smaller businesses transporting locally produced goods and services into both Shires," Cr Bedggood said.
"There are significant safety outcomes through the reduction of travel times and better road conditions."
____________________________________________________
Businesses save fees with Upper Hunter Country branding
There's also $1000 grants for a shopfront make-over
The simple act of adding an 'Upper Hunter Country' sticker to an A-frame, chalkboard or tables and chairs on the footpath, will save a business its 2018/19 annual footpath trading licence fees in the Upper Hunter Shire.
Upper Hunter Shire Council is also offering financial assistance to business owners to help revitalise streetscapes in towns across the Shire by way of a grant of up to $1000 to refurbish shopfronts.
The Upper Hunter CBD Shop Front Assistance Fund is to provide one-off assistance to businesses in Aberdeen, Merriwa, Murrurundi and Scone central business districts (CBDs). Council will contribute a one-off allocation of up to $1,000 ex GST (or 50% of project costs – whichever is the least) per standard 15-metre shop front.
These initiatives are part of Council's strategy to encourage shop owners to promote tourism as well as improving the look of Upper Hunter town's CBDs.
The Upper Hunter CBD Shop Front Assistance Fund Application Form and Guidelines are available on Council's website www.upperhunter.nsw.gov.au under Do It Online / Apply for It / Community Grants.
Live link: http://upperhunter.nsw.gov.au/f.ashx/a-zdocuments/Scone-CBD-Shop-Front-Assistance-Program-Guidelines-and-Application-Form-June-2017-Fields_distributed.pdf
Copies are also available from Council offices.
To find out more about Upper Hunter Country branding contact Council's Environmental and Community Services department on 6540 1100.
_________________________________________________________
Routine X-Rays available at MPS Again
Routine X-Rays are available in Merriwa again, as of last Wednesday, at the MPS, and every Wednesday from then.
If you are a patient of either of the local GPs they can make a booking for you. If you go to an out of town GP or would like to make your own X-Ray booking phone 6542 2093 and ask for an appointment in Merriwa.
___________________________________________________________
____________________________________
Merriwa Community Diary
__________________________________
TransCare Bus Timetable
Merriwa Weather Conditions Currently