Keep up to date with the latest news updates by visiting our 'blog' page – News Updates!
As we regularly update the news, items that are shared via social media is regularly deleted, meaning that the item of interest cannot be viewed any longer. By moving our news to a 'blog' style, any items of interest can be shared and will be available for unlimited viewing.
___________________________________________
Merriwa Ringer
______________________________
END OF AN ERA FOR THE MERRIWA RINGER
Over 40 community members attended a meeting on November 10 to discuss the future of the Merriwa Ringer. The Ringer has played a key role within the community for over 30 years and is highly valued by the community. However, the time has come for the community to take ownership of the Ringer, and determine if it has a future and what that might look like.
Rising costs and greater use of social media has meant that the Ringer is no longer financially viable. The Ringer receives no additional funding other than local advertising and sponsorship and is currently a considerable burden on Merriwa Central School. Several years ago action was taken to reduce the publications costs associated with the Ringer, and consideration given to the introduction of individual sponsorship. However, this model of sponsorship was not supported by the community. As a result the school can no longer cover the loss of producing the community newsletter, currently in excess of $36,000 per year.
Community members attending the meeting recognised it was not fair on the students and parents of Merriwa Central School to be expected to meet these ongoing costs.
The school will sadly cease production of the Ringer next month.
A meeting will be held on Thursday November 25 at 6.00pm at the RSL Club to form a community steering committee to consider the future viability of the Ringer. It is anticipated the committee will review the governance, production and financial operations of the Ringer based on the feedback from the community. All interested community members are invited to attend.
Darren Noonan
Principal
Merriwa Central School
____________________________________________

The Merriwa District Progress Association is hosting a forum for the candidates of the Upper Hunter Shire Council election on 4 December 2021 so the local community can better understand what each candidate has to offer the local district.
The Forum will be held at the Merriwa RSL Club at 6:00PM on Wednesday 24 November 2021.
Please pass this information on to your friends, neighbours etc.
Feel free to print and post the attached notice where you think it will be seen. Already at Mens Shed, IGA, Merriwa Pharmacy, Max's noticeboard.
We have confirmations from seven of the twelve candidates already.
_______________________
Merriwa Activity Centre
2022 Term 1 & 2 After School Care Commitments
Merriwa Activity Centre held a meeting on Thursday 4th November 2021 to discuss the continuation of the Activity Centre which encompasses both After School and Vacation Care services.
The meeting was very well attended by the community, and highlighted that the most important factors were raising attendance at the service and providing consistency for families and staff.
Families are now being encouraged to show their commitment to the ongoing use of this service by booking their child into After School Care for the
first 2 terms of 2022
. We have provided a screenshot of the booking form below, however the word document can be accessed by following this link –
https://www.facebook.com/groups/merriwaconnect/posts/2520965201380811.
Families are asked to return the booking form
no later
than close of business on December 7th 2021.
Vacation Care will not be in operation over the Christmas care period and will be assessed and discussed in July 2022.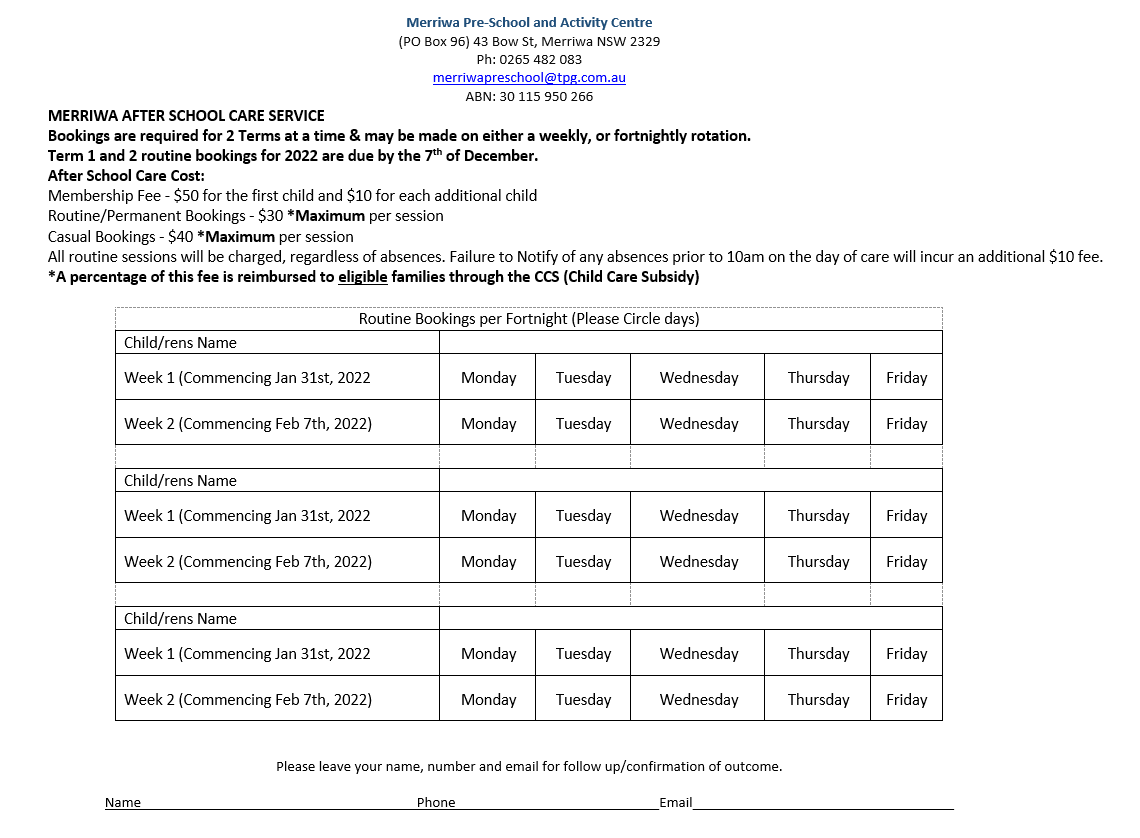 Children from Kindergarten to year 6 are able to attend Merriwa Activity Centre's After School Care – so if your child starts school in 2022, please complete a booking form so that the Activity Centre knows of your interest!
___________________________________________
___________________________________________
___________________________________________
_________________________________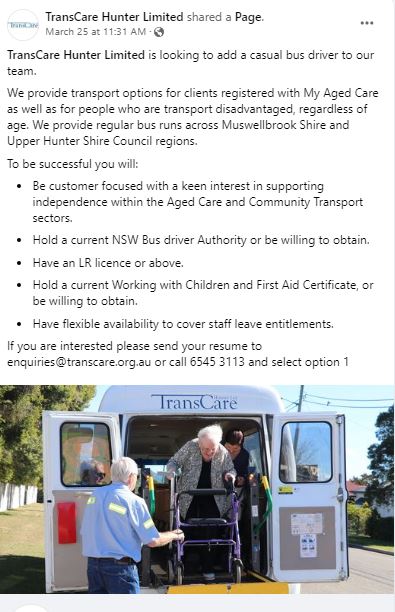 __________________________________
Hunter Medical Practice
Merriwa 6532 5013
Denman 6547 3955
Muswellbrook 6543 1717
As from Monday August 16 opening times for our Merriwa, Denman and Muswellbrook practices will be:
Merriwa – Monday, Tuesday and Thursday
Denman – Monday, Wednesday and Friday
Muswellbrook – Monday, Tuesday, Wednesday, Thursday and Friday.
Opening Hours: 8am – 5.30pm for all
Closed Lunch: 1pm to 2pm
Carol Cronin
________________________________________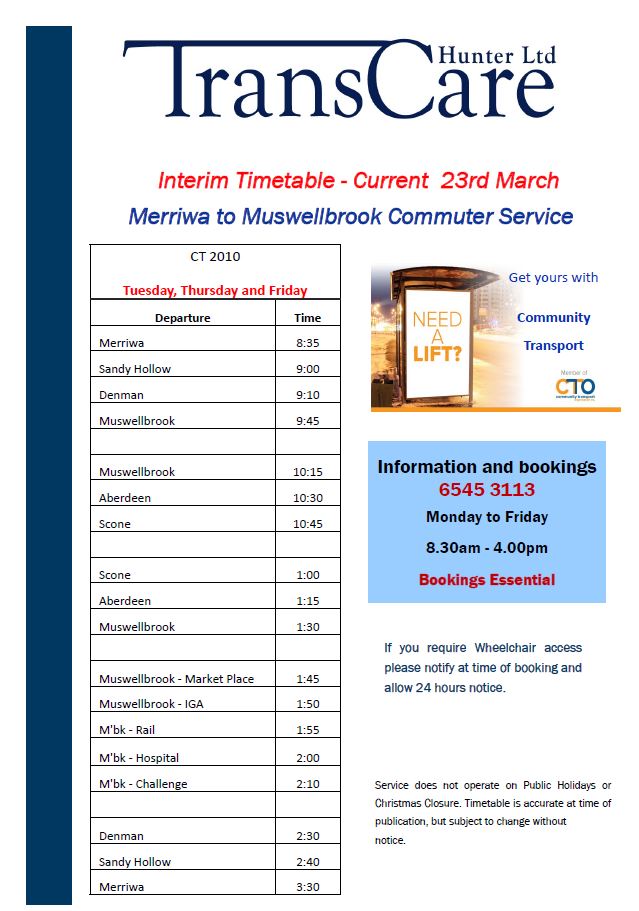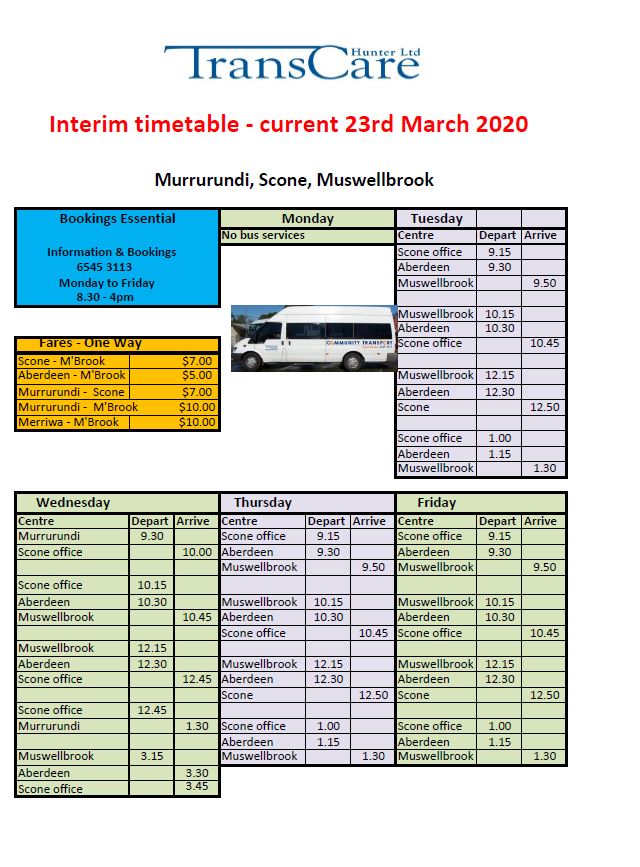 ___________________________________________
Merriwa Surgery
FOR ALL YOUR MEDICAL NEEDS
Opening hours
Monday to Friday 8.30am -5.30pm
Closed for lunch 12.30pm to 1.30pm daily
For bookings please call the surgery on 02 6548 2305
Merriwa Surgery would like to advise Dr Jasem will be on leave from July 15, 2021 until September 6, 2021. For those that are concerned Dr Jasem is returning following his leave and will continue to provide ongoing healthcare to the community.
During this time Dr Plaskitt will be in the practice three days per week working Monday's through to Wednesday's, unfortunately the surgery will need to be closed for one week during Dr Jasem's leave commencing Monday August 9, 2021 through to Sunday August 15, 2021.
As of September 1, 2021, we would like to advise changes to our billing, we have previously been a Bulk Billing practice, this is no longer feasible for the practice and changes to mixed billing will commence in September, this means that unless you hold a pensioner concession card or are a child Under 16 years, there will be a fee for your consultation. These fee's will be available in the surgery in the coming weeks.
Merriwa Surgery continue with our Covid vaccination clinics, please phone reception for more information.
Dr Emad Jasem
_____________________________________________
Merriwa Parkrun
WEEKLY FREE 5KM TIMED RUN
What is Merriwa parkrun? It is a 5km run – it's you against the clock.
When is it? Every Saturday at 8.00am.
Where is it? The event takes place at Rotary Park, Telfer Street, Merriwa, NSW 2329.
What does it cost to join in? Nothing – it's free! but please register before your first run. Only ever register with parkrun once. Don't forget to bring a printed copy of your barcode If you forget it, you won't get a time.
Register at https://www.parkrun.com.au/register/
How fast do I have to be? We all run for our own enjoyment. Please come along and join in whatever your pace.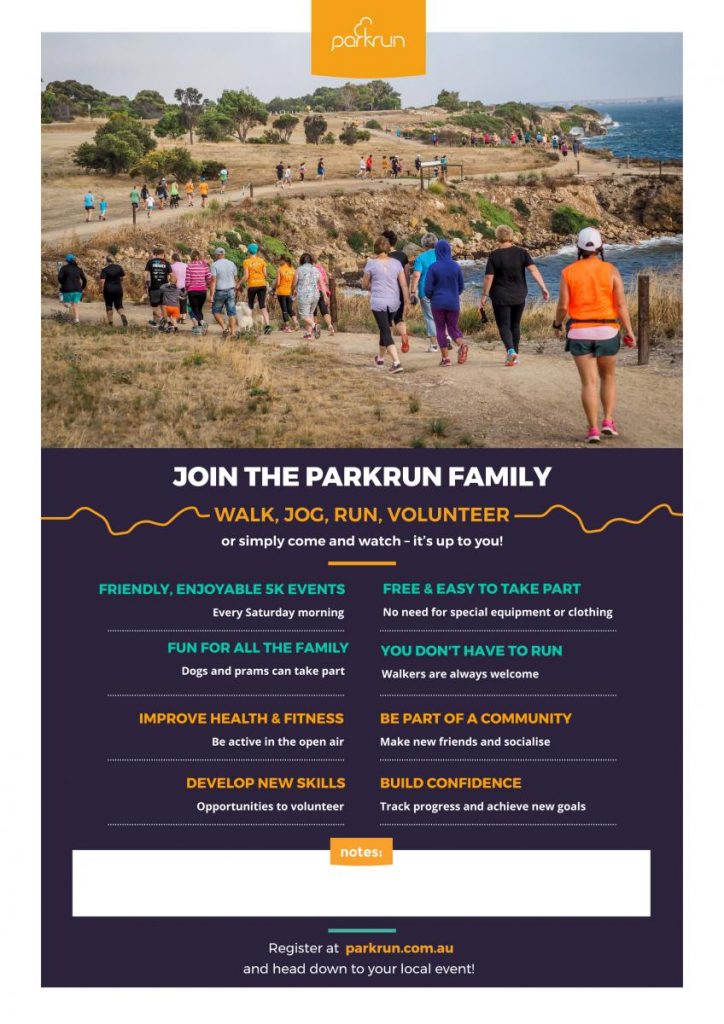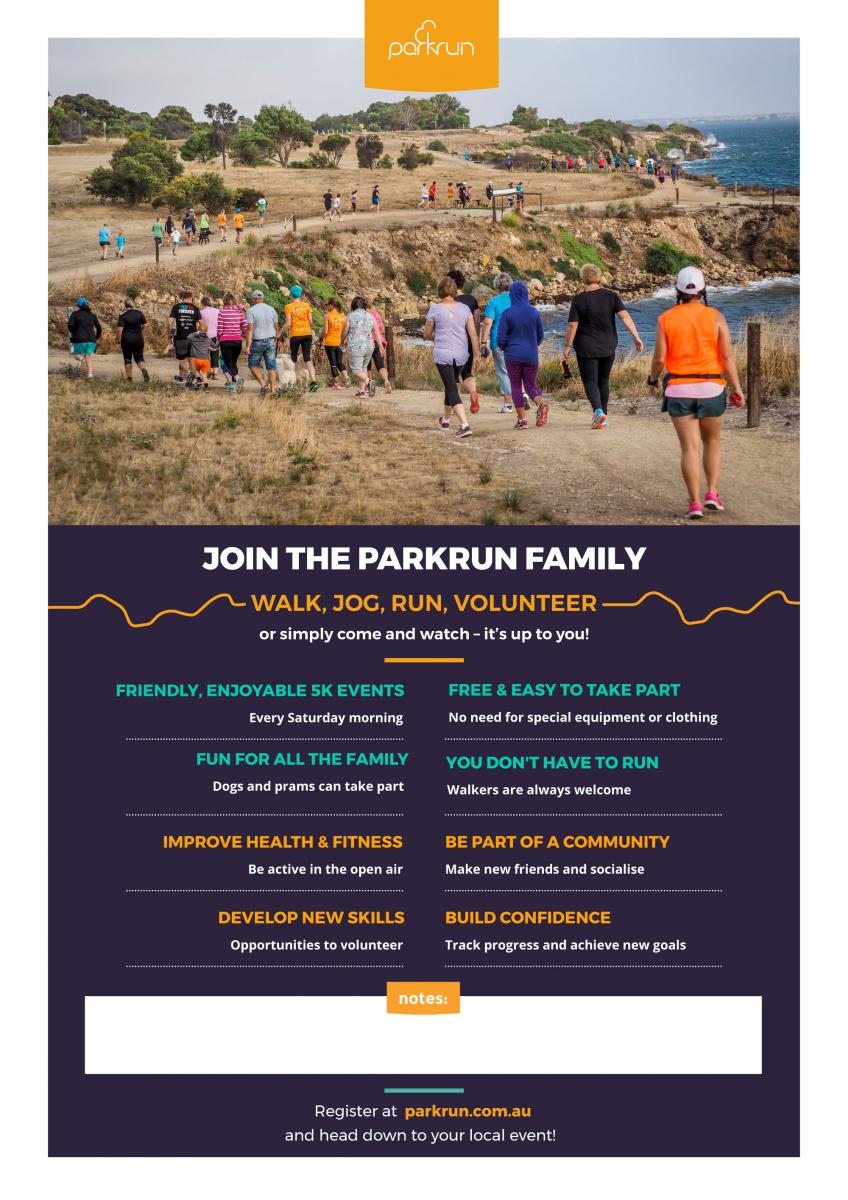 Merriwa parkrun needs you!
It is entirely organised by volunteers – email merriwahelpers@parkrun.com to help. We are friendly.
Every week we grab a post parkrun coffee in Sansko café – please come and join us! Participate in parkrun on Show Day to receive a free ticket to the Merriwa Springtime Show. You must show your barcode and walk/run/ volunteer to receive your ticket.
Ashleigh Golden
__________________________________________
Non Emergency Medical Transport
We are required to give Area Health at least 48 hours notice of planned trips. To do this we need Clients to make their booking with us in that time.
Telephone 6548 2653 or Office, Bottle Museum, between 9.30 and 3.30 weekdays.
Lorna Parnell
Office Manager
_____________________________________
Merriwa Business Gift Card
_______________________________________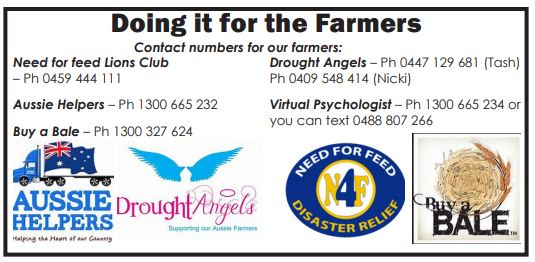 ___________________________________________________________
Merriwa Cup Race 2019
________________________________________________
Timelapse Painting Merriwa Silos
________________________________________________
Merriwa Community Diary
________________________________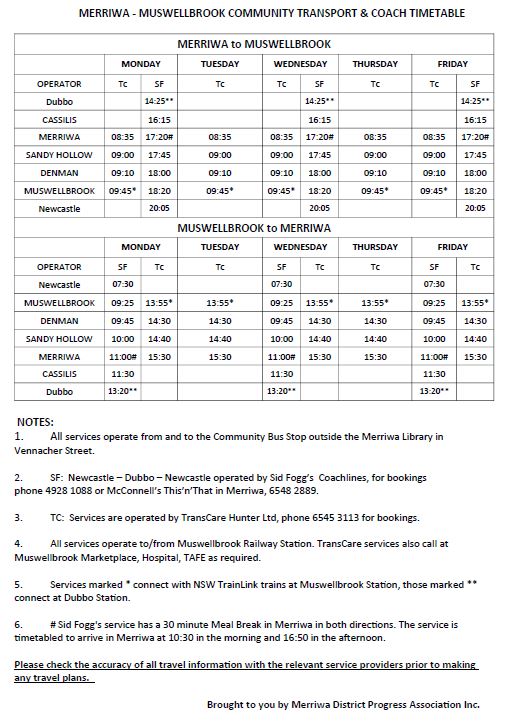 Merriwa Weather Conditions Currently