Merriwa Touch Football
Club
Registrations are now open for the
2018 Touch Football Competition. We
appreciate everyone's patience whilst we are
still learning the ropes.
Registrations will close Wednesday 10 October
2018 to allow for the draw to be organised.
Both Senior and Junior competitions will kick off
on Wednesday 17 October.
Senior competition will consist of ladies and
mens' teams as in previous years.
The Registration fee for players registering in the
Senior Competition is $70.00 per player.
The Registration fee for players registering in the
Junior Competition is $40.00 per player.
Starting Wednesday 17 October players
registered in the Junior Competition will
participate in Drills organised by our fantastic
volunteers, games will be held after the drills.
From Wednesday 21 November Juniors will play
games (Drills will not be held beforehand). We
ask for teams to be organised and registered
with a mixture of ages (as per 2017 Competition),
to be fair to all children and to encourage more
players to join our Competition.
Our committee is still seeking a President and
Vice President to join us for the 2018 /2019
season. If you are able to assist please contact
either Kellie Porter on 0432 109 760 or myself on
0487 761 253.
Leanne Hunt
___________________________________________
_____________________________________________
Merriwa VIEW Club
Our next meeting of Merriwa View Club will take
place on Thursday September 27.

Where: "Eat at 153" Cafe
Time: 7.00pm for 7.30pm dinner
RSVP: Jenny Johnson on 6548 2509 by 12 Noon
on Tuesday September 25.

We are beginning to collect items for our
Learning Locally bags for our kindergarten
classes of 2019. Items such as coloured/lead
pencils, rulers, sharpeners and rubbers would be
much appreciated.

Kay Burgess and Jan Cronin have kindly donated
our raffle and lucky door prizes for this month.
Thank you ladies.

Merriwa View Club is a small but friendly
group of ladies who meet once a month for a
chat, sometimes a special guest speaker, fun
experiences and a lovely evening out. Ladies
please consider bringing along a friend. They will
be most welcome.

Come along and enjoy a tasty dinner and an
enjoyable evening with friends.
Hope to see you there.
Julie Smith
_________________________________________
Merriwa Samaritan Boxes
CHRISTMAS BOXES 2018
Samaritans Purse Christmas boxes are available
now, for this year's appeal. Collection will be
mid-October, 2018 – date will be advised later.
The destination of the gift boxes will be much
the same as last year.
Anyone wishing to fill a box, please call me on
6548 5131 (AH is best) or 0428 485 131.
Barbara Campbell
___________________________________________
NEMTS Merriwa
FREE TRAVEL FOR FARMING FAMILIES
Merriwa Non Emergency Medical Transport is
offering all Farming Families in our District FREE
travel to Medical Appointments for the duration
of this severe drought. Just mention that you
are a farmer when making your booking.

Phone 6548 2653 or at the office in the Bottle
Museum. 9.30am to 3.00pm. All types of Medical
Appointments are covered by this offer. We
travel to Newcastle, Tamworth and Orange and
all in between plus to Sydney.
Bryan Baker
___________________________________________
Merriwa Tourist
Welcoming Centre and
Men's Shed and Merriwa
Rotary Club
BUGGER THE DROUGHT PARTY
COMMUNITY FAMILY LUNCH
When: Sunday October 21
A short report this week, plans still moving along
well, thought you might be interested in our
menu for
The party – well the usual sausage sandwiches
but also pulled pork rolls and lamb and gravy
rolls – yummy. The Junior League will be spoiling
us with their hot chips, so there will be food
aplenty.
Just a reminder not to bring any glass on to the
grounds!
Have been selling our raffle tickets for the Parra
Eels signed jersey, thank you to all who have
already
Bought, also everyone who popped into the
Welcoming Centre to get their own Bugger the
Drought Cap!
More to report next week!
Edith Shipway and her band of eager helpers!
__________________________________
________________________________________________
Merriwa Red Cross
DROUGHT APPEAL
When: September 28
The members of Merriwa Red Cross will be holding
a raffle and 100 club stall on Friday September
28 to assist drought affected farmers.
The money raised will be forwarded to Red
Cross for the Drought Appeal to assist farmers
financially and for counselling services.
100% of the money raised goes directly for
support with no expenses for administration
being deducted.
We thank you in anticipation of your support.
Cheree Walmsley
__________________________________________
_____________________________________
___________________________________
SAVE THE DATE!
Melbourne Cup
"Long Lunch"
Brindley Park, Merriwa
Tuesday November 6, 2018
Proudly supporting Merriwa Country
Education Foundation
Courtesy Buses will run (kindly sponsored by
Cowan's)
Limited tickets available October
Contact Amanda Kemp for more details.
________________________________________
SAVE THE DATE!
MERRIWA ANGLICAN PARISH
will be holding a
High Tea Afternoon
on Melbourne Cup Day
Advance invitation to prepare your fine hats
for a fun filled afternoon.
Held at the Parish Hall from 1.30pm
More information to come.
CONTACT DEIDRE PEEBLES
______________________________________
Businesses save fees with Upper Hunter Country branding
There's also $1000 grants for a shopfront make-over
The simple act of adding an 'Upper Hunter Country' sticker to an A-frame, chalkboard or tables and chairs on the footpath, will save a business its 2018/19 annual footpath trading licence fees in the Upper Hunter Shire.
Upper Hunter Shire Council is also offering financial assistance to business owners to help revitalise streetscapes in towns across the Shire by way of a grant of up to $1000 to refurbish shopfronts.
The Upper Hunter CBD Shop Front Assistance Fund is to provide one-off assistance to businesses in Aberdeen, Merriwa, Murrurundi and Scone central business districts (CBDs). Council will contribute a one-off allocation of up to $1,000 ex GST (or 50% of project costs – whichever is the least) per standard 15-metre shop front.
These initiatives are part of Council's strategy to encourage shop owners to promote tourism as well as improving the look of Upper Hunter town's CBDs.
The Upper Hunter CBD Shop Front Assistance Fund Application Form and Guidelines are available on Council's website www.upperhunter.nsw.gov.au under Do It Online / Apply for It / Community Grants.
Live link: http://upperhunter.nsw.gov.au/f.ashx/a-zdocuments/Scone-CBD-Shop-Front-Assistance-Program-Guidelines-and-Application-Form-June-2017-Fields_distributed.pdf
Copies are also available from Council offices.
To find out more about Upper Hunter Country branding contact Council's Environmental and Community Services department on 6540 1100.
_________________________________________________________
Routine X-Rays available at MPS Again
Routine X-Rays are available in Merriwa again, as of last Wednesday, at the MPS, and every Wednesday from then.
If you are a patient of either of the local GPs they can make a booking for you. If you go to an out of town GP or would like to make your own X-Ray booking phone 6542 2093 and ask for an appointment in Merriwa.
___________________________________________________________
____________________________________
Merriwa Community Diary
________________________________
TransCare Bus Timetable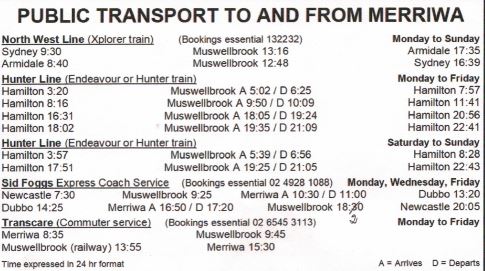 Merriwa Weather Conditions Currently