True to our theme for this year, Legends, Myths and Fantasy, we are calling for nominations for legends for the following 2019 Scone Horse Festival Awards.
– 2019 Scone Horse Festival VIP
– 2019 Young Achiever
– 2019 Horse of the Year
For more detail please visit our website and download a form.
www.sconehorsefestival.com.au/forms/
_______________________________________________
Merriwa Senior Citizens
Please note that our "Home Day" will
be held on Friday March 15 in the RSL
Club auditorium from 11.00am.
Lunch is approximately 12.30pm
Cost: $18.00
Please bring a gift for Hoi, which will follow our
lunch. Raffles and lucky door will be included.
Scone, Denman, Coolah and Cassilis have been
invited.
I will need numbers for catering so please
contact me if you would like to come.
GAME DAYS FOR 2019
• Tuesday April 9 with visitors from Singleton
• Tuesday July 2 with visitors from Coolah,
Denman and Cassilis
• Tuesday September 17 with visitors from
Muswellbrook.
More details on these home days later.
Mary O'Neill
__________________________________________
St David's Uniting Church
PIE/LAMINGTON DRIVE
Our first pie drive for 2019 has been booked.
Delivery Day: Wednesday April 10, 2019
This is the week before school breaks up for first
term – an opportunity to get the freezer stacked
for the School Holidays. Order sheets will be out
in the next week or so.
Barbara Campbell
_____________________________________
Festival of the Fleeces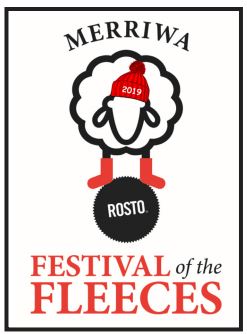 The Festival is only just over three months away
now, and we need to get focused, this time will
very pass quickly. Our first fund raiser for this year
is a Street Stall.
Date: Friday March 29
All saleable items would be appreciated.
Barbara Campbell
___________________________________
__________________________________________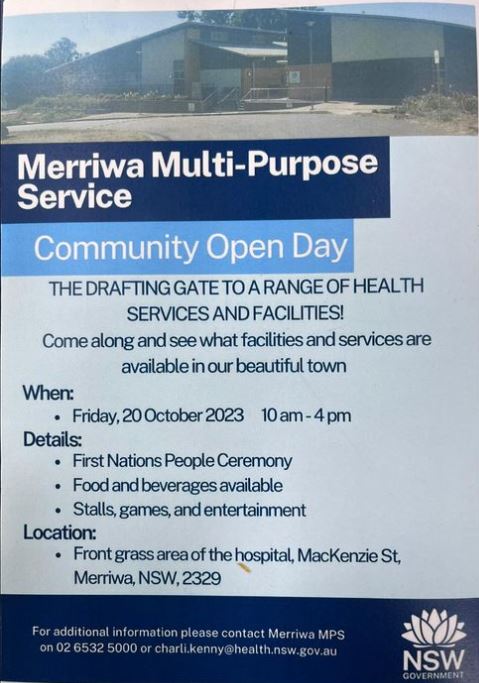 Across Australia, two in three adults and one in four children are either overweight or obese, and rates of overweight and obesity are higher in rural and regional areas compared to metropolitan areas.
Hunter New England and Central Coast Primary Health Network is seeking to support people to reach a healthy weight and reduce their risk of chronic disease.
We have funding available for local government or local organisations to target behavioural and environmental change across the following areas:
Increase physical activity
Decrease screen time
Improve diet quality by reducing the consumption of sugar-sweetened drinks and high energy foods.
More information and to apply, head to our TenderLink website.
If you haven't already done so, you will need to register on TenderLink to submit an application or ask a question.  Registering will also enable you to be notified of future funding and tender opportunities from HNECC PHN.
Submissions close Midnight, March 31, 2019
____________________________________________
Council closed for staff development day
15 March 2019
2019 is certain to be another big year for Upper Hunter Shire Council, kicking off with a day of training and development to support staff in providing the best possible service for the local community.
The development day is a great opportunity for teams across three townships to come together and update their training and skills for the year ahead, and will require a one-day closure on Friday, 15 March across all administration centre, libraries and works depot sites.
All children and youth services, waste depots, saleyards and airports will remain open to provide essential service to the community.
There will be on call staff available for roads, bridges, animal control, water and sewerage for all Upper Hunter Shire towns on 6540 1199.
For further information, please contact Council on 6540 1100.
________________________________________________
Cassilis Community Meeting
COMMUNITY MEETING
When: Wednesday March 27, 2019
Time: 7.00pm
Where: Cassilis Community Hall
GUEST SPEAKERS
Upper Hunter Shire Council – to inform/update
residents about the Cassilis sewage project
Epuron – to update residents on the Liverpool
Range Wind farm
QUESTIONS AND ANSWERS TIME
The newly formed Cassilis District Development
Group has now been incorporated and wish
to extend an invitation to all interested people
to come and hear about our current and
upcoming projects.
The group aims to improve community
infrastructure, cohesion and well-being in
the local area through consultation and
collaboration with residents, landholders,
government and private enterprise.
This will be the second community meeting we
have held and is to inform everyone on the
progress of identified projects and priorities.
The guest speakers chosen should provide
answers to many of the questions about these
two projects set to impact our community.
For further information contact:
Berni (Vice President) 0415 120 578 and Nell
(Secretary) 0427 517 383
__________________________________
Country Women's Association
of NSW
COMING EVENTS
We have a few exciting things coming up in the
next couple of months.
DANCE THE DROUGHT AWAY
Where: School of Arts
Starts: 6.00pm
When: April 6
Good old country dance. More information to
come.
CWA STREET STALL
Just in time for Easter.
When: April 18
THE MERRIWA RACES
We will be there with our cakes, coffee and
steak sandwiches. Hope to see you all there.
When: April 27
OUR NEXT MEETING
Our next meeting is Monday March 11 at
10.00am at the CWA Rooms. 159 Bettington
Street, Merriwa. New members are always
welcome.
Enquiries to: Penelope Fenley on 6548 3060 or or
Kim Clydsdale on 6548 2558 or 0421 910 658.
The CWA Rooms are available for hire at very
reasonable rates by contacting
Kim Clydsdale on 6548 2558 or 0421 910 658
___________________________________________
Merriwa Red Cross
Merriwa Red Cross will be holding a Red Cross
Calling morning on March 22. We will be selling
tickets in a raffle and 100 Club.
These funds help to support the vital work that
Red Cross provides to those in need in Australian
communities, including the recent fires and
floods and the ongoing drought.
As always we appreciate the support given by
the Merriwa Community.
Cheree Walmsley
______________________________________________
Merriwa Hospital Auxiliary
STREET STALL
The Merriwa Hospital Auxiliary will be holding
a street stall on Friday March 15. We ask for
donations of cakes, slices, jams etc from our
members and anyone in the community who
would like to contribute something towards our
stall. We will be having a 100 Club and a raffle
on the day. Thank you to those members who
have volunteered to help on the stall and to sell
raffle tickets for the day.
All proceeds go towards our MPS for equipment
needed for the safety of the patients and staff.
See you at the stall on Friday.
Elaine Sparrow
X-RAY MACHINE TWELVE MONTHS IN OPERATION
It is now twelve months since the activation of
the X-ray machine at the Merriwa MPS.
Staff from the Muswellbrook Radiography
Department (including pictured radiographer
Shandelle Hudson) have been carrying out
X-rays in Merriwa on Wednesdays since 7
February 2018.
During this time there have been more than 700
examinations, averaging 14 per day.
The availability of X-ray services in Merriwa
has helped reduce the discomfort and
inconvenience of people with non-urgent
medical conditions travelling to Scone or
Muswellbrook.
Since the establishment of the Merriwa MPS in
2009, the X-ray machine sat fully operational
and unused until it was activated last year. As
a result of representations made by the Merriwa
District Progress Association and with the
cooperation of Hunter New England Health this
very important service has been made available
to the local community.
Merriwa Progress Association
The terrific response from the public has been
so positive, it is being considered whether the
service can be extended to operate for an
extra day per week.
Doctors Jasem and Jawaad can refer patients
for X-rays at Merriwa. In addition, patients
consulting other medical practitioners can book
X-rays by calling 02 6542 2093 and asking for an
appointment at Merriwa.
Stephen Gowlland
______________________________________________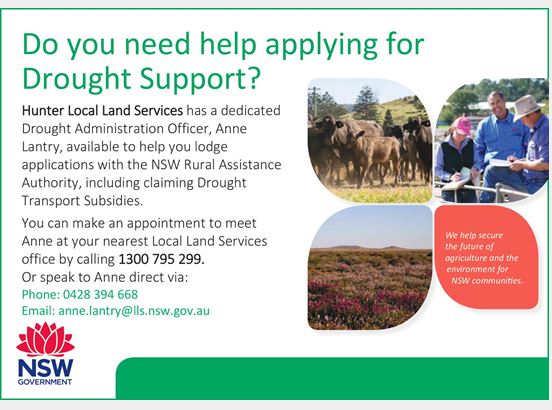 _________________________________________
Merriwa Non Emergency
Medical Transport
VOLUNTEER POSITION
VACANT
Car drivers with good driving record are needed
urgently to work for a vibrant local business
responsible for transporting passengers to special
appointments. 
Interested drivers are invited to join this
highly respected and long established local
organisation.
Hours are flexible on a needs basis and when
drivers are available.
Conditions of employment include provision of
uniform, car provided and meal reimbursements.
First aid course training is required and provided.
Applicants will be required to a Police Check
and be certified to work with Children.
If you have the aptitude and the interest
in transporting passengers for a fast paced
organisation please contact Lorna 0466 876 106.
Merriwa and District Non Emergency Medical
Transport will be closed from: Monday December
17 – Monday January 14, 2019.
Any appointments for January 14 and onward,
please leave your name and telephone number
on our office phone 6548 2653 and I will contact
you the week prior to January 14.
Merry Christmas to all from all of our staff.
Lorna Parnell
_________________________________________
Merriwa Business Gift Card
____________________________________________
NEMTS Merriwa
FREE TRAVEL FOR FARMING FAMILIES
Merriwa Non Emergency Medical Transport is
offering all Farming Families in our District FREE
travel to Medical Appointments for the duration
of this severe drought.
Just mention that you are a farmer when making
your booking. Phone 6548 2653 or at the office in
the Bottle Museum, 9.30am to 3.00pm. All types
of Medical Appointments are covered by this
offer. We travel to Newcastle, Tamworth and
Orange and all in between plus to Sydney.
Bryan Baker
_______________________________________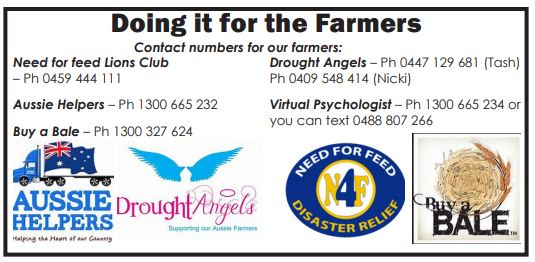 ________________________________________________
Businesses save fees with Upper Hunter Country branding
There's also $1000 grants for a shopfront make-over
The simple act of adding an 'Upper Hunter Country' sticker to an A-frame, chalkboard or tables and chairs on the footpath, will save a business its 2018/19 annual footpath trading licence fees in the Upper Hunter Shire.
Upper Hunter Shire Council is also offering financial assistance to business owners to help revitalise streetscapes in towns across the Shire by way of a grant of up to $1000 to refurbish shopfronts.
The Upper Hunter CBD Shop Front Assistance Fund is to provide one-off assistance to businesses in Aberdeen, Merriwa, Murrurundi and Scone central business districts (CBDs). Council will contribute a one-off allocation of up to $1,000 ex GST (or 50% of project costs – whichever is the least) per standard 15-metre shop front.
These initiatives are part of Council's strategy to encourage shop owners to promote tourism as well as improving the look of Upper Hunter town's CBDs.
The Upper Hunter CBD Shop Front Assistance Fund Application Form and Guidelines are available on Council's website www.upperhunter.nsw.gov.au under Do It Online / Apply for It / Community Grants.
Live link: http://upperhunter.nsw.gov.au/f.ashx/a-zdocuments/Scone-CBD-Shop-Front-Assistance-Program-Guidelines-and-Application-Form-June-2017-Fields_distributed.pdf
Copies are also available from Council offices.
To find out more about Upper Hunter Country branding contact Council's Environmental and Community Services department on 6540 1100.
Daele Healy
Communications OfficerPhone: 02 6540 1110 (Mondays & Wednesdays)02 6540 1358 (Tuesdays)Fax: 02 6545 2671Email:

[email protected]

 UPPERHUNTER.NSW.GOV.AU  A Quality Rural Lifestyle – in a vibrant, caring and sustainable community
_________________________________________________________
Routine X-Rays available at MPS Again
Routine X-Rays are available in Merriwa again, as of last Wednesday, at the MPS, and every Wednesday from then.
If you are a patient of either of the local GPs they can make a booking for you. If you go to an out of town GP or would like to make your own X-Ray booking phone 6542 2093 and ask for an appointment in Merriwa.
___________________________________________________________
 ____________________________________
                      Merriwa Community Diary
________________________________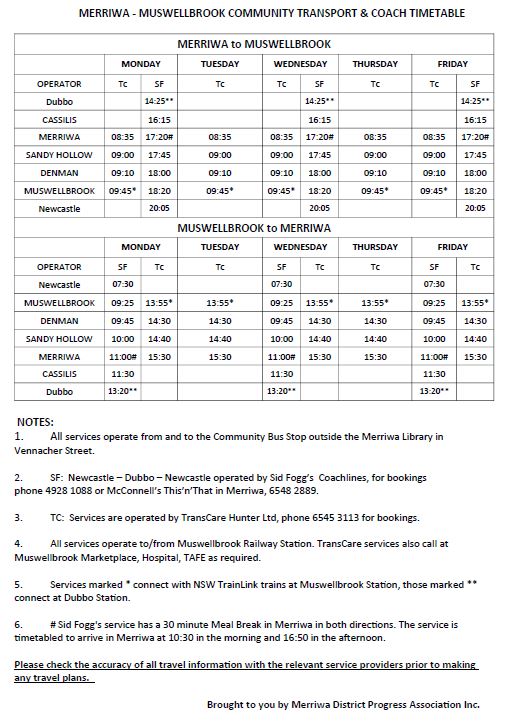 Merriwa Weather Conditions Currently