Think Pink in October
SAVE THE DATE: TUESDAY OCTOBER 29
Di's Clothing Patch will once again be supporting Breast Cancer Research with a Pink morning tea. Add some Pink to your day bring a friend and join us for some yummy treats and a chance to catch up with your friends while supporting Breast Cancer Research. We have been kindly donated a hand quilted rug as a raffle prize, tickets will be on sale from Monday October 16.
Entry to the morning tea will be $5.00.
ALL PROCEEDS WILL BE GOING TO BREAST CANCER RESEARCH
Dianne
__________________________________________________
Merriwa Anglican Parish
CLAIMING THE DATE
MELBOURNE CUP CELEBRATION
Date: Tuesday November 5
The Anglican Parish Merriwa would like to Claim the Date for a Melbourne Cup Celebration.
Jenny Finnie
______________________________________
Non Emergency Medical
Transport
We are required to give Area Health at least 48 hours notice of planned trips. To do this we need Clients to make their booking
with us in that time.
Telephone 6548 2653 or Office, Bottle Museum, between 9.30 and 3.30 weekdays.
Lorna Parnell
Office Manager
______________________________________
Merriwa Parkrun
WEEKLY FREE 5KM TIMED RUN
What is Merriwa parkrun? It is a 5km run
– it's you against the clock.
When is it? Every Saturday at 8.00am.
Where is it? The event takes place at Rotary Park, Telfer Street, Merriwa, NSW 2329.
What does it cost to join in? Nothing – it's free! but please register before your first run. Only ever register with parkrun once. Don't forget to bring
a printed copy of your barcode If you forget it, you won't get a time. Register at https://www.parkrun.com.au/register/
How fast do I have to be? We all run for our own enjoyment. Please come along and join in whatever your pace.
Merriwa parkrun needs you!
It is entirely organised by volunteers – email [email protected] to help. We are friendly..
Every week we grab a post parkrun coffee in Sansko café – please come and join us! Participate in parkrun on Show Day to receive a free ticket to the Merriwa Springtime Show. You must show your barcode and walk/run/ volunteer to receive your ticket.
Ashleigh Golden
_____________________________________
Hunter Medical Practice
Doctor's Timetable
________________________________________
Merriwa Swimming Pool
UPPER HUNTER SHIRE POOLS OPENINGS
The Scone Memorial Swimming Pool and Merriwa Olympic Pool will open on Saturday October 5. Murrurundi and District War Memorial Pool will open on Saturday November 30, due to the additional costs of carting water to Murrurundi under level 6 water restrictions. All three pools will close on the March 29, 2020. Opening hours and entry fees are available on Upper Hunter Shire Council's website http://upperhunter.nsw.gov.au/our-facilities/swimming-pools.aspx
SUPERVISING CHILDREN
To better safeguard children, Upper Hunter Shire pools are partners in the "Keep Watch @ Public Pools" program from the Royal Lifesaving Society. Staff enforce conditions of entry to ensure parents (or other adult carers) are able to supervise children.
• For babies to five year olds parents must stay within arms reach at all times
• Six to 10 year olds, the parent or other responsible adult must be close, maintain consistent visual contact and be prepared
to enter the water.
• For 11 and 12 year old children, parents or other responsible adult (aged 16 years or over) must maintain consistent visual contact.
Upper Hunter Shire pools are managed by Lifeguarding Services Australia. For regular updates on activities at the pools follow the Facebook pages for each pool.
____________________________________________
Gummun Place Hostel
MOSAICING WORKSHOP – CHANGE OF DATE
The mosaic workshop will start September 18 continuing through to November 14. Names to be given to Julie Wilton or Sue Duggan.
This is a fully funded project from Merriwa Tourist and Welcoming Centre and the Upper Hunter Shire Council with no cost to attendees.
Time from 10.00am to 12noon and
1.00pm to 3.00pm
Please bring lunch.
Morning and afternoon tea are provided.
Sue Duggan and Julie Wilton
_____________________________________________
Hunter Medical Practice -Update
Dr Noman Jawaad
Dr Ahmed Jalal
Dr Joe Paul
Merriwa – Cnr Brisbane and Mackenzie Streets – 65325013
Denman – 51 – 53 Ogilivie Street – 65473955
Muswellbrook – 80 Brook Street – 65431717
 Currently ours hours are 8am – 6pm over the 3 practices 
Merriwa hrs currently are Monday 1 Dr, Wednesday 1 Dr and Thursday 2 Drs 1 week then the next week is Wednesday 1 Dr and Thursday 2 Drs 
Denman is Wednesday 2 Drs and Thursday 1 Dr 1 weekthen the next week is Monday 1 Dr, Wednesday 2 Drs and Thursday 1 Dr
Muswellbrook is Monday 2 Drs , Tuesday 3 Drs and Friday 3 Drs 
We also have a Diabetes Educator attend our Denman and Muswellbrook rooms, a dietitian attending Muswellbrook as well as a Podiatrist. 
______________________________________________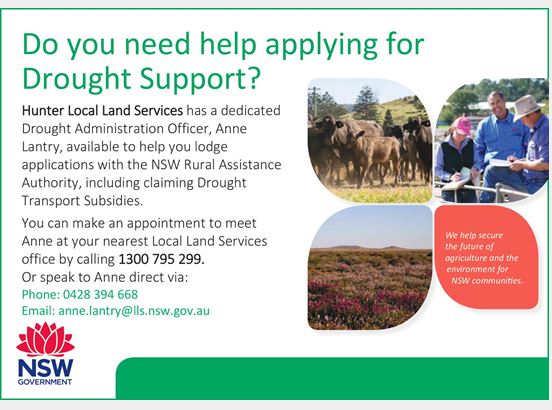 _________________________________________
Merriwa Business Gift Card
____________________________________________
NEMTS Merriwa
FREE TRAVEL FOR FARMING FAMILIES
Merriwa Non Emergency Medical Transport is offering all Farming Families in our District FREE travel to Medical Appointments for the duration of this severe drought.
Just mention that you are a farmer when making your booking. Phone 6548 2653 or at the office in the Bottle Museum, 9.30am to 3.00pm. All types of Medical Appointments are covered by this
offer. We travel to Newcastle, Tamworth and Orange and all in between plus to Sydney.
Bryan Baker
_______________________________________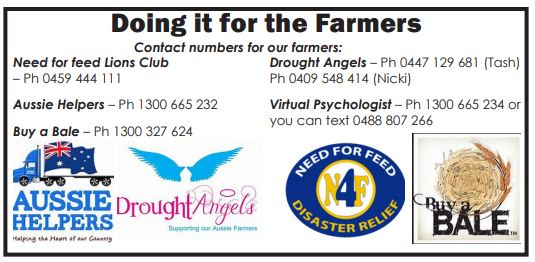 ________________________________________________
Businesses save fees with Upper Hunter Country branding
There's also $1000 grants for a shopfront make-over
The simple act of adding an 'Upper Hunter Country' sticker to an A-frame, chalkboard or tables and chairs on the footpath, will save a business its 2018/19 annual footpath trading licence fees in the Upper Hunter Shire.
Upper Hunter Shire Council is also offering financial assistance to business owners to help revitalise streetscapes in towns across the Shire by way of a grant of up to $1000 to refurbish shopfronts.
The Upper Hunter CBD Shop Front Assistance Fund is to provide one-off assistance to businesses in Aberdeen, Merriwa, Murrurundi and Scone central business districts (CBDs). Council will contribute a one-off allocation of up to $1,000 ex GST (or 50% of project costs – whichever is the least) per standard 15-metre shop front.
These initiatives are part of Council's strategy to encourage shop owners to promote tourism as well as improving the look of Upper Hunter town's CBDs.
The Upper Hunter CBD Shop Front Assistance Fund Application Form and Guidelines are available on Council's website www.upperhunter.nsw.gov.au under Do It Online / Apply for It / Community Grants.
Live link: http://upperhunter.nsw.gov.au/f.ashx/a-zdocuments/Scone-CBD-Shop-Front-Assistance-Program-Guidelines-and-Application-Form-June-2017-Fields_distributed.pdf
Copies are also available from Council offices.
To find out more about Upper Hunter Country branding contact Council's Environmental and Community Services department on 6540 1100.
Daele Healy
Communications OfficerPhone: 02 6540 1110 (Mondays & Wednesdays)02 6540 1358 (Tuesdays)Fax: 02 6545 2671Email:

[email protected]

 UPPERHUNTER.NSW.GOV.AU  A Quality Rural Lifestyle – in a vibrant, caring and sustainable community
_________________________________________________________
Routine X-Rays available at MPS Again
Routine X-Rays are available in Merriwa again, as of last Wednesday, at the MPS, and every Wednesday from then.
If you are a patient of either of the local GPs they can make a booking for you. If you go to an out of town GP or would like to make your own X-Ray booking phone 6542 2093 and ask for an appointment in Merriwa.
___________________________________________________________
Merriwa Cup Race 2019
________________________________________________
Timelapse Painting Merriwa Silos
________________________________________________
  Merriwa Community Diary
________________________________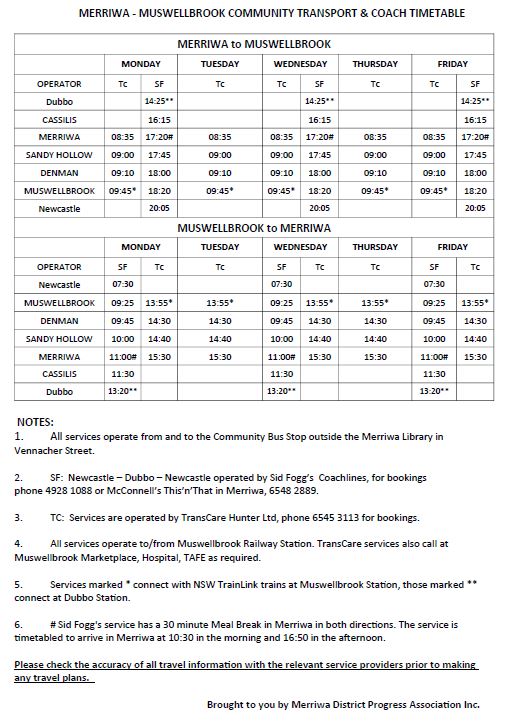 Merriwa Weather Conditions Currently