___________________________________________
______________________________________________
Country Women's Association
of NSW
KIDS COOKING DAY
WHEN: December 16
TIME: 10.30am till 2.30pm or until we
finish
WHERE: CWA Rooms
We will be doing Christmas Biscuits and later
decorating them. Decorating Christmas balls
to go on your tree and putting up the CWA
Christmas tree and decorating it. We will also
have old fashioned Christmas DVD's – cartoons
(the parents will probably love these too). Hope
to see you all there. Party food and meat and
salad rolls for lunch. Don't forget the Carols in
the Park on that night as well.
We will be having another cooking day in
January 2019.
NEXT CWA MEETING
WHEN: Monday December 10
TIME: 10.00am
WHERE: CWA Rooms 159 Bettington Street,
Merriwa.
New members are always welcome.
Enquiries to: Penelope Fenley on 6548 3060 or
0428 570 743 or Kim Clydsdale on 6548 2558 or
0421 910 658.
The CWA Rooms are available for hire at very
reasonable rates by contacting Robyn McAlister
on 0429 487 241.
Kim Clydsdale
_________________________________________
___________________________________________
Christmas Closure
MERRIWA SURGERY
We would like to advise that the surgery will
be CLOSED all day FRIDAY November 30,
2018 and the AFTERNOON only on Friday
December 7, 2018.
CHRISTMAS/NEW YEAR CLOSURE
Christmas is fast approaching and the
surgery and staff will be taking a short break
over this period.
WE WILL BE CLOSED Saturday December 15,
2018 and Reopening Monday January 7,
2019.
REMINDER to all patients that require scripts
during our Christmas leave to ensure you ring
and book an appointment.
Dr Emad, Sharee and the staff at MERRIWA
SURGERY would like to wish everyone a very
Merry Christmas and a Safe and Happy NEW
YEAR. We will be seeing you all 'well' on our
return.
____________________________________
Carols in the Park
Carols in the Park will be on again this year.
WHEN: Sunday December 16
TIME: 7.00pm
WHERE: Apex Park
The Combined Christian Church's of Merriwa
invite you to join us for the Carols in the Park on
Sunday December 16, to be held at 7.00pm
at Apex Park in Vennacher Street Merriwa. If
inclement weather prevails on the day, the
carols will be held in
Our local musicians and singers of renound,
along with singers from our local schools will also
perform. A sausage sizzle stall will operate with
the proceeds going to Merriwa Junior Tennis
Club. Bring your rug, bring your chair and help us
celebrate Christmas Carols in the Park.
Hope to see you there.
Ron Campbell
__________________________________________
Merriwa ANGLICAN WOMEN'S
GUILD
The Anglican Women's Guild will be
holding a street stall on Friday December 7.
Any donations of saleable goods eg. cakes,
slices will be very gratefully received.
We will also be having our popular Christmas
Raffle and 100 Club. Donations for the hamper
may be left at Di's Clothing.
Margaret Wright
________________________________________
Upper Hunter Homeless Support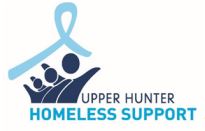 Do you want to make a difference in people lives in
Do you care about social justice and human
rights?
Are you compassionate and caring?
Then we may have the right role for you!
We are currently seeking Board Members so why
not come along to our Annual General Meeting
to find out more.
WHEN: 12.00 pm Thursday December 6
WHERE: The Hub – 180 Bridge Street
Muswellbrook
RSVP By phoning 6542 5051 or emailing
[email protected]
Robyn Rawlinson
__________________________________________
Merriwa Non Emergency
Medical Transport
VOLUNTEER POSITION
VACANT
Car drivers with good driving record are needed
urgently to work for a vibrant local business
responsible for transporting passengers to special
appointments.
Interested drivers are invited to join this
highly respected and long established local
organisation.
Hours are flexible on a needs basis and when
drivers are available.
Conditions of employment include provision of
uniform, car provided and meal reimbursements.
First aid course training is required and provided.
Applicants will be required to a Police Check
and be certified to work with Children.
If you have the aptitude and the interest
in transporting passengers for a fast paced
organisation please contact Lorna 0466 876 106.
Merriwa and District Non Emergency Medical
Transport will be closed from: Monday December
17 – Monday January 14, 2019.
Any appointments for January 14 and onward,
please leave your name and telephone number
on our office phone 6548 2653 and I will contact
you the week prior to January 14.
Merry Christmas to all from all of our staff.
Lorna Parnell
___________________________________________________
Shire Notes with Cr Ron Campbell
MAKE YOUR BUSH FIRE
SURVIVAL PLAN
It only needs to take a 20 minute discussion with your family to know what you'll do during a fire, and could
save their lives, as well as your home. Then do a few simple tasks around your home,
like trimming trees and shrubs, mowing grass, removing flammable materials, cleaning out
gutters and making sure you have sturdy hoses with enough length and reliable water sources.
NSW Rural Fire Services has checklists that can help. It's is going to be a dry Christmas, but we can
help ensure it's not a season of tragedy.
RECOVERY FROM FIRE TAKES TIME BUT HELP IS THERE
It is 21 months since the devastating Sir Ivan bush fire which impacted on many communities
including Cassilis in the Upper Hunter Shire. The difficulties of recovery and rebuilding have only
increased with the ongoing drought and, rightly, assistance is still being offered.
In the year following there were admirable initiatives to assist those affected, including
BlazeAid which brought people in to rebuild fences, and other volunteers also pitched in to
feed them (an effort recognised through the awarding of the Upper Hunter Australia Day
Citizen of the Year Award to Linda Gant). Most recently, through an initiative of the
Warrumbungle Shire Mayor's Bushfire (Sir Ivan) Appeal, Centacare is now assisting families
and members of local communities affected by the 2017 Sir Ivan Bushfire, including Coolah,
Dunedoo, Uarbry, Leadville and Cassilis. This service is free and Centacare will endeavour
to make the service as accessible as possible. If required a Centacare counsellor will travel
out to locations which are appropriate and convenient for members of the community. For
more information on this service contact the Dubbo Centacare office on 6885 0277.
YOUNG ENDEAVOUR
Last night all the young people nominated for the Young Endeavour Scheme, their families and many of thesponsors who make this possible,
gathered for a celebration at the Scone Race Club.
The names of six lucky young people were drawn out of a hat, and they will be embarking on a
great adventure in 2019.
For 20 years Council with support from the community has offered, a remarkable
opportunity to over 80 young people from throughout our shire. They learn to sail a tall
ship, to work as a team and to find confidence and leadership skills within themselves. I would
encourage organisations to nominate a young person for the next round.
Councillor Ron Campbell
__________________________________________
Merriwa Rotary News
Due to unanticipated problems, there have
been no Ringer reports on the activities of Rotary
Merriwa in recent editions of the Ringer. It has
been an active time for our club.
Our annual Melbourne Cup Eve Sweep
and Calcutta was a very successful event.
Attendance was great, the best in years, and
over $2,000.00 was raised, all of which will go to
support the many community activities in which
our club is involved.
Last Saturday, three members of Gosford City
Rotary Club, Michael Goodwin, Clive Blunt and
Chris Holstein came to Merriwa and presented
our club with a cheque for $5,000.00 to be used
to assist members of our community suffering with
mental health issues as a result of the drought.
We shall have more to report on this later.
Merriwa Rotary News
Rotary Merriwa will again be sponsoring our
annual ANGUS PEEBLES SCHOLARSHIP, for
students from our area who are going on
to higher studies. Any local student who is
interested in applying should keep watching
the RINGER for the dates that the applications
need to be in and the dates on which interviews
will be held.
For further information, ask any Merriwa Rotarian.
Mark Smith
_________________________________________
Merriwa Business Gift Card
____________________________________________
NEMTS Merriwa
FREE TRAVEL FOR FARMING FAMILIES
Merriwa Non Emergency Medical Transport is
offering all Farming Families in our District FREE
travel to Medical Appointments for the duration
of this severe drought.
Just mention that you are a farmer when making
your booking. Phone 6548 2653 or at the office in
the Bottle Museum, 9.30am to 3.00pm. All types
of Medical Appointments are covered by this
offer. We travel to Newcastle, Tamworth and
Orange and all in between plus to Sydney.
Bryan Baker
_______________________________________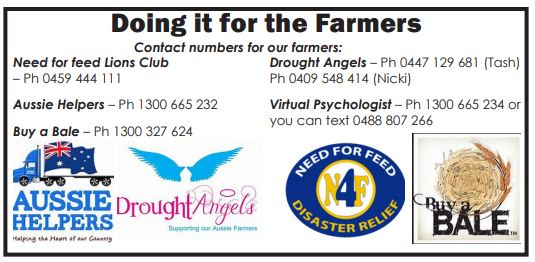 ________________________________________________
Businesses save fees with Upper Hunter Country branding
There's also $1000 grants for a shopfront make-over
The simple act of adding an 'Upper Hunter Country' sticker to an A-frame, chalkboard or tables and chairs on the footpath, will save a business its 2018/19 annual footpath trading licence fees in the Upper Hunter Shire.
Upper Hunter Shire Council is also offering financial assistance to business owners to help revitalise streetscapes in towns across the Shire by way of a grant of up to $1000 to refurbish shopfronts.
The Upper Hunter CBD Shop Front Assistance Fund is to provide one-off assistance to businesses in Aberdeen, Merriwa, Murrurundi and Scone central business districts (CBDs). Council will contribute a one-off allocation of up to $1,000 ex GST (or 50% of project costs – whichever is the least) per standard 15-metre shop front.
These initiatives are part of Council's strategy to encourage shop owners to promote tourism as well as improving the look of Upper Hunter town's CBDs.
The Upper Hunter CBD Shop Front Assistance Fund Application Form and Guidelines are available on Council's website www.upperhunter.nsw.gov.au under Do It Online / Apply for It / Community Grants.
Live link: http://upperhunter.nsw.gov.au/f.ashx/a-zdocuments/Scone-CBD-Shop-Front-Assistance-Program-Guidelines-and-Application-Form-June-2017-Fields_distributed.pdf
Copies are also available from Council offices.
To find out more about Upper Hunter Country branding contact Council's Environmental and Community Services department on 6540 1100.
Daele Healy
Communications OfficerPhone: 02 6540 1110 (Mondays & Wednesdays)02 6540 1358 (Tuesdays)Fax: 02 6545 2671Email:

[email protected]

UPPERHUNTER.NSW.GOV.AU A Quality Rural Lifestyle – in a vibrant, caring and sustainable community
_________________________________________________________
Routine X-Rays available at MPS Again
Routine X-Rays are available in Merriwa again, as of last Wednesday, at the MPS, and every Wednesday from then.
If you are a patient of either of the local GPs they can make a booking for you. If you go to an out of town GP or would like to make your own X-Ray booking phone 6542 2093 and ask for an appointment in Merriwa.
___________________________________________________________
____________________________________
Merriwa Community Diary
________________________________
TransCare Bus Timetable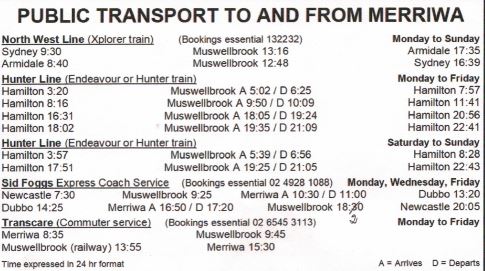 Merriwa Weather Conditions Currently