Westpac Rescue Helicopter Support Group
THANK YOU
We wish to thank everyone who contributed batteries to our recent battery muster. We were blown away by the support and amount of batteries collected. We wish to thank Merriwa Petroleum and Ag Supplies for the being the collection point and Leo Collins for initiating and co-ordinating the muster. Without your support it would not be possible. We also thank Haynes Farm and Hardware at Coolah who also acted as a collection point. Batteries were collected from far and wide including, Mudgee, Coolah, Cassilis, Scone, Newcastle and all in between.
A massive thank you to Craig MacPherson for very generously donating his time and truck to deliver the batteries to Newcastle. We appreciate your support very much. In total we had 16 pallets which weighed a massive 14.42 tonnes. We are very pleased to inform the community that we raised a total of $12,055.10 for the Westpac Rescue Helicopter Service. An enormous effort for our community. Thank you again to everyone who contributed, we are very thankful for your support.
Andrew and Megan Constable
__________________________________________________
______________________________________________
Merriwa Hospital Auxiliary
GENERAL MEETING
The Merriwa Hospital Auxiliary will be holding a quarterly General Meeting on Friday November 15, 2019 at Merriwa MPS Conference Room. The meeting will be held at 2.00pm and we invite all current members and any community member who would like to attend. Hope to see you there.
Street Stall
The winners from the street stall held on Friday November 1 are as follows:
Raffle Paul Murray – drawn by Kay Burgess
100 Club First – Sue Shearman – drawn by Kay Taylor
Second – Del Leggett – drawn by Kay Burgess
Third – Jill Cooper – Drawn by Kay Taylor
Vivian Murray and Elaine Sparrow
____________________________________________
Merriwa Campdraft
ANNUAL GENERAL MEETING
Date: Thursday, November 21
Time: 6.00pm
Where: Merriwa RSL Club
De Patterson
___________________________________________
Merriwa Red Cross
CHRISTMAS STREET STALL
Date: November 29
Merriwa Red Cross will be holding a Christmas
Street Stall on 29-11-2019.
A Christmas bargain Table hosting new gifts at
bargain prices will be operating along with a 100
club and Christmas raffle.
With the catastrophic conditions of drought and
fires that we have been experiencing, we would
ask for your support once again so that the
work of Red Cross can continue to assist those in
desperate need both locally and in the broader
community.
Our final meeting for the year will be held at the
RSL Club on Tuesday November 19, 2019. This is a
special meeting where one of our members will
be acknowledged for their contribution to Red
Cross over many years of service. An afternoon
tea will follow the meeting and members are
asked to bring a plate.
Philomena Constable
_____________________________________________
_______________________________________________
__________________________________________
Merriwa CWA
Hi Everyone, here's what we have coming up.
EDUCATION GRANTS
Don't forget our Education Grants – There's still time to apply. If you need any help or to get the forms just contact Kim Clydsdale on 65482 58 or
0421 910 658.
OUR NEXT MEETING
Our next meeting will be on Monday November 11 at the new time of  9.30am at the CWA rooms. 159 Bettington Street, Merriwa. New members
are always welcome. So why not drop in and say hello.
Enquiries to: Penelope Fenley on 6548 3060 or Kim Clydsdale on 6548 2558 or 0421 910 658. The CWA rooms are available for hire at very reasonable rates by contacting Kim Clydsdale on 6548 2558 or 0421 910 658.
Kim Clydsdale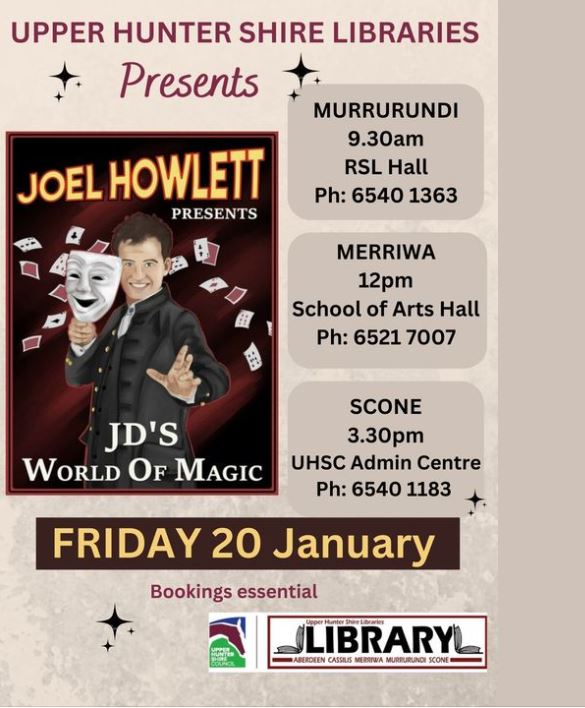 ________________________________________
Merriwa Senior Citizens
CHRISTMAS LUNCHEON
When: Sunday November 24
Where: Merriwa RSL Club
Time: 12noon
Cost: $18.00 Members
$25.00 Non-Members
Lovely raffles and lucky door prizes.
Come and join with us for this festive occasion –
exchange gifts.
Numbers required for catering by Sunday
November 17. Please contact Mary on 6548
2383.
Mary O'Neill
______________________________________
Merriwa Festival of the
Fleeces
STREET STALL.
Plans are being made for the 2020 Festival of the
Fleeces. 2020 will be the 30th year for the Festival
and we plan on it being a worthy representation
of the years of growth, consistent planning and
hard work.
A Street Stall is planned for:
When: FRIDAY November 15, 2019
Donations of any saleable items would be very
much appreciated.
The Festival is a community event so the
committee encourages support from all parts of
the community.
Barbara Campbell
______________________________________________
Merriwa Campdraft
Merriwa Campdraft has been resheduled and will now be held on Tuesday November 12, 2019. This will be held at Merriwa RSL at 6.30pm.
Megan Richards
___________________________________________
Carols in the Park
Carols in the Park will be on again this year
WHEN: Sunday December 8
TIME: 7.00pm
WHERE: Apex Park
The Combined Christian Church's of Merriwa invite you to join us for the Carols in the Park on Sunday December 8, to be held at 7.00pm at Apex Park in Vennacher Street Merriwa. If inclement weather prevails on the day, the
carols will be held in the School of Arts located Bow street Merriwa.
Our local musicians and singers of renound, along with singers from our local schools will also perform. A sausage sizzle stall will operate with the proceeds going to Merriwa VRA. Bring your rug, bring your chair and help us celebrate Christmas Carols in the Park. Hope to see you there.
Ron Campbell
______________________________________
Merriwa Surgery
MERRIWA SURGERY would like to advise that the
surgery will be CLOSED on November 14 and 15,
and will re-open Monday November 18 2019.
Megan Richards
________________________________________
Non Emergency Medical
Transport
We are required to give Area Health at least 48 hours notice of planned trips. To do this we need Clients to make their booking
with us in that time.
Telephone 6548 2653 or Office, Bottle Museum, between 9.30 and 3.30 weekdays.
Lorna Parnell
Office Manager
______________________________________
Merriwa Parkrun
WEEKLY FREE 5KM TIMED RUN
What is Merriwa parkrun? It is a 5km run
– it's you against the clock.
When is it? Every Saturday at 8.00am.
Where is it? The event takes place at Rotary Park, Telfer Street, Merriwa, NSW 2329.
What does it cost to join in? Nothing – it's free! but please register before your first run. Only ever register with parkrun once. Don't forget to bring
a printed copy of your barcode If you forget it, you won't get a time. Register at https://www.parkrun.com.au/register/
How fast do I have to be? We all run for our own enjoyment. Please come along and join in whatever your pace.
Merriwa parkrun needs you!
It is entirely organised by volunteers – email [email protected] to help. We are friendly..
Every week we grab a post parkrun coffee in Sansko café – please come and join us! Participate in parkrun on Show Day to receive a free ticket to the Merriwa Springtime Show. You must show your barcode and walk/run/ volunteer to receive your ticket.
Ashleigh Golden
_____________________________________
Hunter Medical Practice -Update
Dr Noman Jawaad
Dr Ahmed Jalal
Dr Joe Paul
Merriwa – Cnr Brisbane and Mackenzie Streets – 65325013
Denman – 51 – 53 Ogilivie Street – 65473955
Muswellbrook – 80 Brook Street – 65431717
 Currently ours hours are 8am – 6pm over the 3 practices 
Merriwa hrs currently are Monday 1 Dr, Wednesday 1 Dr and Thursday 2 Drs 1 week then the next week is Wednesday 1 Dr and Thursday 2 Drs 
Denman is Wednesday 2 Drs and Thursday 1 Dr 1 weekthen the next week is Monday 1 Dr, Wednesday 2 Drs and Thursday 1 Dr
Muswellbrook is Monday 2 Drs , Tuesday 3 Drs and Friday 3 Drs 
We also have a Diabetes Educator attend our Denman and Muswellbrook rooms, a dietitian attending Muswellbrook as well as a Podiatrist. 
______________________________________________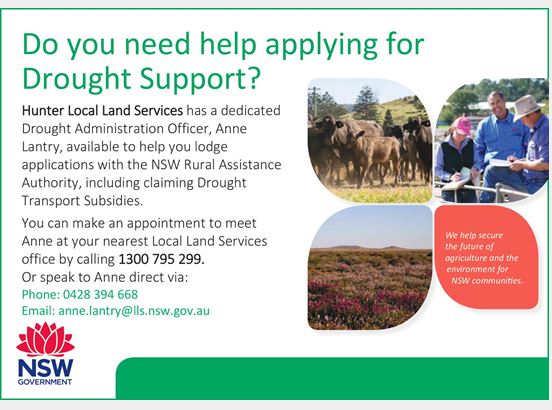 _________________________________________
Merriwa Business Gift Card
____________________________________________
NEMTS Merriwa
FREE TRAVEL FOR FARMING FAMILIES
Merriwa Non Emergency Medical Transport is offering all Farming Families in our District FREE travel to Medical Appointments for the duration of this severe drought.
Just mention that you are a farmer when making your booking. Phone 6548 2653 or at the office in the Bottle Museum, 9.30am to 3.00pm. All types of Medical Appointments are covered by this
offer. We travel to Newcastle, Tamworth and Orange and all in between plus to Sydney.
Bryan Baker
_______________________________________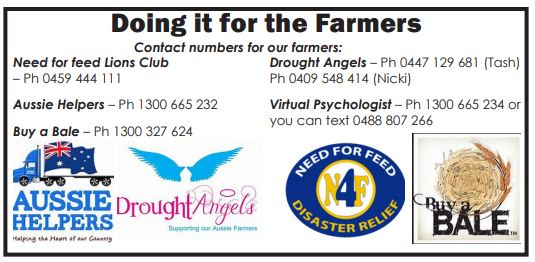 ________________________________________________
Businesses save fees with Upper Hunter Country branding
There's also $1000 grants for a shopfront make-over
The simple act of adding an 'Upper Hunter Country' sticker to an A-frame, chalkboard or tables and chairs on the footpath, will save a business its 2018/19 annual footpath trading licence fees in the Upper Hunter Shire.
Upper Hunter Shire Council is also offering financial assistance to business owners to help revitalise streetscapes in towns across the Shire by way of a grant of up to $1000 to refurbish shopfronts.
The Upper Hunter CBD Shop Front Assistance Fund is to provide one-off assistance to businesses in Aberdeen, Merriwa, Murrurundi and Scone central business districts (CBDs). Council will contribute a one-off allocation of up to $1,000 ex GST (or 50% of project costs – whichever is the least) per standard 15-metre shop front.
These initiatives are part of Council's strategy to encourage shop owners to promote tourism as well as improving the look of Upper Hunter town's CBDs.
The Upper Hunter CBD Shop Front Assistance Fund Application Form and Guidelines are available on Council's website www.upperhunter.nsw.gov.au under Do It Online / Apply for It / Community Grants.
Live link: http://upperhunter.nsw.gov.au/f.ashx/a-zdocuments/Scone-CBD-Shop-Front-Assistance-Program-Guidelines-and-Application-Form-June-2017-Fields_distributed.pdf
Copies are also available from Council offices.
To find out more about Upper Hunter Country branding contact Council's Environmental and Community Services department on 6540 1100.
Daele Healy
Communications OfficerPhone: 02 6540 1110 (Mondays & Wednesdays)02 6540 1358 (Tuesdays)Fax: 02 6545 2671Email:

[email protected]

 UPPERHUNTER.NSW.GOV.AU  A Quality Rural Lifestyle – in a vibrant, caring and sustainable community
_________________________________________________________
Routine X-Rays available at MPS Again
Routine X-Rays are available in Merriwa again, as of last Wednesday, at the MPS, and every Wednesday from then.
If you are a patient of either of the local GPs they can make a booking for you. If you go to an out of town GP or would like to make your own X-Ray booking phone 6542 2093 and ask for an appointment in Merriwa.
___________________________________________________________
Merriwa Cup Race 2019
________________________________________________
Timelapse Painting Merriwa Silos
________________________________________________
  Merriwa Community Diary
________________________________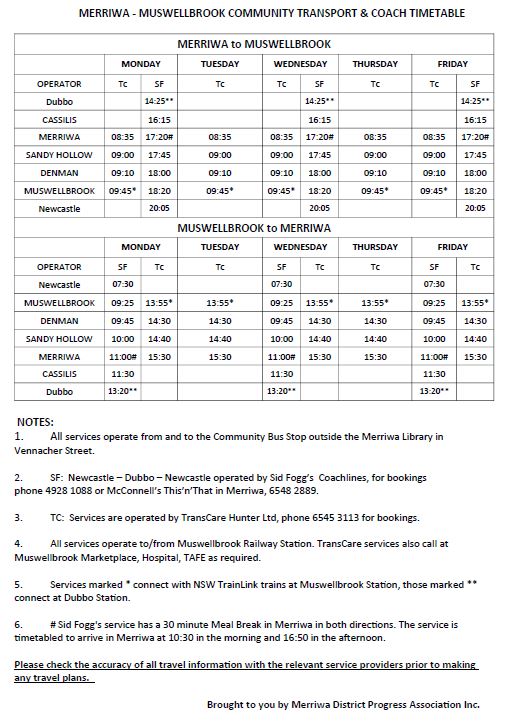 Merriwa Weather Conditions Currently