___________________________________________________________
Festival of the Fleeces 2019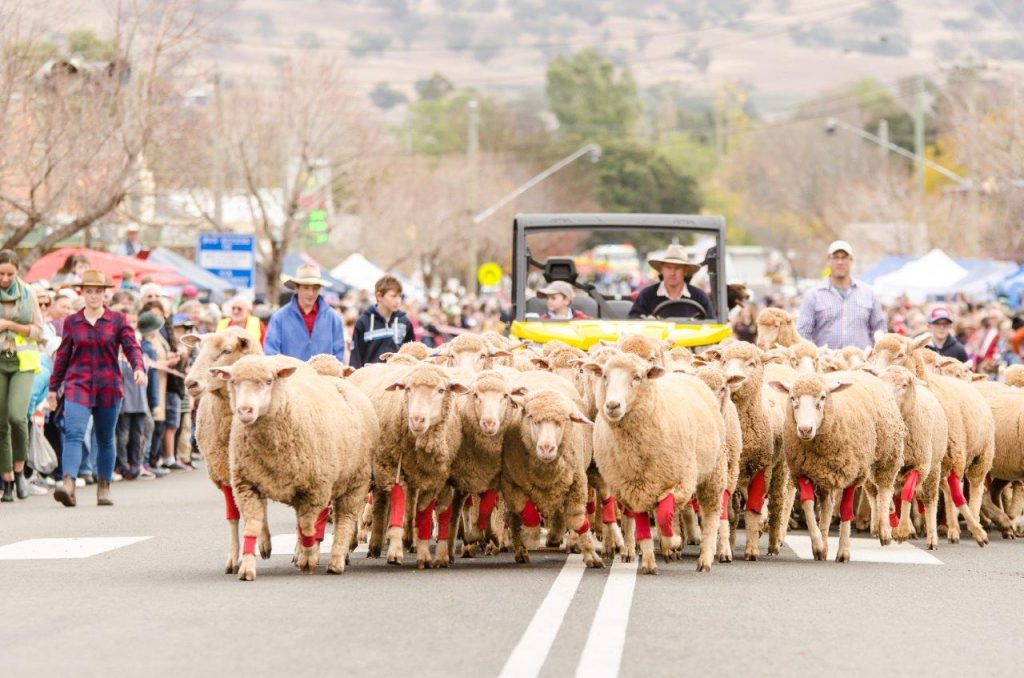 Festival of the Fleeces 2019
Festival of the Fleeces, is back for the June long weekend, 7 – 9 June 2019 with the theme 'Woolstock'.
Like the 1969 Woodstock rural festival, expect bright colours reflected in street decorations, the Opening Night 'Woolstock' party and the Grand Parade.
If you are interested in having a stall, showing off your wheels, entering Saturday's Grand Parade or the Bush Poets competition, or just coming along, all the information on camping, sponsorship, competitions and the program will be available at www.festivalofthefleeces.com.au or from the Merriwa Visitor Information Centre (VIC) by emailing [email protected] or calling 6521 7046.
Chair of the Festival of the Fleeces Committee, Upper Hunter Shire Councillor Ron Campbell urged everyone to get behind the 2019 Festival.
"Festival of the Fleeces celebrates the rich farming history and country lifestyle of this area. I encourage everyone to get behind the 'Woolstock' theme by decorating their premises, entering a float in the parade and buying a ticket in one of the Festival raffles."
Search your cupboards for your best colourful outfit for the Friday Opening Night 'Woolstock' at the Merriwa RSL and be in the running to win a prize. Book your tickets through the Merriwa VIC.
Saturday 8 June 2019 is the biggest day of the festival with street markets and the fun of the Grand Parade led by a flock of sheep in red socks running down the main street of Merriwa, as well as the dog high jump, sheep shearing, and Kids Corner. Saturday afternoon the fun moves to the Showgrounds before the 6pm KABOOM fireworks.
Sunday morning is the Bush Poets Breakfast with popular performer Carol Heuchan, where amateur and experienced tale-tellers will compete for applause and $500 in prizes.
Other great attractions over the weekend include the Hanging of the Quilts at Merriwa School of Arts, and team penning.
Daele Healy
Communications Officer

 

Phone: 02 6540 1110 (Monday, Tuesday, Friday)

02 6540 1358 (Wednesday)

Mobile: 0407 739 512
Email: [email protected]

A Quality Rural Lifestyle – in a vibrant, caring and sustainable community
_______________________________________________________
ANGLICAN PARISH OF MERRIWA
Holy Week and Easter Service
Holy Trinity Merriwa
Palm Sunday  —  14 April   10 am  Eucharist
Monday  — 15 April    10am Stations of
     the Cross Meditations
Wednesday —  17  April   7pm Stations of
     the Cross Meditations
Maunday Thursday —  18 April   7 pm
Institution of the Lord's Supper & Feet Washing
Good Friday  — 19 April    9.30am Solemn Eucharist
Good Friday —   19 April    2 pm   An hour at the Cross
Holy Saturday  — 20 April  6 pm  Lighting of the New Fire,
    and First Eucharist of Easter
Easter Day —  21 April   9.30 am Holy Eucharist
Cassilis
St Columba of Iona
Easter Day  —  21 April   11.15 am  Holy Eucharist with Baptism
ALL WELCOME
___________________________________________________
Country Women's Association
KIDS COOKING DAY
When: Tuesday April 16
Where: Merriwa CWA Rooms
Starts: 10.30am
Still working out what to cook, so put on your thinking caps on and how about letting me know some of your ideas. We will see you all there for our fun filled day.
CWA STREET STALL
Just in time for Easter.
When: Thursday April 18, 2019
MERRIWA RACES
When: Saturday April 27, 2019
We will be there with our cakes, coffee and steak sandwiches. Hope to see you all there.
Kim Clydsdale
_______________________________________________
_________________________________________________________
Hunter Medical Practice -Update
Dr Noman Jawaad
Dr Ahmed Jalal
Dr Joe Paul
Merriwa – Cnr Brisbane and Mackenzie Streets – 65325013
Denman – 51 – 53 Ogilivie Street – 65473955
Muswellbrook – 80 Brook Street – 65431717
 Currently ours hours are 8am – 6pm over the 3 practices 
Merriwa hrs currently are Monday 1 Dr, Wednesday 1 Dr and Thursday 2 Drs 1 week then the next week is Wednesday 1 Dr and Thursday 2 Drs 
Denman is Wednesday 2 Drs and Thursday 1 Dr 1 weekthen the next week is Monday 1 Dr, Wednesday 2 Drs and Thursday 1 Dr
Muswellbrook is Monday 2 Drs , Tuesday 3 Drs and Friday 3 Drs 
We also have a Diabetes Educator attend our Denman and Muswellbrook rooms, a dietitian attending Muswellbrook as well as a Podiatrist. 
_____________________________________________________________
ANZAC Day Commemorations
All citizens are being asked to help share in this solemn occasion to help preserve the Spirit of the ANZAC and to remember the great sacrifice
that so many made, in order that we may live in peace. If anyone wishes to
participate in the laying of a wreath or seeks any further information please contact the RSL Sub Branch Secretary, Mary O'Neill, on 6548 2383.
PROGRAM FOR DAWN SERVICE
• 5.40am – Assemble at the Cenotaph
• 6.30am – End of Dawn Service
• 7.00am – Breakfast at Merriwa RSL Club
PROGRAM FOR MAIN SERVICE
• 10.15am – All citizens/groups wishing to participate in the march are to assemble outside the RSL Club
• 10.30am – March commences
• 10.40am – General Assembly at the Cenotaph and service commences
• 12.00noon – Sausage sizzle for the young people taking part in the ceremony
• 1.00pm – Commemoration Luncheon for all citizens wishing to attend (tickets available at the Merriwa RSL Club).
They shall grow not old, as we that are left grow old; Age shall not weary them, nor the years condemn. At the going down of the sun and in the morning We will remember them.
Mary O'Neill
________________________________________________________
Merriwa Rotary News
RAISE YOUR GLASSES!
Well no,I mean SPECTACLE glasses!
Rotary Merriwa has, for the last few years, been
running a RECYCLE YOUR OLD GLASSES PROGRAM.
We have written about this program before. It continues to roll on very successfully. Another carton of glasses worth many thousands of dollars has just been shipped off to the RECYCLE
FOR SIGHT program.
In dollar terms, this is undoubtedly the program of biggest dollar value our club has ever run. Value of the glasses in the many cartons already donated would easily exceed $100,000.
Glasses donated are graded by professionals and sent off to countries where many people cannot afford glasses. They are then distributed free of charge.
Glasses no longer needed can be left at Merriwa Pharmacy, from where they will be sent on to the program. The next carton has started to fill. Anyone with old, possibly forgotten glasses hidden away is invited to participate. It might be a good job for
the next rainy day….. there has to be one soon !
Mark Smith
___________________________________________
________________________________________________________
Breast Screen NSW
BREASTSCREEN NSW RETURNS TO
MERRIWA
The BreastScreen NSW mobile breast cancer screening bus will be at Merriwa Multi-Purpose Service, McRae St, Merriwa from April 29 2019 for
a limited time.
Women in NSW have a 1 in 9 risk of developing breast cancer in their lifetime. BreastScreen NSW offers a free, high quality
service for the early detection of breast cancer. When breast cancer is detected early most women can return to a normal life after
treatment.
While women aged 50 to 69 years are particularly encouraged to attend, all women aged 40 years or over are eligible for free screening
mammograms. Women should have regular screening
mammograms every two years – once is not enough.
Having a mammogram isn't difficult and early detection is vital.
Take advantage of this free service while the bus visits Merriwa.
Simply call 13 20 50.
Irene White
___________________________________________
Breast Screen at the MPS Hospital
___________________________________________________
True to our theme for this year, Legends, Myths and Fantasy, we are calling for nominations for legends for the following 2019 Scone Horse Festival Awards.
– 2019 Scone Horse Festival VIP
– 2019 Young Achiever
– 2019 Horse of the Year
For more detail please visit our website and download a form.
www.sconehorsefestival.com.au/forms/
_______________________________________________
X-RAY MACHINE TWELVE MONTHS IN OPERATION
It is now twelve months since the activation of the X-ray machine at the Merriwa MPS. Staff from the Muswellbrook Radiography
Department (including pictured radiographer Shandelle Hudson) have been carrying out X-rays in Merriwa on Wednesdays since 7 February 2018.
During this time there have been more than 700 examinations, averaging 14 per day. The availability of X-ray services in Merriwa has helped reduce the discomfort and inconvenience of people with non-urgent medical conditions travelling to Scone or
Muswellbrook.
Since the establishment of the Merriwa MPS in 2009, the X-ray machine sat fully operational and unused until it was activated last year. As a result of representations made by the Merriwa District Progress Association and with the cooperation of Hunter New England Health this very important service has been made available to the local community.
Merriwa Progress Association The terrific response from the public has been so positive, it is being considered whether the
service can be extended to operate for an extra day per week.
Doctors Jasem and Jawaad can refer patients for X-rays at Merriwa. In addition, patients consulting other medical practitioners can book X-rays by calling 02 6542 2093 and asking for an appointment at Merriwa.
Stephen Gowlland
______________________________________________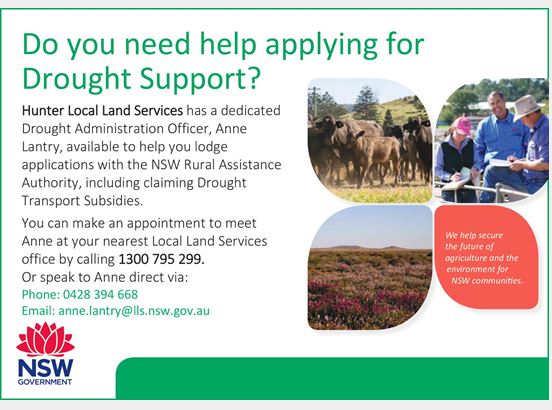 _________________________________________
Merriwa Business Gift Card
____________________________________________
NEMTS Merriwa
FREE TRAVEL FOR FARMING FAMILIES
Merriwa Non Emergency Medical Transport is offering all Farming Families in our District FREE travel to Medical Appointments for the duration of this severe drought.
Just mention that you are a farmer when making your booking. Phone 6548 2653 or at the office in the Bottle Museum, 9.30am to 3.00pm. All types of Medical Appointments are covered by this
offer. We travel to Newcastle, Tamworth and Orange and all in between plus to Sydney.
Bryan Baker
_______________________________________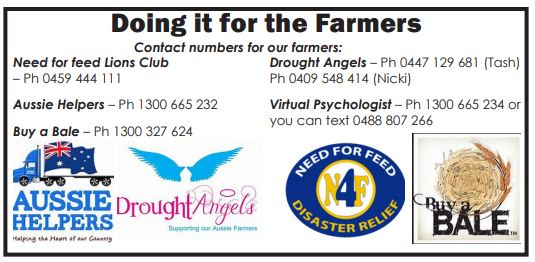 ________________________________________________
Businesses save fees with Upper Hunter Country branding
There's also $1000 grants for a shopfront make-over
The simple act of adding an 'Upper Hunter Country' sticker to an A-frame, chalkboard or tables and chairs on the footpath, will save a business its 2018/19 annual footpath trading licence fees in the Upper Hunter Shire.
Upper Hunter Shire Council is also offering financial assistance to business owners to help revitalise streetscapes in towns across the Shire by way of a grant of up to $1000 to refurbish shopfronts.
The Upper Hunter CBD Shop Front Assistance Fund is to provide one-off assistance to businesses in Aberdeen, Merriwa, Murrurundi and Scone central business districts (CBDs). Council will contribute a one-off allocation of up to $1,000 ex GST (or 50% of project costs – whichever is the least) per standard 15-metre shop front.
These initiatives are part of Council's strategy to encourage shop owners to promote tourism as well as improving the look of Upper Hunter town's CBDs.
The Upper Hunter CBD Shop Front Assistance Fund Application Form and Guidelines are available on Council's website www.upperhunter.nsw.gov.au under Do It Online / Apply for It / Community Grants.
Live link: http://upperhunter.nsw.gov.au/f.ashx/a-zdocuments/Scone-CBD-Shop-Front-Assistance-Program-Guidelines-and-Application-Form-June-2017-Fields_distributed.pdf
Copies are also available from Council offices.
To find out more about Upper Hunter Country branding contact Council's Environmental and Community Services department on 6540 1100.
Daele Healy
Communications OfficerPhone: 02 6540 1110 (Mondays & Wednesdays)02 6540 1358 (Tuesdays)Fax: 02 6545 2671Email:

[email protected]

 UPPERHUNTER.NSW.GOV.AU  A Quality Rural Lifestyle – in a vibrant, caring and sustainable community
_________________________________________________________
Routine X-Rays available at MPS Again
Routine X-Rays are available in Merriwa again, as of last Wednesday, at the MPS, and every Wednesday from then.
If you are a patient of either of the local GPs they can make a booking for you. If you go to an out of town GP or would like to make your own X-Ray booking phone 6542 2093 and ask for an appointment in Merriwa.
___________________________________________________________
 ____________________________________
                      Merriwa Community Diary
________________________________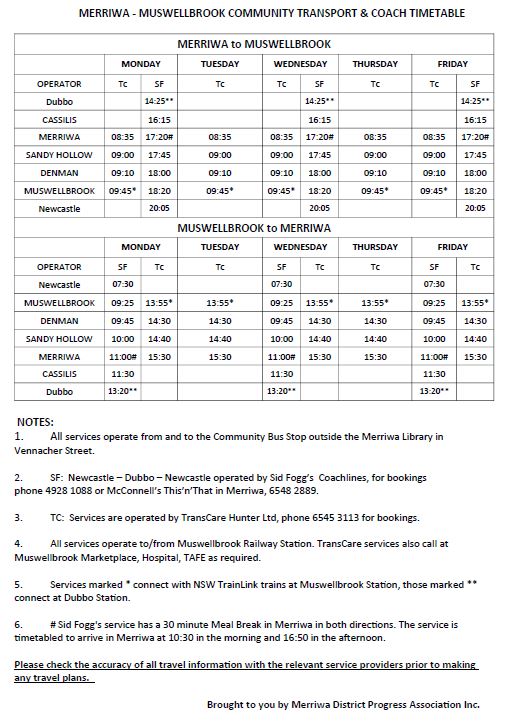 Merriwa Weather Conditions Currently