Merriwa Senior Citizens Merriwa
Please note that our "Home Day" will
be held on Friday March 15 in the RSL
Club auditorium from 11.00am
Lunch is approximately 12.30pm
Cost $18.00
Please bring a gift for Hoi, which will follow our
lunch. Raffles and lucky door will be included.
Scone, Denman, Coolah and Cassilis have been
invited.
I will need numbers for catering so please
contact me if you would like to come.
GAME DAYS FOR 2019
• Tuesday April 9 with visitors from Singleton
• Tuesday July 2 with visitors from Coolah,
Denman and Cassilis
• Tuesday September 17 with visitors from
Muswellbrook.
More details on these home days later.
Mary O'Neill
______________________________________________
Merriwa VIEW Club
Welcome back ladies.
Merriwa View Club will meet on Thursday 28
February.
Where: "Eat at 153" Café
Time: 7.00pm for 7.30pm dinner
RSVP: Jenny Johnson on 6548 2509 by
Monday February 25.
Membership is only $20.00 for 2019.
Our raffle prize is kindly donated by Margaret
Wright and lucky door donated by Julie Smith.
Thank you ladies!
We are a friendly group of ladies and new
members are most welcome. Come along and
enjoy a wonderful dinner meeting, our first for
2019.
Hope to see you there.
Julie Smith
______________________________________
Merriwa Squash Club
SUMMER COMPETITION UPDATE
Due to water and termite damage to Court 2
(Glass unit) we are delaying the competition
start day by 2 weeks to allow for the repairs.
We will still be taking registrations until this time.
For further information contact the club captain,
Wayne Upward on 0418 857 557.
Robert Whaley
____________________________________________
Country Women's Association
of NSW
COMING EVENTS
We have a few exciting things coming up in the
next couple of months.
INTERNATIONAL WOMEN'S DAY
Where: Merriwa CWA Rooms
Guest Speaker: Celeste Bond speaking on
Dementia
When: March 8
Light lunch, morning tea and lucky door prize
available. Come and enjoy a lovely relaxing
day.
DANCE THE DROUGHT AWAY
Where: School of Arts
Starts: 6.00pm
When: April 6
Good old country dance. More information to
come.
CWA STREET STALL
Just in time for Easter.
When: April 18
THE MERRIWA RACES
We will be there with our cakes, coffee and
steak sandwiches. Hope to see you all there.
When: April 27
OUR NEXT MEETING
Our next meeting is Monday February 11 at
10.00am at the CWA Rooms. 159 Bettington
Street, Merriwa. New members are always
welcome.
Enquiries to: Penelope Fenley on 6548 3060 or or
Kim Clydsdale on 6548 2558 or 0421 910 658.
The CWA Rooms are available for hire at very
reasonable rates by contacting Robyn McAlister
on 0429 487 241.
Kim Clydsdale
___________________________________________
Merriwa Tourist Welcoming
Centre and Men's Shed
For the last couple of years we have been
involved in supporting and sponsoring the
Country Education Fund and the students
Of Merriwa Central School by donating $6000.00
towards expenses incurred by those students
who have chosen to continue their education
by going to University or TAFE.
In conjunction with Rotary Club of Merriwa and
the Country Education Fund Merriwa we were
delighted to add our financial contributions
to the "pot" and award this year's successful
candidates, Emily Towell, Shai Blackadder and
Tarnisha Winsor with funds to help in their chosen
courses.
We are very fortunate to have such talented
and enthusiastic students in our small country
town – well done and good luck!
Edith Shipway
President
______________________________________________
Clean Up Australia

The Merriwa District Progress Association will
be running the Town's Clean Up Australia Day
activities again this year on Sunday March 3.
Meet and Register at Lions Park (The Driver
Reviver) at 8.00am.
Bring a hat, sun screen and gloves and please
wear closed shoes.
The clean up will be followed by Morning Tea
free to all participants at 10.00am.
So come along to Lions Park on Sunday March
3 and do your bit to help make Merriwa a Tidy
Town.
PLUS all volunteers that register on the day will go
into a draw to win a FREE worm farm or compost
bin!
Contact Beron Arden-Wood – Site Supervisor on
02 6548 2245 for more information.
Beron Arden-Wood
______________________________________________
MERRIWA CEF
ANNUAL GENERAL
MEETING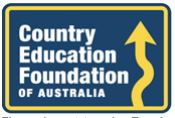 The Annual General
Meeting is to be held
Thursday March 7 at Reg Fletcher Room,
Merriwa RSL at 5.30pm
Everyone is welcome. RSVP Jane Hegarty,
Treasurer on 0408 761 052.
Jane Hegarty
_________________________________________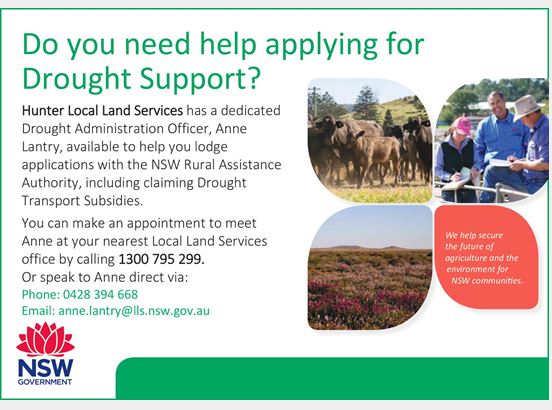 _________________________________________
Merriwa Non Emergency
Medical Transport
VOLUNTEER POSITION
VACANT
Car drivers with good driving record are needed
urgently to work for a vibrant local business
responsible for transporting passengers to special
appointments.
Interested drivers are invited to join this
highly respected and long established local
organisation.
Hours are flexible on a needs basis and when
drivers are available.
Conditions of employment include provision of
uniform, car provided and meal reimbursements.
First aid course training is required and provided.
Applicants will be required to a Police Check
and be certified to work with Children.
If you have the aptitude and the interest
in transporting passengers for a fast paced
organisation please contact Lorna 0466 876 106.
Merriwa and District Non Emergency Medical
Transport will be closed from: Monday December
17 – Monday January 14, 2019.
Any appointments for January 14 and onward,
please leave your name and telephone number
on our office phone 6548 2653 and I will contact
you the week prior to January 14.
Merry Christmas to all from all of our staff.
Lorna Parnell
_________________________________________
Merriwa Business Gift Card
____________________________________________
NEMTS Merriwa
FREE TRAVEL FOR FARMING FAMILIES
Merriwa Non Emergency Medical Transport is
offering all Farming Families in our District FREE
travel to Medical Appointments for the duration
of this severe drought.
Just mention that you are a farmer when making
your booking. Phone 6548 2653 or at the office in
the Bottle Museum, 9.30am to 3.00pm. All types
of Medical Appointments are covered by this
offer. We travel to Newcastle, Tamworth and
Orange and all in between plus to Sydney.
Bryan Baker
_______________________________________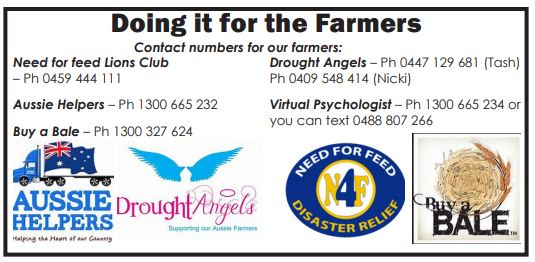 ________________________________________________
Businesses save fees with Upper Hunter Country branding
There's also $1000 grants for a shopfront make-over
The simple act of adding an 'Upper Hunter Country' sticker to an A-frame, chalkboard or tables and chairs on the footpath, will save a business its 2018/19 annual footpath trading licence fees in the Upper Hunter Shire.
Upper Hunter Shire Council is also offering financial assistance to business owners to help revitalise streetscapes in towns across the Shire by way of a grant of up to $1000 to refurbish shopfronts.
The Upper Hunter CBD Shop Front Assistance Fund is to provide one-off assistance to businesses in Aberdeen, Merriwa, Murrurundi and Scone central business districts (CBDs). Council will contribute a one-off allocation of up to $1,000 ex GST (or 50% of project costs – whichever is the least) per standard 15-metre shop front.
These initiatives are part of Council's strategy to encourage shop owners to promote tourism as well as improving the look of Upper Hunter town's CBDs.
The Upper Hunter CBD Shop Front Assistance Fund Application Form and Guidelines are available on Council's website www.upperhunter.nsw.gov.au under Do It Online / Apply for It / Community Grants.
Live link: http://upperhunter.nsw.gov.au/f.ashx/a-zdocuments/Scone-CBD-Shop-Front-Assistance-Program-Guidelines-and-Application-Form-June-2017-Fields_distributed.pdf
Copies are also available from Council offices.
To find out more about Upper Hunter Country branding contact Council's Environmental and Community Services department on 6540 1100.
Daele Healy
Communications OfficerPhone: 02 6540 1110 (Mondays & Wednesdays)02 6540 1358 (Tuesdays)Fax: 02 6545 2671Email:

[email protected]

UPPERHUNTER.NSW.GOV.AU A Quality Rural Lifestyle – in a vibrant, caring and sustainable community
_________________________________________________________
Routine X-Rays available at MPS Again
Routine X-Rays are available in Merriwa again, as of last Wednesday, at the MPS, and every Wednesday from then.
If you are a patient of either of the local GPs they can make a booking for you. If you go to an out of town GP or would like to make your own X-Ray booking phone 6542 2093 and ask for an appointment in Merriwa.
___________________________________________________________
____________________________________
Merriwa Community Diary
________________________________
TransCare Bus Timetable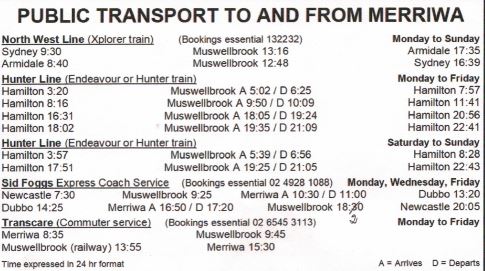 Merriwa Weather Conditions Currently