Merriwa Country Women's Association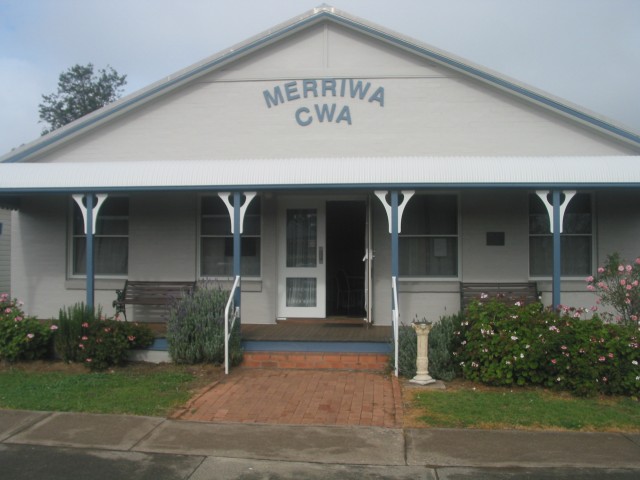 Current activities:
Up Coming Events:8th March 2019 – International Women's Day (All Welcome 10am start).
6th April 2019 – Dance the Drought Away (School of Arts) More information to come.
18th April 2019 – CWA Street Stall (just in time foe Easter).
27th April 2019 – We will be at the Merriwa Races. Serving coffee, cakes, sandwiches and of course our delicious steak sandwiches.- see you all there.
"Spring has Sprung" plant stall
A plant stall is being held at the CWA Rooms 191 Bettington Street Merriwa from Saturday 1st to Monday 3rd October.You can choose from a range of plants for your garden. Devonshire teas and cappuccinos will also be served throughout the weekend. So why not join us for a cuppa and a chat in pleasant surroundings and good company. See you there from 9am…
Annual General Meeting
The next meeting of the CWA Merriwa Branch will be the Annual General Meeting on Monday 10th October starting at 9.30am in the CWA Rooms, 159 Bettington Street, Merriwa. After the AGM, the usual monthly meeting will be held. Join us for a light lunch and hear our guest speaker Hilary Tearle (Walker), Health Services Manager, Merriwa Multi-Purpose Service.
"Fun, food and fashion" fundraising for Kaylee McLean.
CWA Merriwa will be holding a Spring Fashion Parade "Fun, Food and Fashion" on Thursday 13th October 2016 at the CWA Rooms in Bettington Street. All proceeds from this day will be donated towards buying a special wheel chair for Kaylee Mclean. Join us from 10.30am for an 11am start for fun and games with great fashions from Trinity Markets. Cost $12. Please note this date on your calendar.
Fabric Bags Sewing Bees
During September, in particular, Merriwa CWA ladies are again beavering away cutting out and sewing marble bags and carry bags for the Samaritan's Purse Operation Christmas Child shoe box. The Merriwa Community, including Lenore's quilting, and Merriwa CWA have been involved with this project for a number of years. The Samaritan's Purse Operation is a worldwide organisation and the shoe boxes are distributed to children in underdeveloped countries. Our boxes go to the South East Asia Pacific region. The children receiving these boxes, in all probability, would never have received a gift for themselves, in their lives.
Other activities during 2016:
CWA at the Merriwa Springtime Show – thank you
Thank you to all those members and visitors who helped at or visited the CWA Kiosk during the 3 days, Friday Saturday and Sunday and made the time pass quickly in good humour and company. A good time was had by all, and we look forward to seeing you again next year.
"It's OK not to be OK".
On 31st August, CWA Merriwa Branch hosted a free community gathering to listen to health professionals outline a mental health road-map – an activity which was part of the 3rd Annual Farm Safety Day with the school activities being held at the Merriwa Showground during the day. A number of people attended and listened and discussed a range of issues concerning mental health and how to support those going through mental health challenges in their lives. Thank you all those who helped with the catering for the evening mental health sessions in the CWA Rooms as part of Farm Safety Day. Your time and effort helped to make this a friendly and successful evening.
Have your say at CWA – Transcare guest speakers
Thank you to all those who came to our meeting on Monday 8th August and contributed thoughts and questions on the aged care and community transport services available to, and required by, Merriwa citizens. Our speakers Alan Gordon and Helen Schlegel from Transcare outlined current services and gave informative answers to questions asked. They also found the feedback received useful.
CWA….. International Day Luncheon June 30th – Thank you
Thank you to everyone who made the Mongolian luncheon and talk such a success. Over 60 people attended from across the Hunter Region CWA branches, and Mathew King from Muswellbrook gave us a most entertaining talk about his time working in Mongolia on major projects. The students appreciated his donation of Mongolian currency to them, and he added colour and depth to some of the traditional customs and festivities mentioned by the students. Thank you Matt for coming to Merriwa and entertaining us with your talk. It has inspired some of us to consider a trip to Mongolia.
Students from both Merriwa Central School and St. Joseph's Primary School gave very professional and informative power point presentations about Mongolia, and the range of topics covered gave the listeners a broad brush impression of Mongolia and the life of its people.
Congratulations to all the students who participated and their teachers for encouraging them with such professional presentations. Well done everyone! The tables were set out with napkins in the colours of the Mongolian flag, and there was a "ger" [or in Russian "yurt" in the middle of each table. The diners then enjoyed not only the good company, but also a taste of Mongolia with a hearty lamb soup, followed by Mongolian Lamb and traditional apple crumble. Thank you to the cooks and those who wet up the CWA Rooms in such a colourful arrangement – a good day was had by all!
Merriwa CWA joins Little Sprouts Reading Day.
On 26th August, the Merriwa community held their annual "Little Sprouts" community reading day when schools, businesses and community members celebrated and shared their love of reading with the theme "Connect to Reading". CWA readers read various stories to different age groups at a local hotel, in the hairdresser's, at the petrol station, at a local church, and in the CWA Rooms. Merriwa CWA also baked 1,000 biscuits which were then put into bags so that every child received a bag of biscuits for morning tea. There was a basket of biscuits for the teachers and others helping on the day. The readers and school children listening all enjoyed the experience of exploring story and travelling to other worlds.
CWA….. Festival of the Fleeces
Merriwa Branch CWA showcased their home cooking at the Festival of the Fleeces,offering tempting treats for morning and afternoon tea and lunch. Homemade soups, delicious Devonshire teas, and Cappuccinos were enjoyed with friends in our warm air conditioned rooms andw ith good company.
The Poets Breakfast was held in the CWA Rooms from 9am-11am on Sunday 12th June and was sponsored by the Merriwa CWA Branch. Attendees and participants enjoyed a 2 hour breakfast full of laughs and friendship with MC Robyn Sykes 2012 Australian Women's Bush Poetry Performance Champion. Congratulations to the winners and all those who had the courage to participate – it was often hard to know who were the first timers. Well done everyone!
Merriwa Country Women's Association Branch has been operating in Merriwa since 1927. It is a member of the CWA of NSW which is the largest women's lobby group in New South Wales. Originally established to support rural woman in their isolation and improve medical facilities in the country for women and children. The statewide orgnisation is a well known and vital part of the lives of many country women. Merriwa CWA is no different, we are part of the local community and raise funds to support schools, the hospital and other organisations.
Merriwa CWA rooms are in Bettington Street, which is part of the Golden Highway as it passes through Merriwa. Our rooms are available for hire for private and community functions.
They are used for our monthly meetings and special events, it will feature in many of the photographs on this website. They play an important role in the annual Festival of the Fleeces in June by providing a place to sit down and rest whilst enjoying a warming soup or tea, capuccino and scones.
CWA Office Bearers 2018
President: Penelope Fenley on 0265 483060
Secretary: Kim Clydsdale on 0421 910 658
Treasurer: Barbara Campbell on 0428 485131
All hall bookings please ring Kim Clydsdale or Barbara Campbell on the above numbers.

Merriwa CWA Rooms are located at :
159 Bettington Street
Merriwa
New South Wales
2329
The Merriwa CWA meets in the CWA Rooms at 10am on the second Monday of the month. Visitors and new members are always welcome! The rooms are available for rent – contact Mrs. Jean Price Ph: 02 6548 2456.
'CWA Handicrafts' is an Open Handicrafts Afternoon held at the CWA Rooms.
It is held every 2nd Monday of the month after lunch from 1pm to 3.30pm
Bring along whatever project you are working on – sewing, needlework, knitting etc and have a chat at the CWA Rooms.