Click image to go to website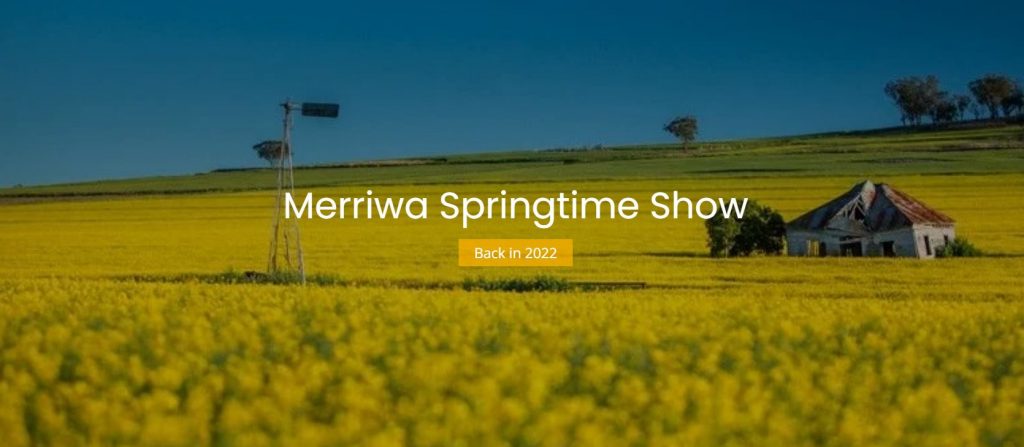 The Merriwa P.A.H.& I Association Inc. wishes to announce that the Merriwa Springtime Show is back for 2022.
The 2022 Merriwa Springtime Show to be held Friday 16th – Sunday 18th September. The committee is enthusiastic to bring the community an action pack show to delight and entertain all age groups in a COVID-19 safe environment.
To all our valued sponsors, volunteers, and stewards, thank you for your ongoing support and we look forward to working with you all to make our Merriwa Show in 2022 an event to remember.Regards
Tyler Austin
Merriwa P.A.H.& I President.
_______________________________
GATE PRICES
Gates Open 8:30 am Daily
1 DAY PASS: Adult $10.00 – Child $5.00 – Family $20.00
2 Day Pass: Adult $15.00 – Child $9.00 – Family $30.00
Join us for our Annual Merriwa Springtime Show
The Merriwa Show is the largest community event on the calendar. It is the opportunity for all members of each community across the Upper Hunter Shire to exhibit, compete in and attend their Shire's Show.
It is only through the generous support of donors and supporters, show attendees, exhibitors and competitors, committee members and local communities within the Merriwa District and further afield, that the Merriwa Show Society has been able to continue and thrive. The support is truly appreciated and valued by the Merriwa Show Society, and is no doubt reflected in the local show, as the diverse Shire we proudly live in and call home.
In 2021 Merriwa PAH & I Show Society celebrates it's 111th show. The first show was held in 1908, and since its beginning we have only missed 2 shows in 1940 (due to a 9 year drought) & 2020 due to the COVID 19 pandemic.
See you all on the 3rd weekend of September.