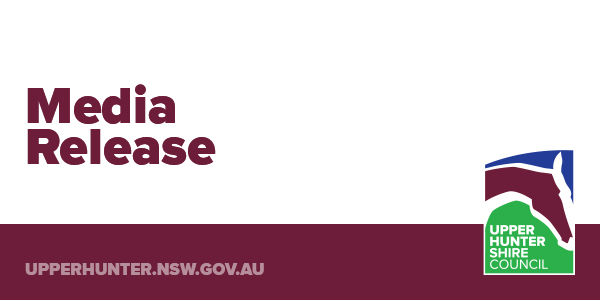 Celebrate our stories on Australia Day 2022 in the Upper Hunter
The community is invited to join Australia Day activities and the announcement of the Upper Hunter Shire Award recipients in Cassilis, Murrurundi and Scone on Wednesday, January 26, 2022.
This year the Aberdeen and Scone Australia Day Ceremony is by invitation-only to keep numbers within COVID-19 restrictions. The event includes nominees, nominators, those becoming Australian citizens and their families and special guests. It can be viewed live online via Council's YouTube channel.
Ceremonies in Murrurundi and Cassilis will go ahead with COVID-19 safety plans in place.
Congratulations to all our Upper Hunter Australia Day Award nominees. The Upper Hunter Shire Australia Day Citizen of the Year and Young Citizen are chosen from the district winners. The Australia Day Ambassadors will share their stories and help to present the Australia Day Awards.
On Wednesday afternoon enjoy free entry at the Merriwa, Murrurundi and Scone pools.
UPPER HUNTER AUSTRALIA DAY PROGRAM (COVID-19 restrictions will be in place)
Cassilis: Cassilis Bowling Club, 101 Coolah Road, Cassilis
· 10.30am Ambassador's Address, Awards Ceremony
· 12.30 free barbecue lunch
· 2pm to 6pm free entry to Merriwa pool, entertainment and sausage sizzle
· Please note: Cassilis Bowling Club request evidence of double Covid vaccination for entry to the premises for patrons aged over 18
Murrurundi: Wilson Memorial Oval – BYO chair
· 9am markets
· 10am Grand Parade
· 11am Ambassador's Address, Awards Ceremony
· Cricket match, barbecue and live music
· 1pm to 6pm free entry to Murrurundi pool and entertainment
Scone: Council Chambers, 135 Liverpool Street
· 9.30am Awards Ceremony including Australian citizenship ceremony, Ambassador's Address and Awards Ceremony. By invitation only.
· Noon to 4pm free entry to Scone pool, entertainment and sausage sizzle.
Australia Day Ambassadors
Merriwa: Jo Taranto, Jo is passionate about the environment, waste, sustainability and climate change. Since 2018 she has also been the driving force behind 'Good for the Hood', an environmental initiative that empowers ordinary people to create change across neighbourhoods, community groups and workplaces.
Scone and Aberdeen: Catherine DeVrye; best-selling author of nine books translated into over a dozen languages. Catherine is an inspirational communicator with proven hands-on international experience in the private and public sectors as both a corporate businesswoman and small business owner.
Murrurundi: Katryna Robinson, founder and CEO of Every Little Bit Helps, a national charity which helps homeless people in Australia.
UPPER HUNTER SHIRE AUSTRALIA DAY AWARDS NOMINEES
ABERDEEN
Dylan Denley
Robert Dixon
Judy Gilmore
Jodie Mayall
Ciennah Sullivan
MERRIWA
Sharni Johnston
Brodie McMillan
Emily Ninness
Merriwa Pony Club
Merriwa Petroleum & Ag Supplies
Robert Smith
Rob Tindall
Beatrice Voysey
Sharee Witney
Ruby Wong
MURRURUNDI
Doing It For Our Farmers
Dayna Hynes
Sam Levick
Montana Rando
PUSH48
SCONE
Samuel Barry
John Brooks
Pauline Carrigan
Emily Grainger
Jan Hollow
Janie Jordan
Sue Lewis
Dr John Paradice
Polly Yuille