Merriwa Community Portal
Celebrating 30 Years of Memories – Merriwa Festival of the Fleeces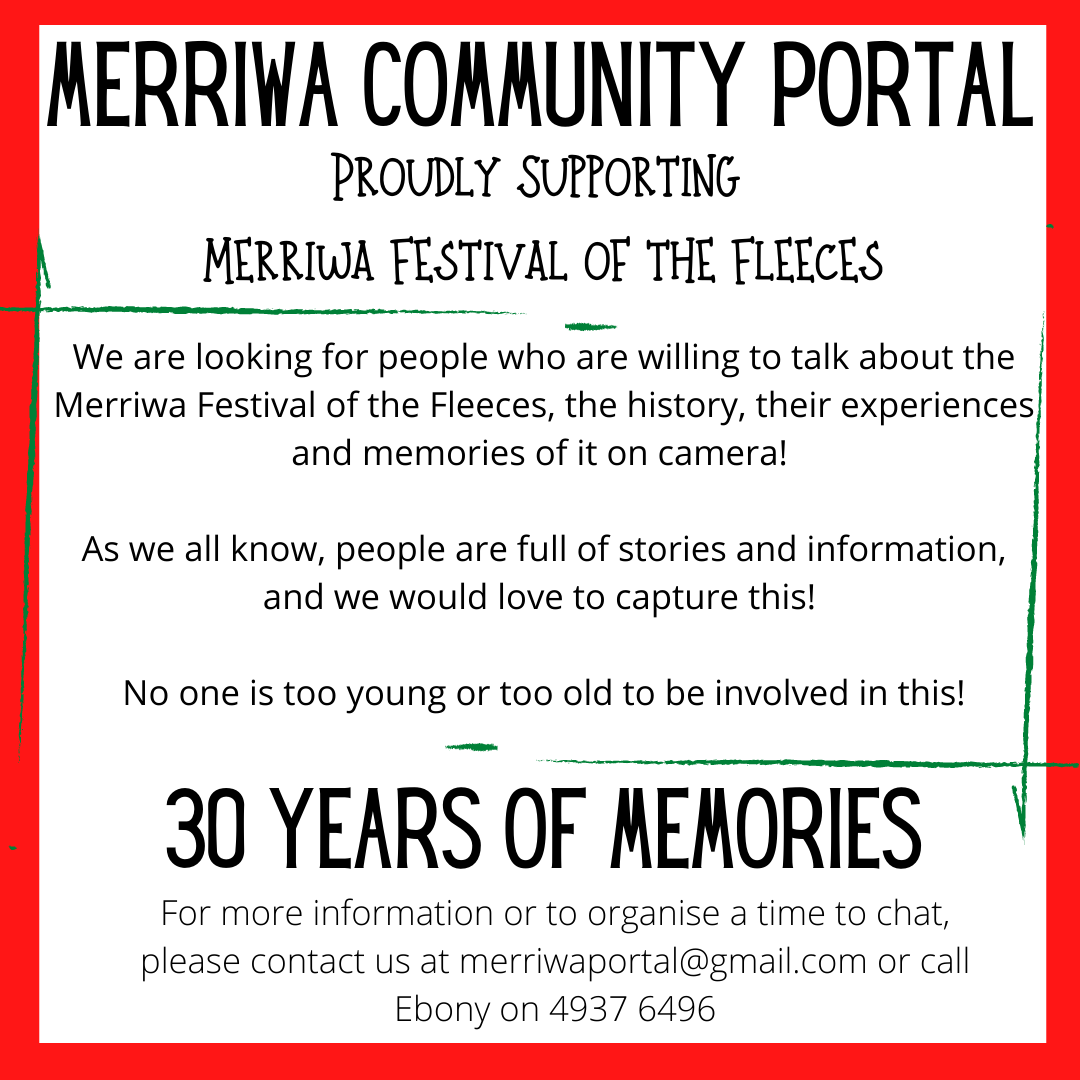 The Merriwa Portal is looking for any willing participants to have a 'chat' on camera about the Festival of the Fleeces. It would be great to
hear from different age groups, about their memories and experiences, and what they know of the Festivals history.
You don't need to be a 'local', perhaps you have moved away or visit especially for the festival!
We are also still seeking items and images for our opening night display. The old slides and VHS tapes can be converted and used, along with digital or printed images etc.
We will return the originals as soon as a copy has been made. All images/items will be credited to the provider.
*images, video and items may be used for advertising purposes*
To participate in the video or to provide items, please
email us
or contact Ebony on 4937 6496.
_________________________________
Hunter Local Land Services
Cultural Burn Demonstration Opportunity – Merriwa
Farmers and land managers are invited to one of our free field days to learn about traditional cultural burning land management practices and how these might benefit restoration and management of woodland remnants and understorey on farms.
The field days will include an information session with Den Barber, a Cultural Burn Practitioner at Yarrabin Cultural Connections, followed by a cultural burn demonstration within remnants of Box-Gum Grassy Woodland. Each field day will provide an opportunity to share knowledge and understand the benefits of traditional land management practices for modern farming and woo
dland restoration.
Wednesday 4 May 2022, 9:30am to 4:00pm, Golden Highway, Merriwa.
Thursday 5 May 2022, 9:30am to 4:00pm, Golden Highway, Merriwa
The field days will be subject to appropriate weather conditions for burning. If the burn is unable to proceed due to unsuitable weather, you will be notified prior to the event.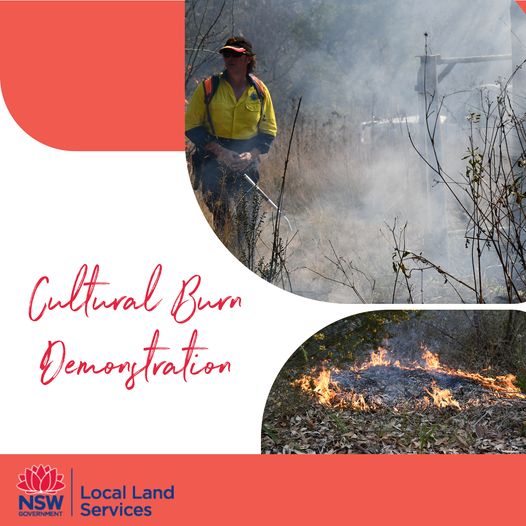 Attendees should wear closed toe shoes and long pants and bring a hat, sunscreen and water.
Lunch and refreshments will be provided.
Places are limited and only those with confirmed bookings will be able to attend. All attendees will be required to comply with COVID-19 restrictions and fire safety questionnaire. This will be sent via email prior to the event.
For further information contact:
Hunter Local Land Services
Catherine Conroy
0427 578 937
catherine.conroy@lls.nsw.gov.au
_________________________________
Merriwa Pharmacy
The Winter Booster clinics will be running Wednesday the 4th and Friday the 6th of May. Please call to book your spot if you met the below criteria.
ATAGI has recommended an additional COVID-19 winter booster dose for those at higher risk of serious illness.
From April 2022, you'll be eligible for an additional winter COVID-19 booster vaccine (second booster dose) if you are:
• Aged 65 years or over
• An Aboriginal and Torres Strait Islander person aged 50 years and over
• A resident of an aged care or disability care facility
• Aged 16 years and over and severely immunocompromised (for this group the winter booster dose will be the fifth COVID-19 vaccine dose (three primary doses, first booster and winter booster)
You can get your COVID-19 and flu vaccines at the same time. Most people who are eligible for the COVID-19 winter booster dose will also be eligible for a free flu vaccine, available from mid-late April 2022.
If you haven't had your first booster dose yet, make sure to get it as soon as possible to strengthen your protection against COVID-19.
_________________________________
Merriwa Junior Rugby League Football Club
WE HAVE A DRAW!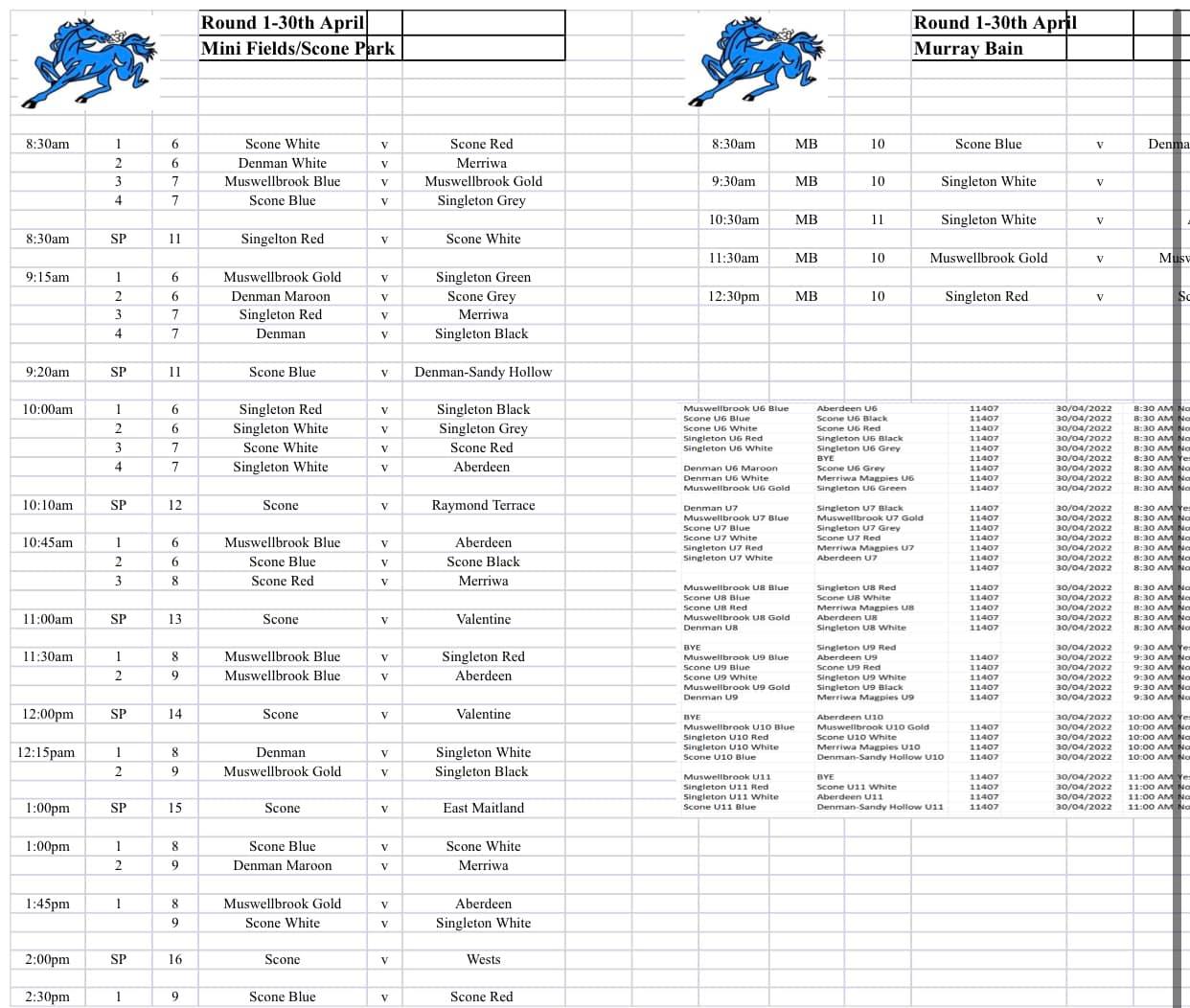 Please see below the draw for Our first game of the season in SCONE! We look forward to seeing you all there.
Enjoy!
https://www.facebook.com/MerriwaJuniorRugbyLeague/
General Meeting
Next Wednesday 4 May at 6.30pm is our General Meeting at the RSL.
All welcome so please come along we'd love to see you there.
_________________________________
Merriwa Landcare Group
Autumn Native Plant Stall
When: Friday 29th April 2022 from 9 am-12 midday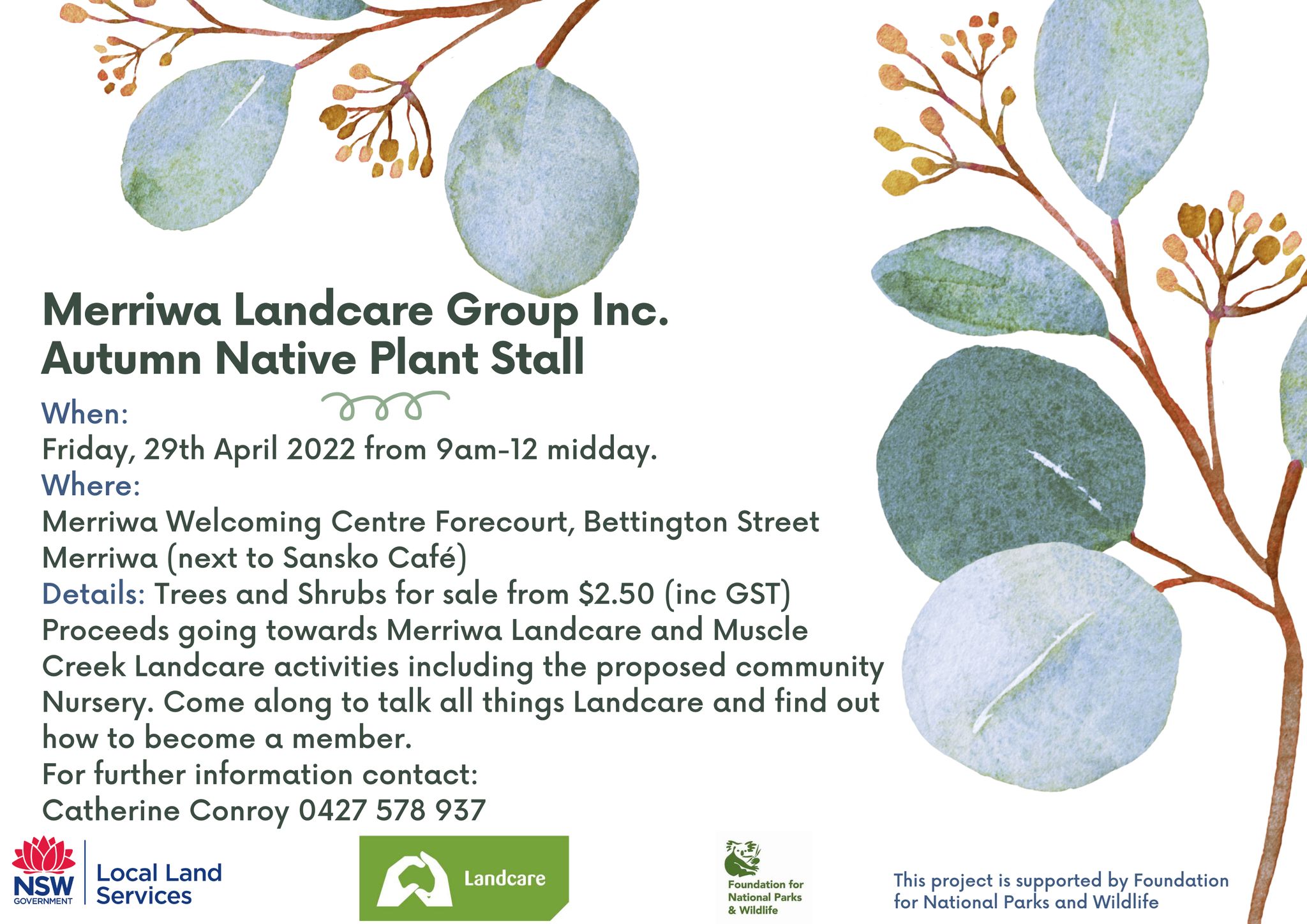 Where: Merriwa Welcoming Centre Forecourt, Bettington Street Merriwa (Next to Sansko Cafe)
Details: Trees and shrubs for sale from $2.50 (inc GST). Cash only sales. Small notes appreciated. Proceeds going towards Merriwa Landcare and Muscle Creek Landcare activities including the proposed community nursery. Come along to talk all things Landcare and find out how to become a member.
For further information contact Catherine Conroy 0427 578 937
_________________________________
Merriwa Country Education Foundation
Annual General Meeting
Merriwa Country Education Foundation Annual General Meeting to be held Thursday 5th May 2022 at the Merriwa RSL Reg Fletcher Room 6:00 PM. Everyone is welcome. Please RSVP by clicking attending or email cefmerriwa@gmail.com.
_________________________________
Upper Hunter Shire Council
Residents could win prizes and help keep motorcyclists safe by spotting 'Joe Rider' in the Upper Hunter from Monday, May 2 to Friday, May 6.
This is the second time the Joe Rider campaign has been run in the Hunter. Residents will have the opportunity to spot 'Joe' in Singleton, Muswellbrook, Upper Hunter, MidCoast and Cessnock council areas.
Local motorcycle riders will be on our roads a wearing bright yellow 'Joe Rider' vests. Spot Joe Rider.
Once you have pulled over to a safe spot after spotting Joe, register the sighting on a the Upper Hunter Shire Council's website. You could win daily $50 vouchers and a grand prize of $250 at the end of the week.
"Motorcycle riders are more exposed than other vehicles. If they are involved in a crash they risk serious injury or death," Mayor Maurice Collison said.
"Motorcycles are more exposed than other vehicles on our roads and are easily over looked by other road users… particularly at roundabouts and intersections.
"Joe Rider is about encouraging drivers to 'Look out' for motorcyclists. The intention is to reduce the incidence of SMIDSY ("Sorry Mate I Didn't See You) that many riders have experienced.
"I encourage all Upper Hunter drivers and visitors to our area to check your blindspots, your mirrors, be cautious at intersections…and help motorcyclists Ride to Live."
For more information visit www.upperhunter.nsw.gov.au.
________
Upper Hunter Shire Council will put its new three year Delivery Program and 2022-2023 Operational Plan (including the budget) on display for community feedback following its endorsement by Councillors at last night's meeting.
The budgets total operating revenue is $70 million and features $50 million worth of capital works.
The budget also assumes a general rate rise of 0.7 per cent for ratepayers following the Independent Pricing and Regulatory Tribunal (IPART) recommendation for NSW Councils. Council had anticipated a rate peg level of 2 per cent based on last year's level, and this low rate peg will leave a $162,000 deficit in the budget.
The Council also voted to apply for an Additional Special Variation of 1.3 per cent with IPART, which, if successful, will make the rate peg 2% and generate an additional $151,563. The application to IPART will be submitted by this Friday.
Upper Hunter Shire Council mayor Maurice Collison said the rates increase was minimal. However, with the post-COVID CPI increasing conservatively to around 3 per cent, Council has sustained higher costs resulting in the deficit.
"Council prepared its 2022-2023 budget based on the IPART recommended general rate peg of 0.70%," he said.
"Due to the decline in the rate peg percentage, Council is currently running a deficit budget.
"To return this year to a balanced budget without the Additional Special variation, it will mean a reduction in services.
"When all rates, water, sewerage and waste management charges are combined, the extra cost adds up to $1.17 per week for average household.
"By doing this we keep rates relatively low but also funding a range of important works that will improve the Shire."
Some of the major projects proposed in this year's budget include:
– Merriwa Footpath Extension
– Expansion of Aberdeen Waste Facility
– Scone CBD revitalisation
– Water Supply and Sewerage Services Upgrade
– Merriwa and Murrurundi Waste Transfer Station
– Barrington Forest Road and Moonan Brook Road upgrade
– Road Resealing and Gravel Resheeting program
The 2022-2023 Draft Budget will be placed on public display on Tuesday, May 3. Community members will have the chance to have their say online and in public forums in key locations across the Shire.
Council also endorsed the draft Upper Hunter 2032 Community Strategic Plan for community exhibition. It will be on display for 28 days and residents can view the plan online and in person at Council offices.