STATE MATTERS
A Weekly Bulletin from Dave Layzell MP
Member for Upper Hunter 8 August 2022
JULY FLOOD SUPPORT
RESIDENTS of the Singleton, Cessnock, Maitland and Mid Coast council areas impacted by the July floods can now apply for rental support payments to help meet the cost of temporary accommodation and Back Home grants to help with household repair costs.
The Rental Support Scheme provides flood-impacted households with payments which cover up to 16 weeks rent.
The Back Home grants provide one-off payments of up to $20,000 for owner-occupiers, $15,000 for landlords and $5,000 for renters towards the cost of replacing appliances, reconnecting utilities, fixing roofs, connecting electricity and making other necessary repairs.
For eligibility information and to apply, impacted residents can contact Service NSW on 13 77 88 or visit: www.service.nsw.gov.au/floods/financial-assistance
BEEKEEPER UPDATE
Recreational beekeepers affected by varroa mite will be reimbursed for the destruction of their hives and bees under the agreed National Response Plan.
The National Working Group has agreed to a $550 payment for each recreational hive destroyed to control the mite outbreak or $200 for those who wish to keep their hive ware, which will cover the cost of the euthanised bees
A $200 reimbursement will also be given for each single nucleus hive that is euthanised, regardless of whether the hive ware is kept.
Only registered recreational beekeepers will be eligible for the reimbursement package and the Department of Primary Industries is working with beekeepers and Industry to finalise the application and payment process.
For more information, visit the NSW DPI website www.dpi.nsw.gov.au
MUSWELLBROOK COUNCIL RECOGNISED
Muswellbrook Shire Council is one of the six councils awarded a share of more than $400,000 through the inaugural round of the NSW Government's Social Cohesion Grants.
The 2022 successful recipients, which also includes Bathurst Regional Council, Hay Shire Council and Sydney's Georges River, Lane Cove and Canada Bay councils will support projects aimed at rebuilding, reconnecting and strengthening their communities.
Through these new grants, the NSW Government is supporting local groups and the wider community to emerge from recent challenges, by delivering direct support to build a brighter, more connected future
The six councils will deliver programs with organisations that strengthen bonds between people, reduce social isolation, tackle racism and build community resilience.
TEACHER SUPPORT
In an Australian-first initiative, NSW public school teachers will have access to a full suite of high-quality, sequenced curriculum resources to assist with lesson planning.
Feedback from more than 4,000 submissions to a review of teacher workload identified the need for universal curriculum resources as the number one concern reported by teachers.
A competitive tender process is currently underway for qualified organisations to partner with the NSW Department of Education in developing the new quality-assured online curriculum content which will begin rolling out from Term 4 this year.
This will be further supported by more than 200 new administration and support staff in
schools from Term 4, to allow teachers to focus on teaching.
The NSW Department of Education's Quality Time mid-year update can be viewed at;
https://education.nsw.gov.au/teaching-and-learning/quality-time/quality-time-program
DRAFT BUSHFIRE PLAN
Lower Hunter residents have until the end of August to view and provide feedback on the updated Lower Hunter Bush Fire Risk Management Plan (BFRMP).
Dungog, Maitland, Port Stephens and Cessnock council areas are encouraged to provide feedback on the draft plan on how to effectively prepare for when a bush fire does occur.
The Lower Hunter is the first area in NSW to use a new process for mapping, analysing and addressing bush fire risk recommended by the NSW Bushfire Inquiry following the 2019-20 Black Summer fires.
The BFRMP is a partnership between the NSW Rural Fire Service, Fire and Rescue NSW, the National Parks and Wildlife Service, Forestry Corporation, local councils and other key stakeholders.
The Lower Hunter draft BFRMP is on public exhibition at local council offices and Fire Control Centres for 42 days until 31 August 2022, and can also be viewed at: https://www.rfs.nsw.gov.au/plan-and-prepare/managing-bush-fire-risk/bush-fire-management-committees/lower-hunter
SURVIVOR SUPPORT
More victim-survivors of domestic and sexual violence will receive critical support from a $20 million funding boost announced by the NSW Government.
The package is part of the joint $140 million commitment from the NSW Government and the Commonwealth government under the National Partnership on Family, Domestic and Sexual Violence Responses 2021-23.
The new funding will provide additional support to specialist front-line services across NSW, as well as trialling some innovative new programs.
Over half of the funding is for services that directly assists victim-survivors, it will also enhance early intervention programs, provide access to vital services and improve workplace training.
For more on the National Partnership Agreement:
www.dcj.nsw.gov.au/children-and-families/family-domestic-and-sexual-violence/programs-grants-and-resources/grants-and-funding.html
HOMELESSNESS STRATEGY
Early intervention is a key component of the NSW Government's strategy to achieve the Premier's Priority to halve street homelessness by 2025.
A record $1.2 billion has been allocated to tackle homelessness and provide safe accommodation to those in need by supporting proven initiatives which ensure a continued commitment to break the cycle of disadvantage.
It includes $394.8 million to continue a range of specialist homelessness services, referral services such as Link2home, enhancements for youth refuges and after hours domestic and family violence services and NSW Homelessness Strategy initiatives.
Anybody who is homeless or at risk of homelessness can contact Link2home on 1800 152 152 with support available 24 hours a day, 365 days a year: www.facs.nsw.gov.au/housing/help/ways/are-you-homeless
CLUBGRANTS IN OCTOBER
Not-for-profit organisations are encouraged to apply for funding when a new round of the highly popular ClubGrants Infrastructure program opens in October.
The objective of the Clubgrants Category 3 Infrastructure Grants program
is to fund the costs of construction, alteration, renovation, completion and fit-out of buildings and community infrastructure to deliver outcomes for disadvantaged NSW communities.
Clubgrants Category 3 Infrastructure Grant categories include Sport and Recreation with amounts from $50,000 to $300,000 available; Community Infrastructure grants from $10,000 to $200,000; Arts and Culture grants of $50,000 to $200,000 and Disaster Readiness grants from $10,000 to $200,000.
Applications open 10 October and close 31 October with more information at:
www.nsw.gov.au/grants-and-funding/clubgrants-category-3-fund
BOATING GRANTS
A one-off $2 million funding program to support maintenance and repair works to boating infrastructure is now taking applications as part of the NSW Government's $28 million Boating Now Program.
Additional funds will help boating infrastructure owners undertake maintenance works to boat ramps, pontoons, wharves, jetties, boat ramps and car and trailer parks.
The Boating Asset maintenance sub-program will fund up to $30,000 per asset and up to a maximum of $60,000 per applicant for multiple assets.
To be eligible, the boating asset must be available for general boating public use and provide direct benefits to recreational boaters.
Applications close 30 September with the guidelines and application form available from NSW Boating Now: https://roads-waterways.transport.nsw.gov.au/maritime/projects/boating-now/index.html
DIARY NOTE
The green next to Singleton Council's Administration Centre carpark is the venue for the Singleton Emergency Services Expo on Saturday 20 August between 9am and noon.
NSW Rural Fire Service, Fire and Rescue NSW, NSW Police, NSW SES, NSW Ambulance, and the Westpac Rescue Helicopter Service are among the agencies to partner with Council to deliver the expo.
The variety of activities on show will include live demonstrations, simulations, agency displays and emergency vehicles to give the public a better understanding of how the organisations' work and what can be done to support them.
For more information on the free, family-friendly event visit; https://www.singleton.nsw.gov.au/839/Emergency-Services-Expo
Contact: My Email address: upperhunter@parliament.nsw.gov.au;
Phone number: 6543 1065;
Postal address P.O. Box 493, Muswellbrook 2333.
_____________________________________
Merriwa Community Portal
ANNUAL GENERAL MEETING
Merriwa Community Portal AGM merriwa.nsw.au will be held
on Thursday 11th August at 6pm, at the Merriwa RSL.
We look forward to seeing anyone interested in promoting our community or becoming a member.
Merriwa Festival of the Fleeces
ANNUAL GENERAL MEETING
With the proposed restructure and incorporation of the Festival of the Fleeces (FoTF) committee, we are seeking expressions of interest for committee members and the election of office bearers at an annual general meeting (AGM).
The meeting will be held on the 9th August at 6pm at the Merriwa RSL (in Squatters Corner). The current working group and committee would appreciate as many people as possible at the AGM.
The AGM is being called by the Chairman, Ron Campbell, in August in order to give the newly formed, independent committee maximum time to plan and progress next year's festival.
_____________________________________
Merriwa Hospital Auxiliary Inc.
ANNUAL GENERAL MEETING
Merriwa Hospital Auxiliary Inc. would like to invite all to our Annual General Meeting to be held on Friday 19th August, 2022 at 2pm. The meeting will be held at Merriwa RSL Club meeting room. All welcome. As we are not in our Hospital rooms there will be no afternoon tea available this AGM. Unfortunately our guest speaker has had to withdraw. We may be able to find another so turn up for the meeting and see. See you all on Friday 19th at 2pm.
Elaine Sparrow – Secretary.
_____________________________________
Merriwa Tennis Club
GENERAL MEETING
_____________________________________
Merriwa RSL Club
DIRTY DICKS THEATRE RESTAURANT
Playing at: MERRIWA R.S.L. CLUB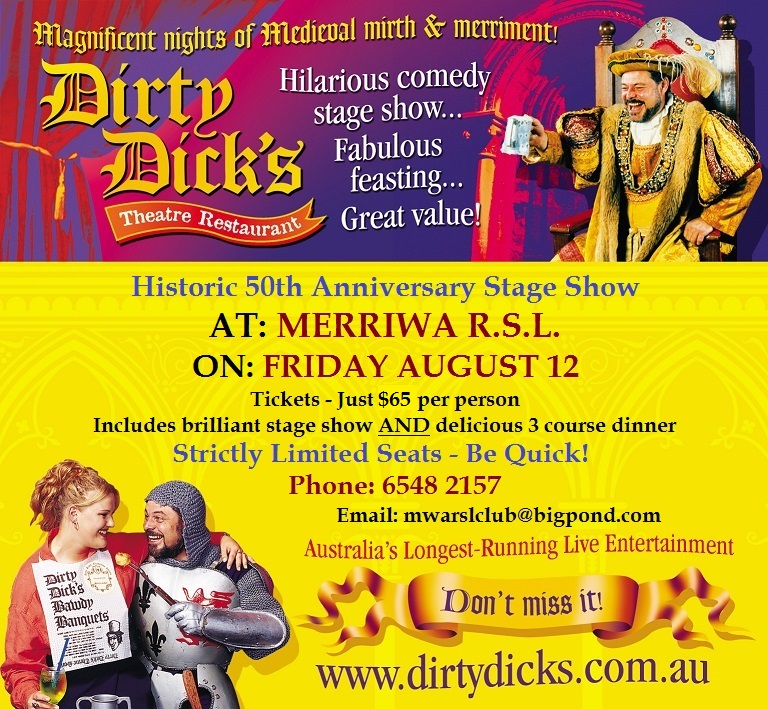 On: FRIDAY 12TH AUGUST, 2022
BOOKING/INFO: Phone: 6548 2157 or Email: mwarslclub@bigpond.com
Come and enjoy a brilliant night of Medieval mirth and merriment featuring a spectacular ALL NEW 50th Anniversary stage show with sidesplitting comedy, witty and wacky songs, madcap parlour games and hilarious audience involvement PLUS a most magnificent 3 course sumptuous feast; hearty home-made vegetable soup with crusty bread, plate served prime roast beef with jus, roast potatoes and seasonal vegetables, followed by tasty apple pie or sticky date pudding with custard sauce
Tickets: Just $65.00 pp Includes brilliant stage show AND 3 course dinner
Bookings essential. 6.45pm arrival for 7pm start – Information for members & guests
For catering purposes, tickets must be purchased by 9th August 2022
DIRTY DICK'S – "IT'S SO FUNNY, IT HURTS" www.dirtydicks.com.au
______________________________________
Crazy Beanie Day
HOSTED BY THE MERRIWA TOURIST WELCOMING CENTRE & MEN'S SHED
The Mark Hughes Foundation will be receiving $3000 as a result of the Crazy Beanie Day fundraiser organised by the Welcoming Centre and Mens' Shed.
Thank you to our judge Ellie Matthews, Wonderful helpers Jenny, Ebony and Carlita and the generous folks who donated crazy beanies and those who came and supported us.
The sausage sizzle was a success.
A massive THANKYOU
to everyone who made donations, bought a beanie or sausage, and who turned up to support the
Merriwa Tourist Welcoming Centre
& Men's Shed in raising much needed funds for the
Mark Hughes Foundation
and brain cancer research! ..much appreciated.
Winners of the Crazy Beanie competition are as follows:
Adult Male: Robert Smith
Adult female: Heather Constable
High school female: Caidance Tudor
High school male: Zac Walker
Primary school girl: Nicole Tudor
Primary school boy: Harry Pettett
Kindy/pre school boy: Elijah Garbutt
Pet: "Miss Jilly Taaffe
Thank you… Thank you… Thank you
______________________________________
Merriwa RSL Sub Branch
VIETNAM VETERANS DAY
On Thursday August 18th, at 1100 hrs, that's 11 am, the RSL Sub Branch will be hosting a small ceremony to commemorate VIETNAM VETERANS DAY. After this light refreshments will be offered in the Club itself.
Hoping as many people can attend but we would like to know some numbers for catering purposes.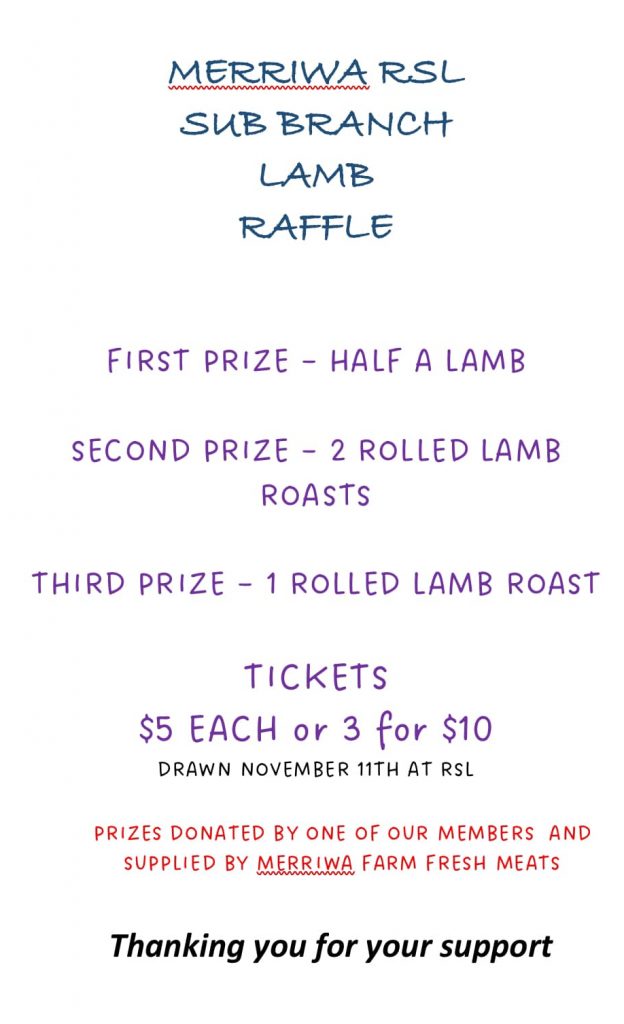 I can be contacted on this means, by landline,6548 3073, leave a message, and by cel,0468356749.
Thanking you
Bob Baihn
The Merriwa RSL Sub Branch is also holding a LAMB raffle. Tickets are $5 ea of 3 for $10, and are available to purchase at the Post Office from
Dee Nobes
.
Timothy Walmsley
, Chris Mitchell and Michael O'Neill also will have them to sell. Many thanks to those who have alaready purchased tickets. It's a great prize!
______________________________________
Merriwa Gallery
Lino Printing Workshop with Ellie Matthews
Two three hour workshops. Cost $20 per participant to cover cost of materials. Max participants 4 per session. A brief intro overview of lino printing.
Thursday 18 August, 10.30am to 2.30pm
Sunday 21 August, 10.30am to 2.30pm
Merriwa Gallery, 133 Bettington St, Merriwa
For more details please email ellie.matthews72@outlook.com
Etching and Lino Exhibition
Etching works by local visual arts teacher and artist Hannah Waters, and Lino Printing works from new resident Ellie Matthews.
Date: 12 to 25 August 2022.
Venue: Merriwa Gallery, 133 Bettington St, Merriwa
Open: Friday, Saturday and Sunday 10am – 4pm (unless by arrangement)
For more details: Email ellie.matthews72@outlook.com
'Our First Teachers' an exhibition by Natasha Kellett and Rosslyn Thomson
The Merriwa Gallery is proud to represent this exhibition opening on the 26 August .
Tash and Roz are sisters who are proud descendants of the Gomeroi people, who have grown up on Wonnarua Country and are active members of their community.
Roz and Tash share that the exhibition is called 'Our First Teachers' as knowledge is passed down by our ancestors and is also embedded in our veins as blood memory. It is also about
truth-telling and understanding our shared history is a vital stage towards healing our future.
Most of the work to be displayed has been hand crafted by Tash such as the stone tools, naturally tanned animal skins, bush medicines, wooden tools and a Gunyah (hut/ shelter). Roz creates woven baskets, rope and jewellery using traditional and contemporary materials.
Dates: 26 August to the 8 September 2022
Venue: Merriwa Gallery, 133 Bettington St, Merriwa
Open: Friday, Saturday and Sunday 10am – 4pm (unless by arrangement)
For more details email ellie.matthews72@outlook.com
Weaving Workshops with Rosslyn Thomson
Merriwa Gallery is proud to offer these two weaving workshops with Rosslyn Thompson.
Dates: Thursday 1 and Friday 2 September 2022
Venue: Merriwa Gallery, 133 Bettington St, Merriwa
All the details. Please email ellie.matthews72@outlook.com
______________________________________
Local Land Services
CULTURAL BURN DEMONSTRATION – MERRIWA
Farmers and land managers are invited to one of our free field days to learn about traditional cultural burning land management practices and how these might benefit restoration and management of woodland remnants and understorey on farms! The field days will include an information session with Den Barber, a Cultural Burn Practitioner at Yarrabin Cultural Connections, followed by a cultural burn demonstration within remnants of Box-Gum Grassy Woodland. Each field day will provide an opportunity to share knowledge and understand the benefits of traditional land management practices for modern farming and woodland restoration.

Details of events:
Wednesday 24 August or Thursday 25 August 2022
Time: 9:30am – 4:00pm
Location: Golden Highway, Merriwa
Locations of the field days will be provided on confirmation of attendance.
RSVP by Friday 19 August 2022 via this link.
Morning tea and lunch will be provided (free)
________________________________
Cassilis Spring Ball
BLACK TIE MASQUERADE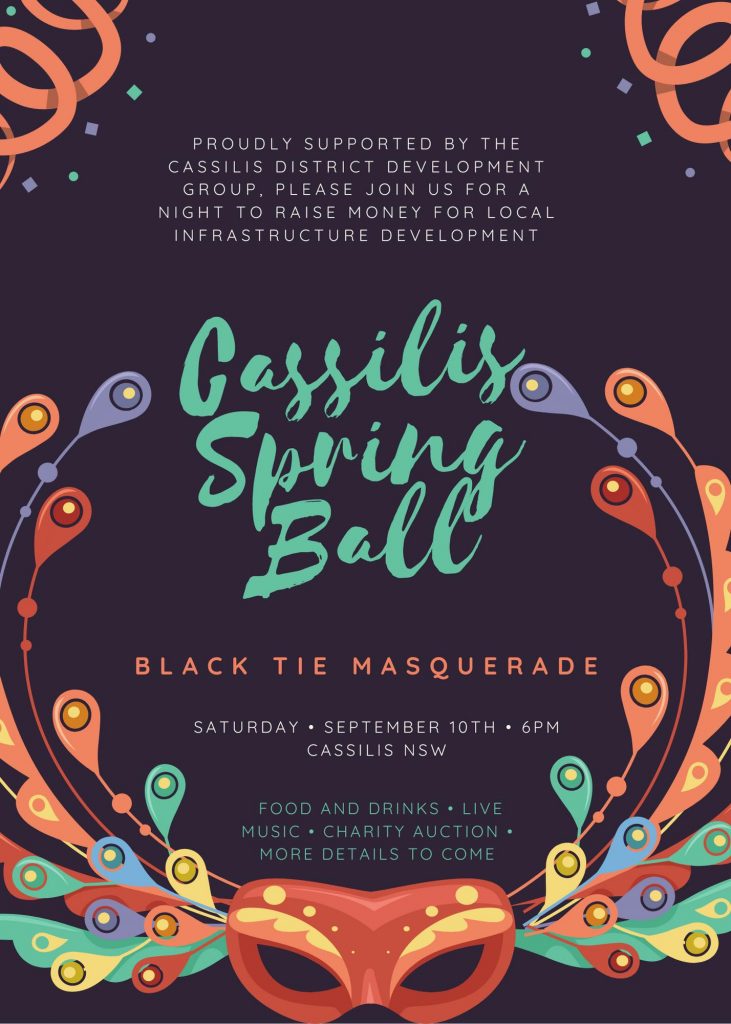 The Cassilis District Development Group would like to invite you to the Cassilis Spring Ball!
Our little community has been through a lot in the past 5 years. From the Sir Ivan fire to years of drought, a mouse plague, COVID-19, and the recent floods….
We believe it's time for us all to put on our best frocks and suits for a fun night out and help raise funds for our community.
The CDDG was formed to represent, advocate and fundraise for the Cassilis Community and District. The Cassilis Spring Ball will help raise funds for the infrastructure development programs within the Cassilis community.
So please, spread the word, invite your friends and family for a fun night out and help our community.
Tickets AVAILABLE NOW
________________________________
Cards available to purchase from2.45pm
$30 for a full book, 15 games (6 cards per full book) smaller priced card options available.
Don't forget to bring along your dobber and join us for a fun afternoon!
________________________________
Royal Hotel Cassilis
MELBOURNE CUP LADIES DAY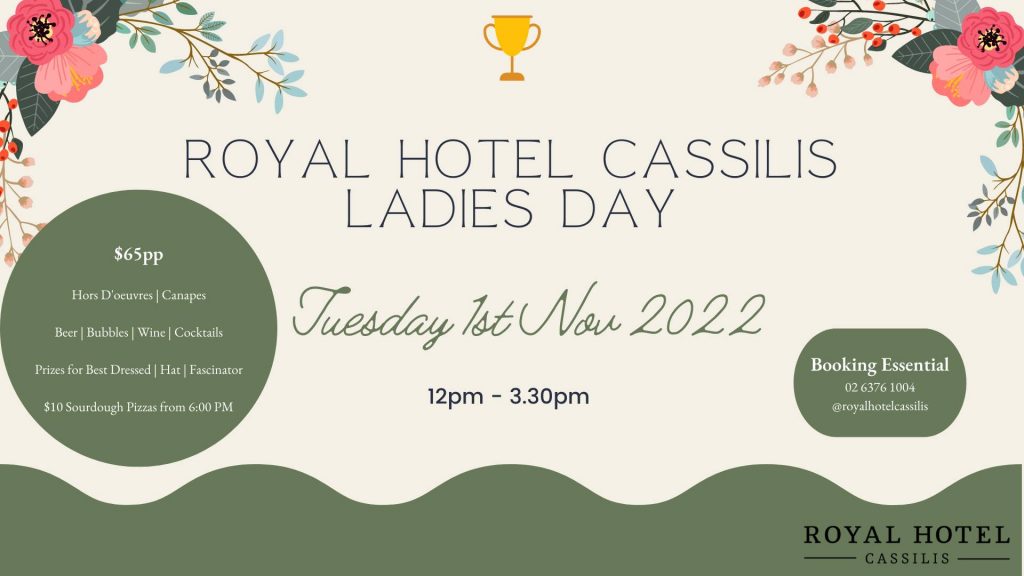 The Melbourne Cup Ladies Day is back and better than ever!
Not only the race that stops the nation but also a perfect day out to catch up, with entertainment, fashion, good food, and drinks.
Join us for the Royal Hotel's Classic Melbourne Cup lunch.
Prizes for best dressed, live coverage of the big race, sweeps, and some lucky door prizes!