Private Helipad Community Consultation
To the Merriwa Residents-
This is an update on DA application-30/2022 for a PRIVATE helipad to be located at 4 King George ave, Merriwa.
On the 14th of June 2022 at the EPA UHSC meeting councillors voted 4-0 against the proposed application.
On the 27th of June 2022 at the UHSC meeting the councillors have now deferred the decision and have instructed the proposers Mr & Mrs McFadden to conduct a community consultation regarding this proposal.
The community consultation will be held this Friday the 5th of August 2022 at the Upper Hunter Shire Council meeting room at 34-40 Vennacher St, Merriwa at the following times-
9.30am to 10.30am
11.00am to 12.00pm
5.30pm to 6.30pm
This is our opportunity to have an input or raise your concerns with the proposers regarding private helipads in our residential area!
___________________________
Merriwa Street Scape Meeting
Hi MERRIWA the Street Scape Meeting is on Tuesday 2nd August ;6,00/6,30 at RSL please come with ideas for our main streets garden Hope to see you there. All welcome
_____________________________________
Merriwa Community Portal
ANNUAL GENERAL MEETING
Merriwa Community Portal AGM merriwa.nsw.au will be held
on Thursday 11th August at 6pm, at the Merriwa RSL.
We look forward to seeing anyone interested in promoting our community or becoming a member.
Merriwa Festival of the Fleeces
ANNUAL GENERAL MEETING
With the proposed restructure and incorporation of the Festival of the Fleeces (FoTF) committee, we are seeking expressions of interest for committee members and the election of office bearers at an annual general meeting (AGM).
The meeting will be held on the 9th August at 6pm at the Merriwa RSL (in Squatters Corner). The current working group and committee would appreciate as many people as possible at the AGM.
The AGM is being called by the Chairman, Ron Campbell, in August in order to give the newly formed, independent committee maximum time to plan and progress next year's festival.
______________________________________
Merriwa RSL Club
JOHN DENVER TRIBUTE SHOW RESCHEDULED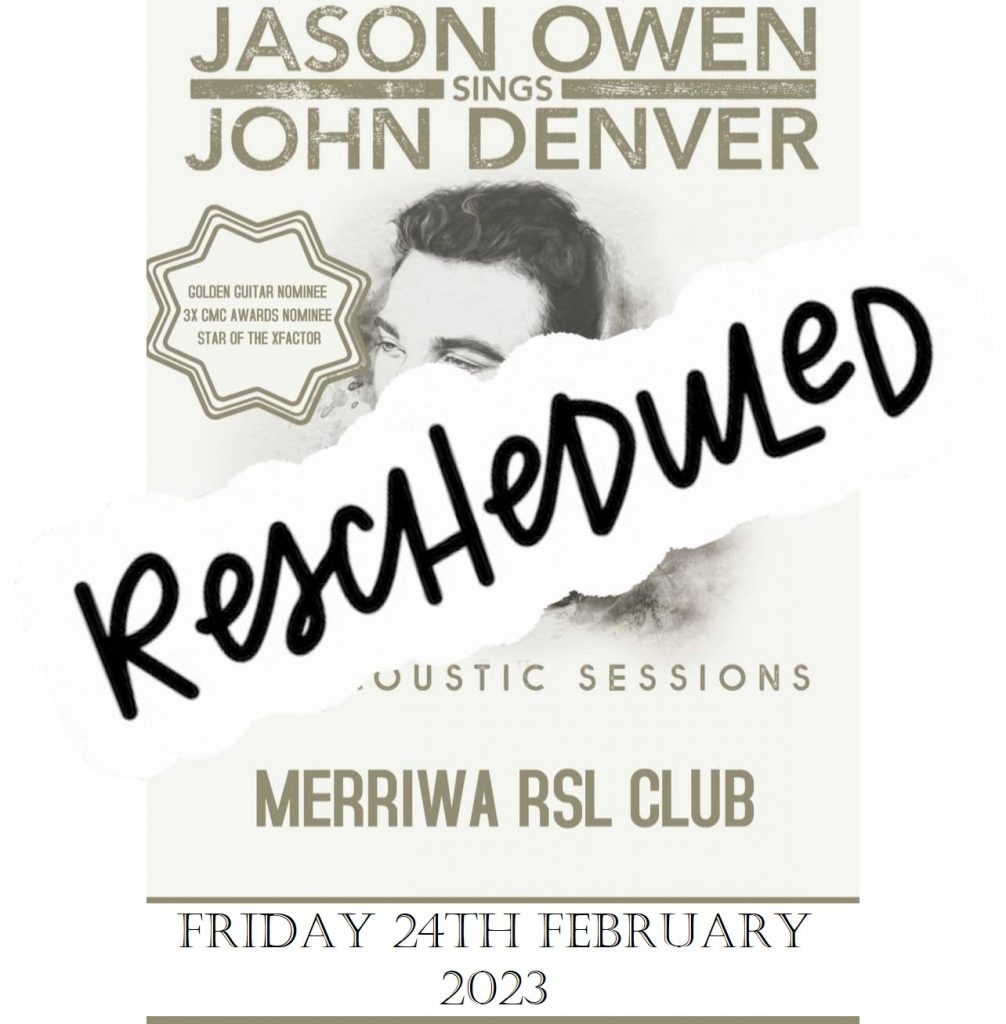 Due to unforeseen circumstances, the John Denver Tribute Show has been cancelled for Friday 5th August. The show is now scheduled for Friday the 24th of February 2023.
Please hold onto your tickets, or if you require a refund, please return to them to the Merriwa RSL Club. (02) 6548 2157
_______________
DIRTY DICKS THEATRE RESTAURANT
Playing at: MERRIWA R.S.L. CLUB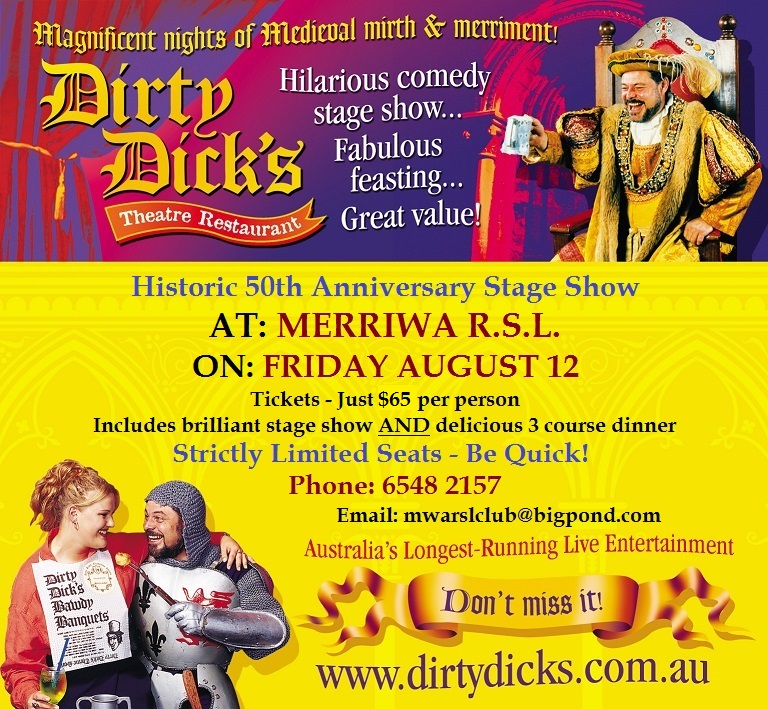 On: FRIDAY 12TH AUGUST, 2022
BOOKING/INFO: Phone: 6548 2157 or Email: mwarslclub@bigpond.com
Come and enjoy a brilliant night of Medieval mirth and merriment featuring a spectacular ALL NEW 50th Anniversary stage show with sidesplitting comedy, witty and wacky songs, madcap parlour games and hilarious audience involvement PLUS a most magnificent 3 course sumptuous feast; hearty home-made vegetable soup with crusty bread, plate served prime roast beef with jus, roast potatoes and seasonal vegetables, followed by tasty apple pie or sticky date pudding with custard sauce
Tickets: Just $65.00 pp Includes brilliant stage show AND 3 course dinner
Bookings essential. 6.45pm arrival for 7pm start – Information for members & guests
DIRTY DICK'S – "IT'S SO FUNNY, IT HURTS" www.dirtydicks.com.au
______________________________________
Can Assist Merriwa
CANCELLED – VARIETY & DINNER EVENING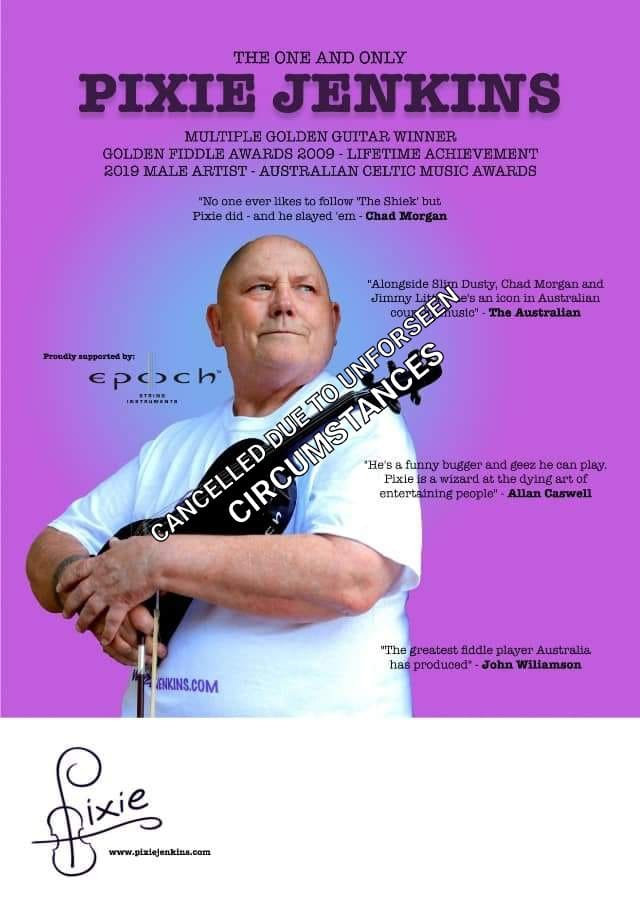 CANCELLATION
CANCELLATION
Can Assist Merriwa would like to advise that our PIXIE JENKINS event has been CANCELLED due to unforeseen circumstances, however we do invisage getting him on board in the near future.
Marlene for Can Assist Merriwa
____________________________________
Crazy Beanie Day
HOSTED BY THE MERRIWA TOURIST WELCOMING CENTRE & MEN'S SHED
Raising funds for those who are fighting the battle and those who have sadly lost the war.
Hi there! We have decided to fundraise for this campaign as CRAZY BEANIES to make an even bigger difference! If you would like to support our fundraising efforts it would be amazing! Any donation, big or small, would be greatly appreciated! Thanks so much!
EVERYONE is invited!! Help us raise money for a cause that is close to many of our hearts.
Join us on Sunday 7th August from 11.30am for a Snag and a great time – make sure your sporting your crazy beanie, as there are some prizes up for grabs!!
____________________________________
Local Land Services
CULTURAL BURN DEMONSTRATION – MERRIWA
Farmers and land managers are invited to one of our free field days to learn about traditional cultural burning land management practices and how these might benefit restoration and management of woodland remnants and understorey on farms! The field days will include an information session with Den Barber, a Cultural Burn Practitioner at Yarrabin Cultural Connections, followed by a cultural burn demonstration within remnants of Box-Gum Grassy Woodland. Each field day will provide an opportunity to share knowledge and understand the benefits of traditional land management practices for modern farming and woodland restoration.

Details of events:
Wednesday 24 August or Thursday 25 August 2022
Time: 9:30am – 4:00pm
Location: Golden Highway, Merriwa
Locations of the field days will be provided on confirmation of attendance.
RSVP by Friday 19 August 2022 via this link.
Morning tea and lunch will be provided (free)
________________________________
Merriwa CWA
The CWA will open the rooms for a FREE MORNING TEA, EVERYONE IS WELCOME
When: Thursday 4 August
Time: 10am
Where: CWA Rooms
Bring a friend for a coffee and a chat, just a small way to say thank you to the community for their ongoing support.
________________________________
Cassilis Spring Ball
BLACK TIE MASQUERADE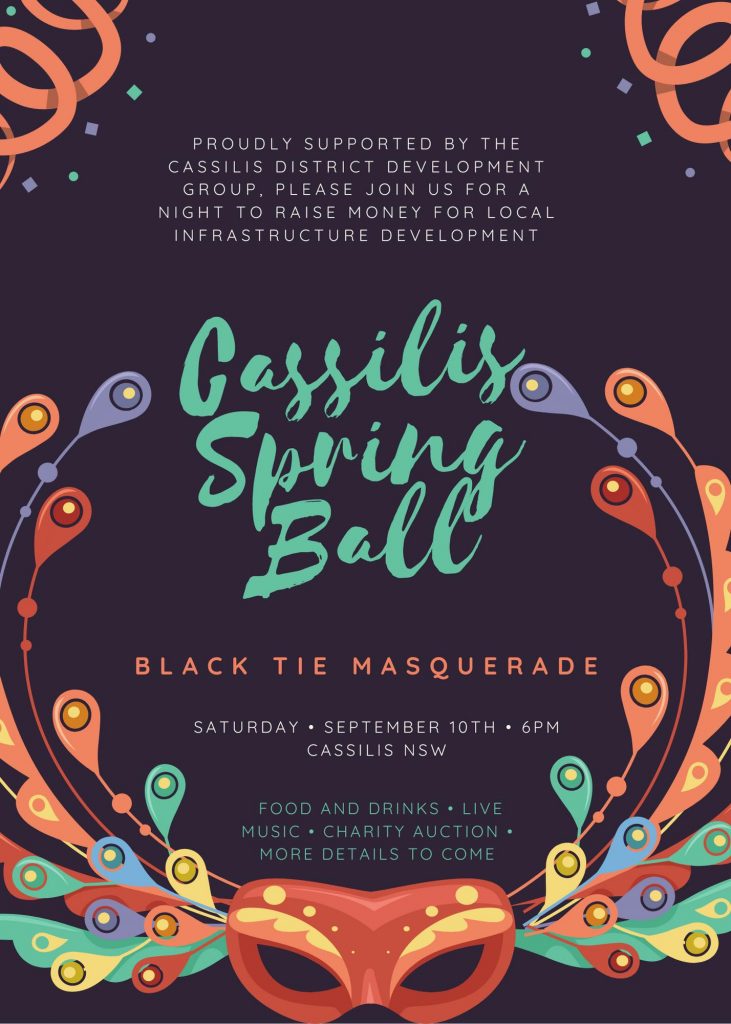 The Cassilis District Development Group would like to invite you to the Cassilis Spring Ball!
Our little community has been through a lot in the past 5 years. From the Sir Ivan fire to years of drought, a mouse plague, COVID-19, and the recent floods….
We believe it's time for us all to put on our best frocks and suits for a fun night out and help raise funds for our community.
The CDDG was formed to represent, advocate and fundraise for the Cassilis Community and District. The Cassilis Spring Ball will help raise funds for the infrastructure development programs within the Cassilis community.
So please, spread the word, invite your friends and family for a fun night out and help our community.
Tickets AVAILABLE NOW
________________________________
Saturday 13th August at 3pm
Cards available to purchase from2.45pm
$30 for a full book, 15 games (6 cards per full book) smaller priced card options available.
Don't forget to bring along your dobber and join us for a fun afternoon!
________________________________
Royal Hotel Cassilis
MELBOURNE CUP LADIES DAY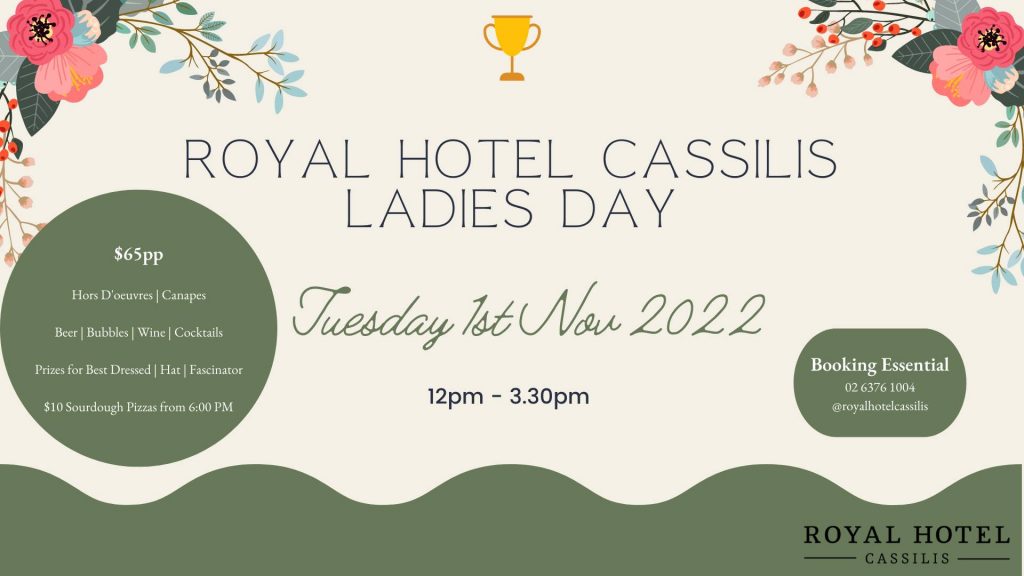 The Melbourne Cup Ladies Day is back and better than ever!
Not only the race that stops the nation but also a perfect day out to catch up, with entertainment, fashion, good food, and drinks.
Join us for the Royal Hotel's Classic Melbourne Cup lunch.
Prizes for best dressed, live coverage of the big race, sweeps, and some lucky door prizes!