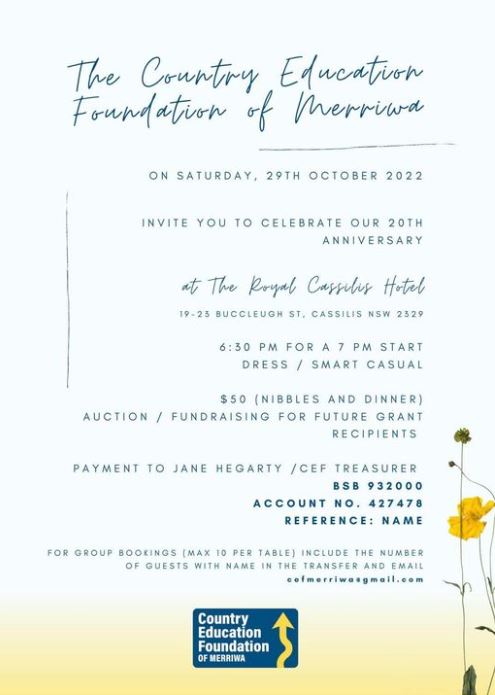 ______________________________
Shape Merriwa's Future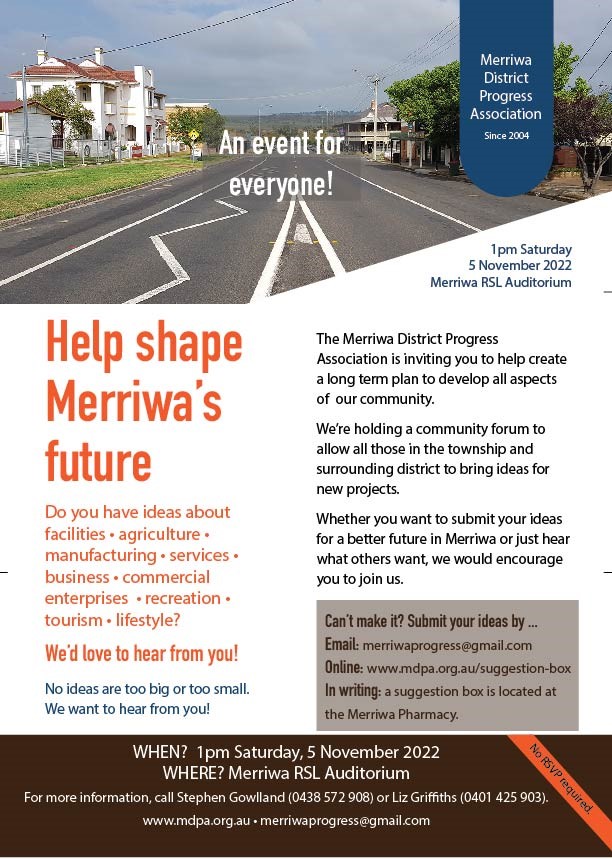 CALL TO ACTION FOR MERRIWA DISTRICT RESIDENTS
A Call To Action has gone out across Merriwa and the surrounding district. The Merriwa District Progress Association (MDPA) is inviting locals to have their say to help shape Merriwa's future.
Stephen Gowlland, President of the MDPA, suggests that years of COVID-19 lockdowns have given people time to think about many issues, which can spark a lot of creativity, lateral thinking and ideas. It's these ideas the MDPA would like to capture in its Strategic Direction Community Forum.
Residents of Merriwa, Cassilis and surrounding areas are encouraged to come along and express their ideas or even just hear what others have to say at a public forum to be held at 1:00 PM on Saturday 5 November 2022 at the Merriwa RSL Club.
According to Stephen "It's time for people living in the Merriwa district to set a direction for themselves and define how they would like to see the district improved." There is no need to RSVP – just turn up.
The MDPA will create a long-term plan to develop all aspects of the Merriwa district community (such as social, economic, environmental, cultural and educational). "This plan needs to be based on those things that are important to our residents, and who is better to tell us than the residents themselves."
The MDPA wants to hear ideas about local facilities, agricultural initiatives, manufacturing opportunities, services, the needs of businesses and commercial enterprises, and ideas about recreation, tourism and lifestyle. No ideas are too big or too small.
For more information on this event, email merriwaprogress@gmail.com or visit the Progress Association's website at: www.mdpa.org.au where you can submit your ideas in the Suggestion Box.
Stephen Gowlland,
President, MDPA
26 October 2022
______________________________________
Council welcomes MR 358 funding
Upper Hunter Shire Council is delighted the Federal Government has committed $38.64 million in funding the rebuild of Main Road 358 also known as Coulsons Creek Rd.
The project, which is shovel-ready, will restore a critical livestock route between Merriwa and Willow Tree.
Mayor Maurice Collison said he wanted to thank the Labor Government but also the Member for New England Barnaby Joyce, who put the funding in the budget prior to the federal election.
"There are a number of people who have ensured this funding has come to fruition," Mayor Collison said.
"We are thankful the Federal Government agreed to fund this vital project for our community.
"Prior to the election in May, Barnaby Joyce ensured the money was in the budget and we are thankful for his tenacity and foresight.
"We also want to thank Member for Hunter Dan Repacholi for his hard work in representing a project that was outside his electorate but that will no doubt benefit the whole of the Hunter region."
In August, Cr Collison and General Manager Greg McDonald met the Minister for Infrastructure, Transport, Regional Development, and Local Government Catherine King in Canberra to advocate for MR358 funding.
"We are happy Minister King spent time with us and listened and understood the need for this funding," he said.
"She understood the importance of this key transport link that connects the New England Highway to the Golden Highway. By supporting this funding, the Federal Government is helping residents to improve their livelihoods."
Upper Hunter Shire Council will now seek tenders for MR 358.
_____________________________