Giro De Cassilis & Le Tour de Merriwa
SATURDAY 4TH – SUNDAY 5TH MARCH
44.5km mixed gravel and sealed surface
823m of climbing
Cross the great dividing range twice
Several creek crossings & Cattle Grids
Open Roads
2pm Saturday 4th March
The RFS vehicles will have water and bananas. For those doing the short course out to the Talbragar and back to Cassilis there is a drink stop at the Tangaratta homestead just after the turn around point.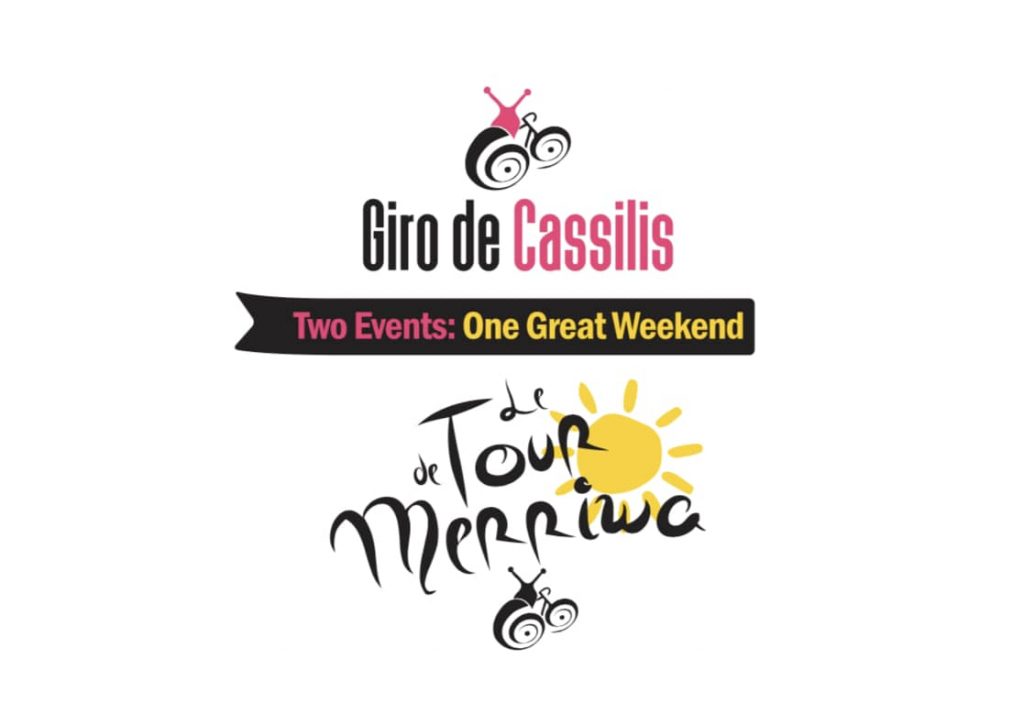 – Gravel Edition:
51km of mixed gravel and sealed surfaces
650m of Climbing
Barista Coffee cart with bacon and egg rolls, date loaf, bananas at 30km rest stop.
Several creek crossings, cattle grids and crater size potholes.
-Pothole-Roubaix Edition
76km out and back on sealed road with some badly weathered sections, large potholes, cattle grids and creek crossings.
Barista Coffee cart at 22km & 54km with bacon and egg rolls, banana bread and date loaf.
Check out the course here: https://www.relive.cc/view/v8qkGV7ez3q
______________________________
ARE YOU TOWING YOUR CARAVAN SAFELY?
Own your own caravan or horse float, but have questions about weight distribution?
Wanting to buy your dream van but haven't much experience with towing?
Tow a van and have some questions about loading your gear?
Local Councils, with the support of Transport for NSW, will be hosting a free workshop on safe caravan towing, where you can ask these questions and get the answers from the experts from Get About Training – Tow-Ed .
This interactive 2 hour workshop provides information and demonstrations to support the safe loading and towing of caravans and trailers.
FREE workshops will be held across the Hunter and Mid Coast regions on March 16 and 17.
Spaces are limited, and bookings essential as light refreshments will be served.
Reserve your place by registering online at:
www.surveymonkey.com/r/Hunter_NewEngland_TowingWorkshopRegistration.
If you would like further information, please contact your local Council.
Chris Tola – Road Safety Officer
Upper Hunter – Muswellbrook – Singleton
Email: ctola@upperhunter.nsw.gov.au
Phone: 0429 664 036
_______________________________
Merriwa CWA
FREE COMMUNITY MORNING TEA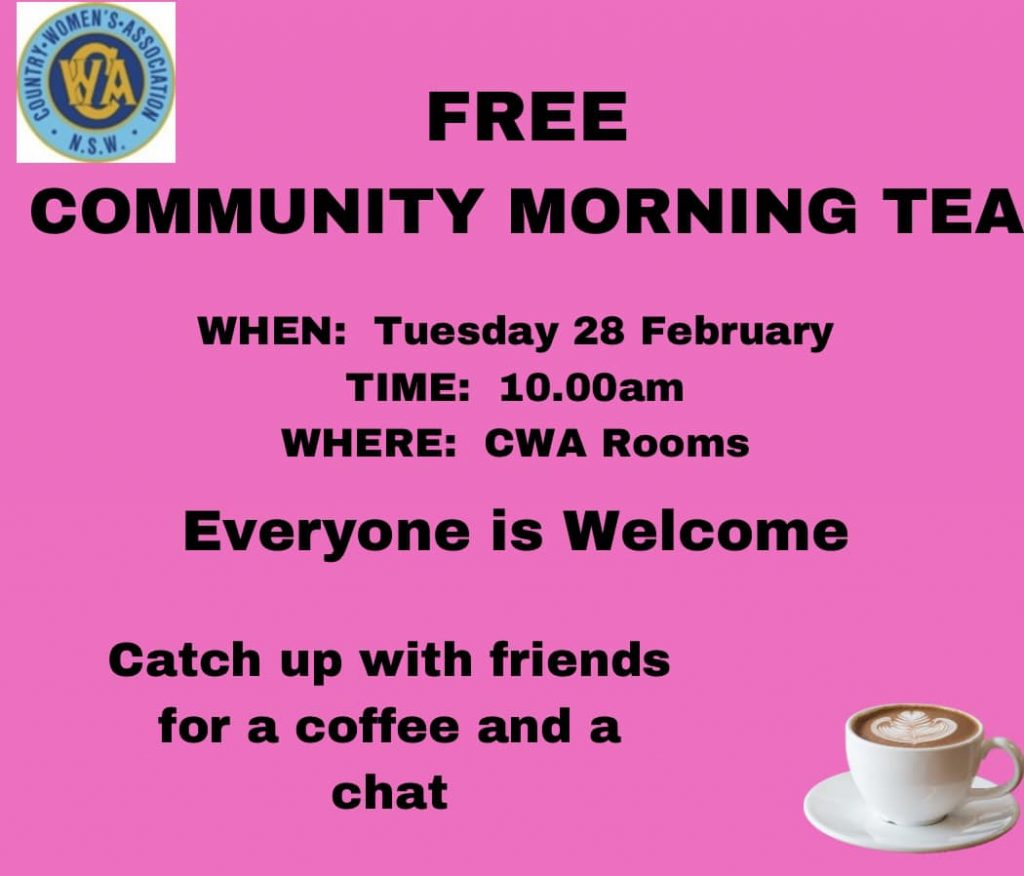 ______________________________
Merriwa District Chamber of Commerce and Industry
GENERAL MEETING
The next Chamber of Commerce meeting will be held at the Merriwa Gallery at 6pm on Thursday 2nd March.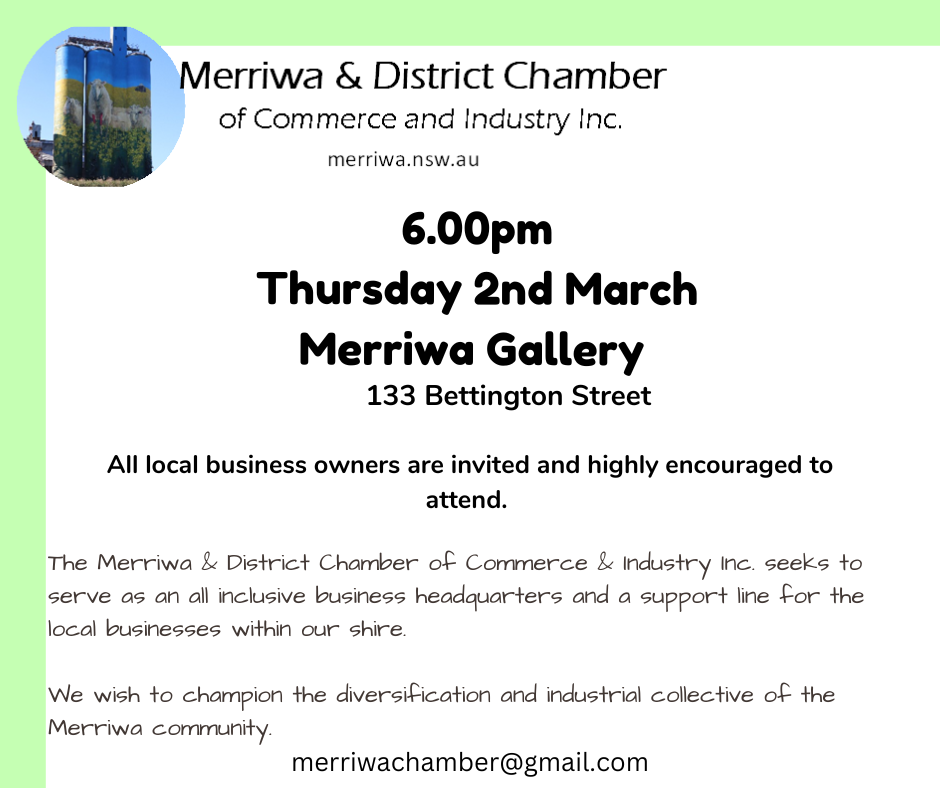 We would love to see many of our local business owners there!!
You can also email merriwachamber@gmail.com and we will send a copy through
______________________________
Merriwa Preschool and Activity Centre
LE TOUR DE MERRIWA TRIVIA NIGHT
Merriwa Pre-School and Activity Centre in association with Le Tour De Merriwa present a night of trivia, food and fun at the Merriwa Sports Club on the 4th of March.
Hosted by 2NM radios Peter Holland with audio/ visual trivia should make this a night to remember.
A sharing platter for your table is available at a cost of $80
Unfortunately The Harvest restuarant will NOT be open as advertised. Drinks are available at the bar.
Tickets go on sale from 8am on Monday 30th January and can be purchased by following this link – https://www.123tix.com.au/events/37293/merriwa-pre-school-trivia-night
______________________________
Merriwa Rugby League Club
REGISTRATION AND RAFFLE NIGHT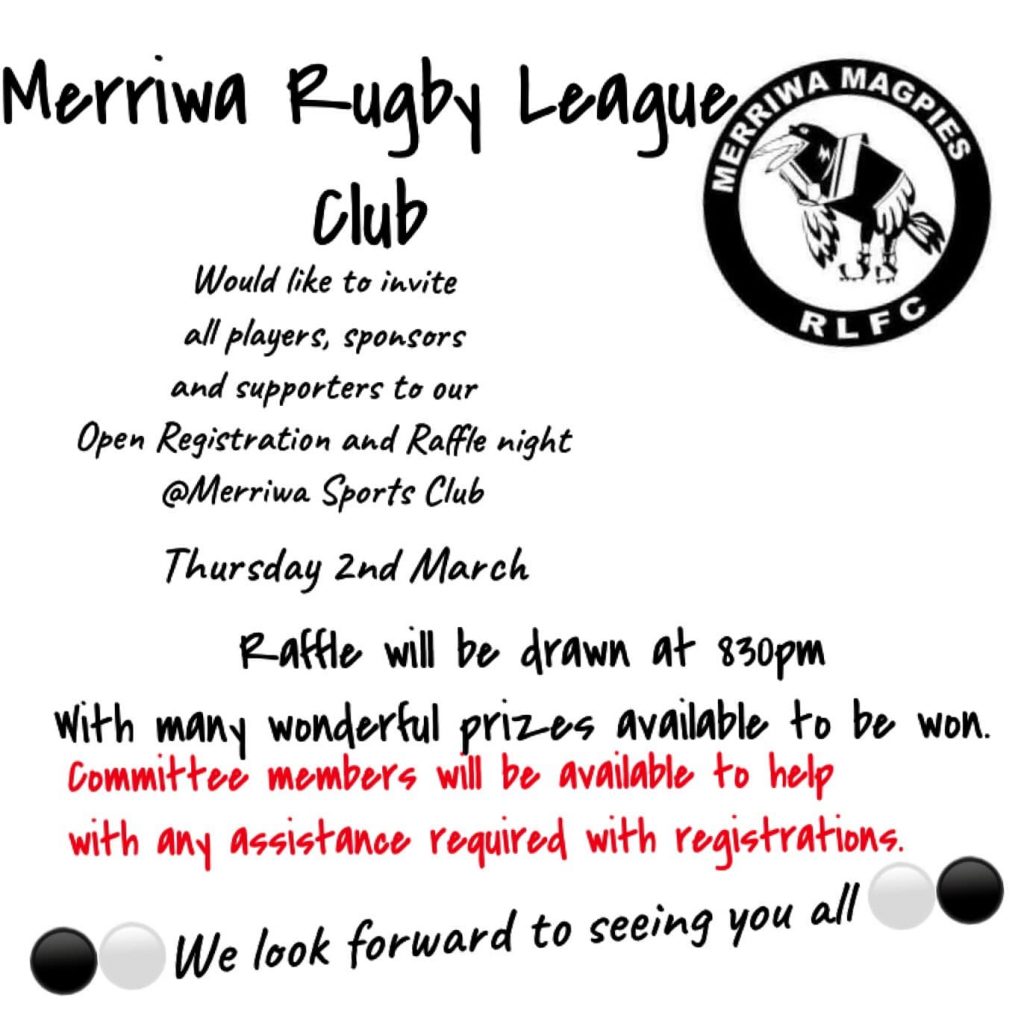 ________________________
We have a great canteen on offer for the weekend! Everyone is welcome – locals, visitors, those here for you
Le Tour de Merriwa,
participants
– EVERYONE!! (you do not need to be riding to enjoy our food!)
Early breakfast available from 6.30am both days!
Fabulous morning tea options and heathy lunch selections!
Ice blocks and fruit snacks!
Take a break enjoy the weekend without having to cook all the food!
Eftpos available!
You need a bacon and egg roll cooked by genuine Upper Hunter locals with Merriwa ingredients! It's the best!!
We appreciate your support!!
Megan Moore
______________________________
St Joseph's Primary School & Merriwa Preschool and Activity Centre
PARENT WELLBEING INFORMATION SESSION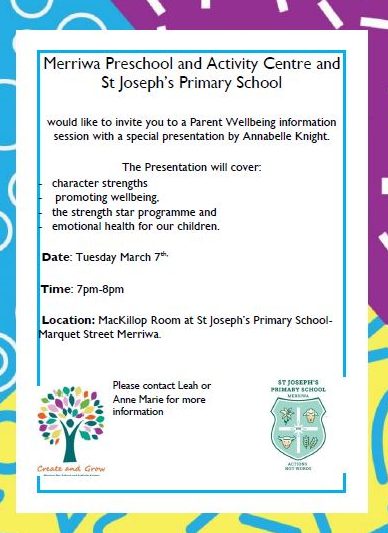 Merriwa Preschool anf Activity Centre and St Joseph's Primary School would like to invite you to a Parent Wellbring Information session with a special presentation by Annabelle Knight.
The presentation will cover:
character strengths
promoting wellbeing
the strength star programme
emotional health for our children
Date: Tuesday 7th March 2023
Time: 7pm – 8pm
Location: MacKillop Room at St Joseph's Primary School – Marquet Street, Merriwa
For more information contact Leah at Merriwa Preschool and Activity Centre or Anne Marie at St Joseph's Primary School, Merriwa.
______________________________
Royal Hotel
ROLLIN' DICE
SATURDAY 11th MARCH
___________
CHESS CLUB
Do you enjoy a good game of Chess or have always wanted to learn to play?
CHESS CLUB – Sundays 2:30-5:30pm
Starting 12th March
FREE Event – Bring your chess board along
______________________________
Merriwa Swimming Pool
AQUA CLASSES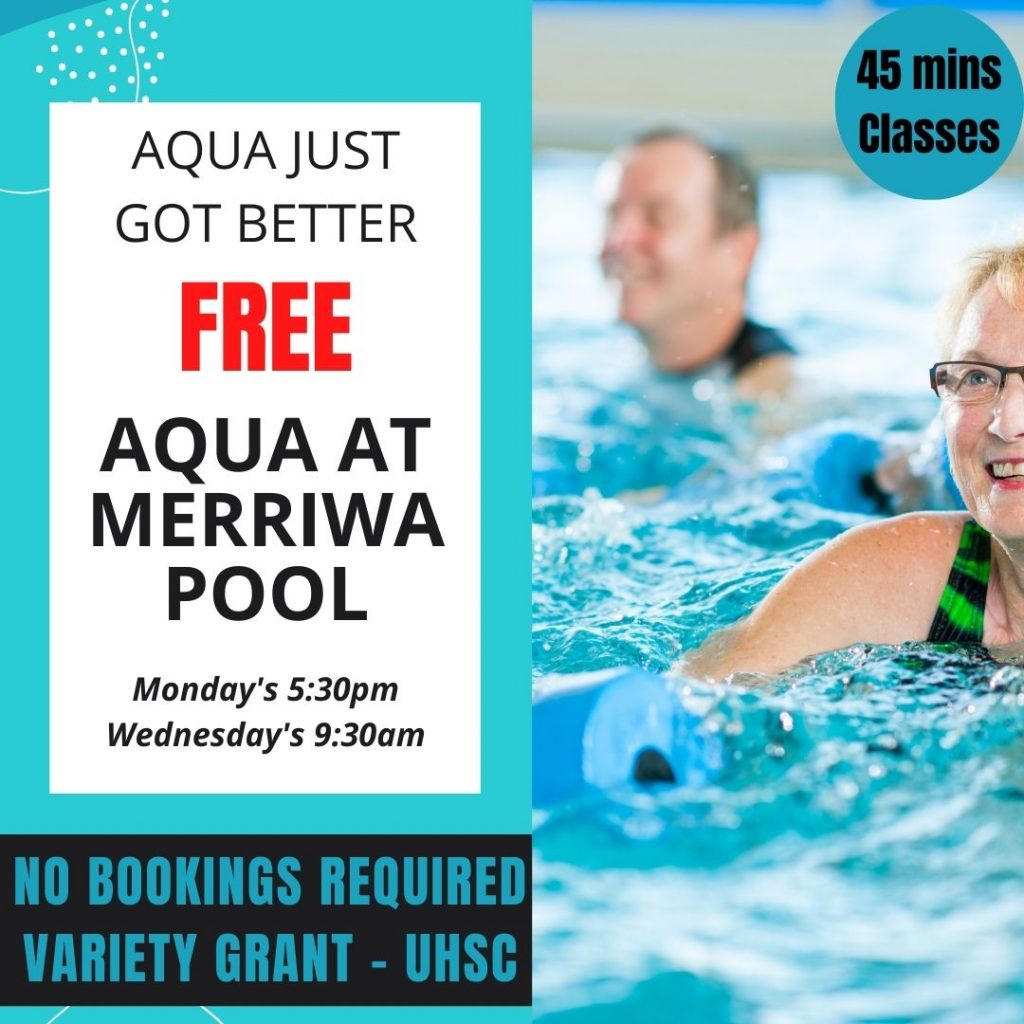 Ask us how our Aqua Classes could get even better? How about Free of charge? Thank you UHSC Variety Grant for subsidising!
Monday's 5.30pm and Wednesday's 9.30am
______________________________
Merriwa Pharmacy
COMMUNITY SWIM CHALLENGE
Merriwa Pharmacy will donate 20c per lap towards the community.
This year our fundraising will be directed towards the fund being set up to assist residents financially impacted by the new active transport network (shared pathway).
Set yourself a health challenge and help out your community at the same time.
It's a win-win!
-and Yes, We will have a big end of season breakfast.
______________________________
Hunter Valley Polocrosse
HUNTER VALLEY ZONE COACHING WEEKEND
HV Zone Polocrosse and the HV clubs are hosting a HV Zone coaching weekend for all levels of players, from A grade to come and try, we will have something for everyone!
11/12th March
Merriwa Racecourse
Nominate to your HV club by 22nd Feb
______________________________
Star Club Equestrian Program Inc
MERRIWA
Star Club Equestrian Program Inc
– Star Club, Merriwa opens 25 February 2023.
Get in touch with Star Club Equestrian Program Inc. for more information: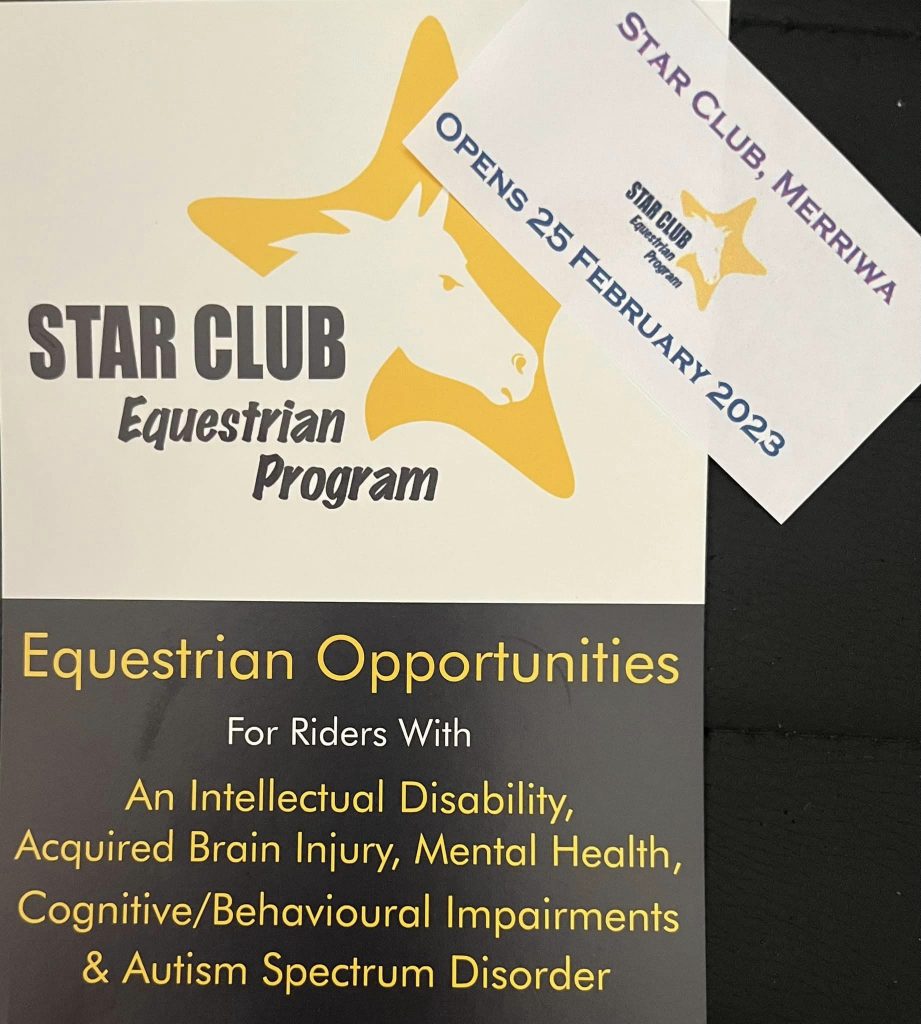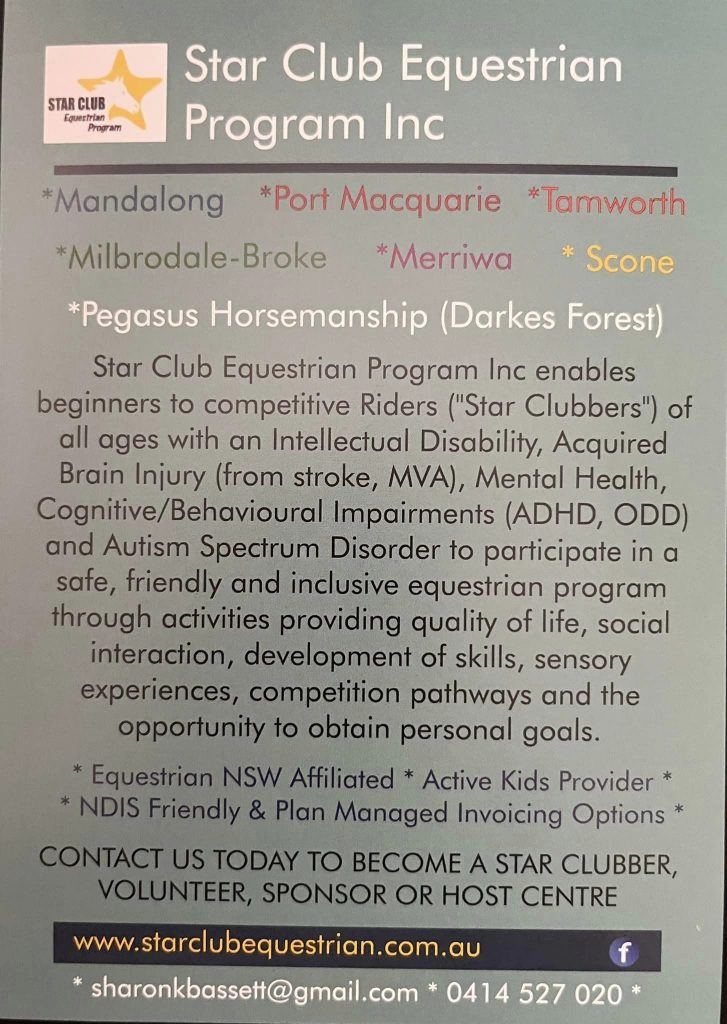 ______________________________
Scone Literary Festival
MERRIWA LITERARY LUNCH
Soak up the relaxed country atmosphere and enjoy an intimate and delicious lunch (cooked by the Merriwa CWA) with local Author Ryan Butta.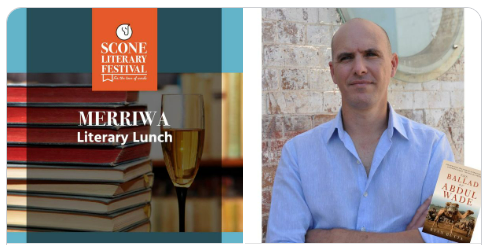 Explore what makes history, and what is 'forgotten' along the way as Ryan shares his journey of research and discovery writing The Ballad of Abdul Wade.
Friday March 10, 12-2pm
Cost $50 pp
CWA Merriwa
Includes lunch and beverages provided by the Merriwa CWA
Get your 2023 Festival tickets
https://events.humanitix.com/scone-literary…/tickets
______________________________
Merriwa Gallery
MEDITATION CLASS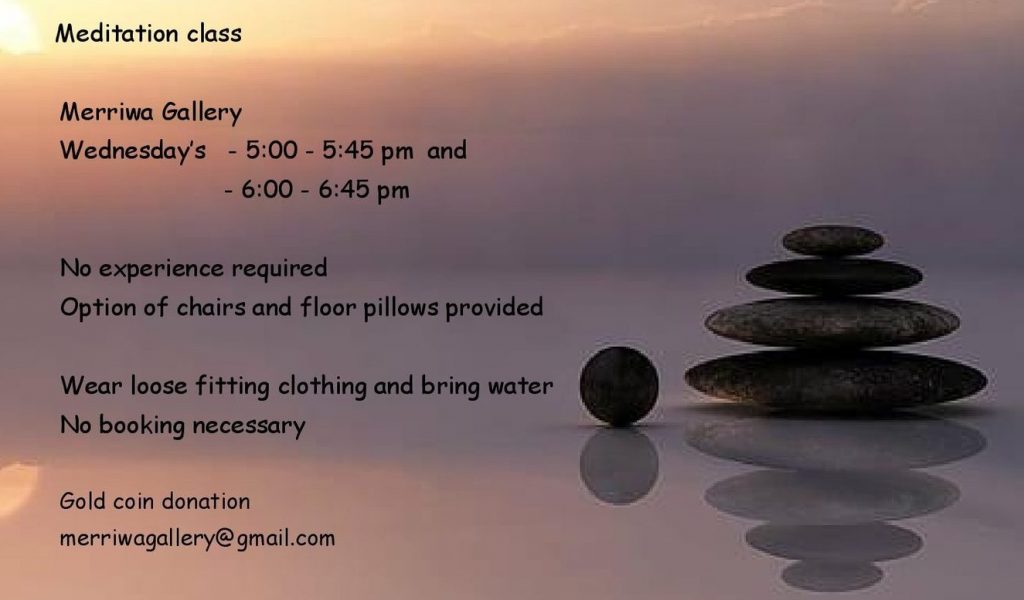 Wednesday's – 5 – 5.45pm and 6 – 6.45pm
No previous experience required, low key and welcoming. Wear loose clothing and bring water.
Chairs and floor pillows are both options provided. No booking necessary.
Gold coin donation.
Come and spend some considered quiet time to round off the day.
Any questions merriwagallery@gmail.com
UPCOMING EXHIBITIONS, WORKSHOPS AND EVENTS
EQUINE EXTRAVAGANZA EXHIBITION – A Community exhibition showcasing everything equine, photographs,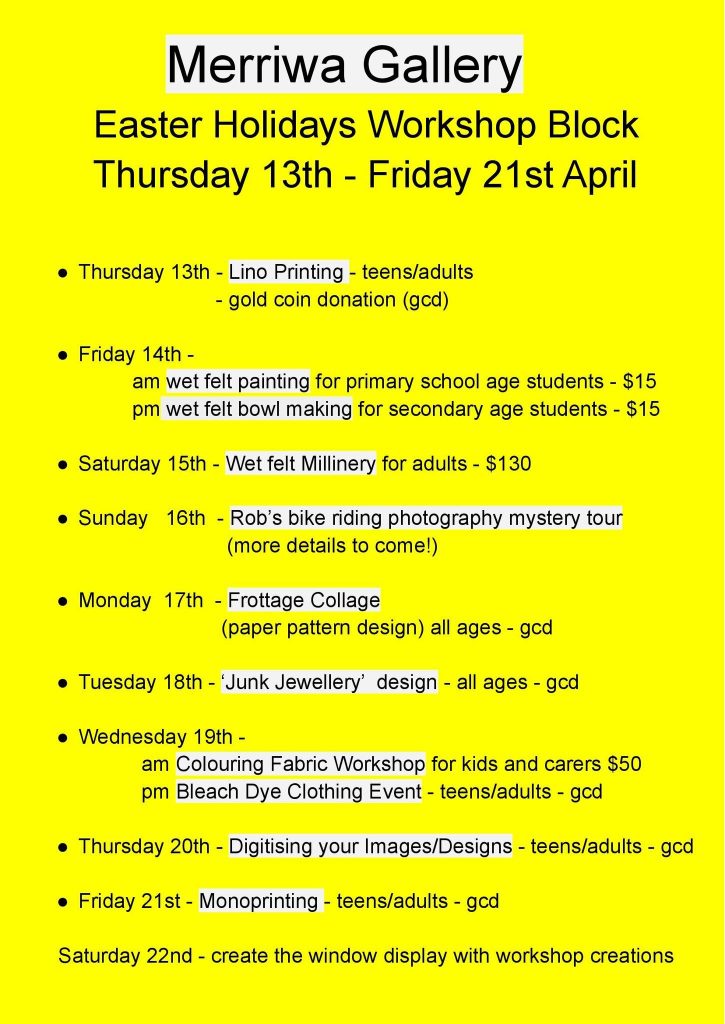 drawings, paintings, sculpture etc. Friday 24th Feb – Sunday 5th March
GAIL SOUTHWELL AND JOANNE VAN HESS – Local artists co exhibiting painting/drawing and ceramic works. Friday 10th – Sunday 19th March
KOORITHREADS – Local indigenous artist clothing design Cross Cultural pop up runway show. Thursday 23rd – Sunday 26th March
ST JOSEPH'S PRIMARY SCHOOL MERRIWA – Easter themed exhibition. Thursday 31st March – Tuesday 6th April
EASTER HOLIDAYS WORKSHOP BLOCK – Timetable at side. Thursday 13th to Saturday 22nd April
Follow Merriwa Gallery on Facebook or Instagram for more updates! Any questions etc merriwagallery@gmail.com
______________________________
Hunter Local Land Services
LIVESTOCK FARM TECH FIELD DAY
Join Hunter Local Land Services to chat all things farm technology for your livestock!
With a great line up of speakers
, hear all about:
Thursday, 27 April
9am – 1pm
For more info contact Teresa Hogan, Senior Livestock Officer, 0417352694 or teresa.hogan@lls.nsw.gov.au
Register here now:
https://hunterlls.wufoo.com/…/farm-tech-livestock…/
______________________________
Merriwa District Progress Association
MEET THE CANDIDATES
Merriwa District Progress Association is pleased to present the candidates for the Upper Hunter Electorate in the 2023 NSW Election in 25th March 2023 to the local community to better understand what each candidate has to offer the Merriwa district.
6pm Wednesday 8th March 2023 in the Merriwa RSL Club Auditorium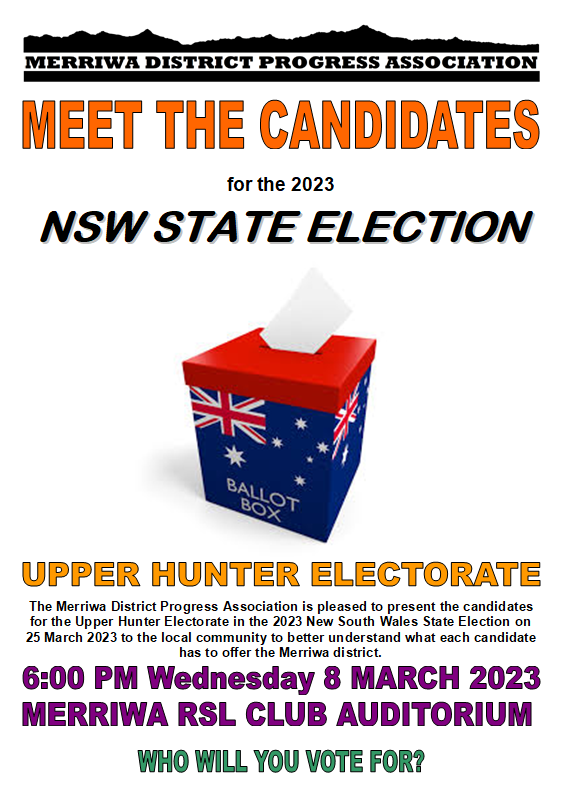 ______________________________