Merriwa Festival of the Fleeces
ANNUAL GENERAL MEETING
With the proposed restructure and incorporation of the Festival of the Fleeces (FoTF) committee, we are seeking expressions of interest for committee members and the election of office bearers at an annual general meeting (AGM).
The meeting will be held on the 9th August at 6pm at the Merriwa RSL (in Squatters Corner). The current working group and committee would appreciate as many people as possible at the AGM.
The AGM is being called by the Chairman, Ron Campbell, in August in order to give the newly formed, independent committee maximum time to plan and progress next year's festival.
______________________________________
Merriwa RSL Club
TICKETS ON SALE NOW
Tickets are now on sale for the Jason Owen sings John Denver tribute concert at the Merriwa RSL Club, August 5th 2022 from 8pm.
(02) 6548 2157
_______________
DIRTY DICKS THEATRE RESTAURANT
Playing at: MERRIWA R.S.L. CLUB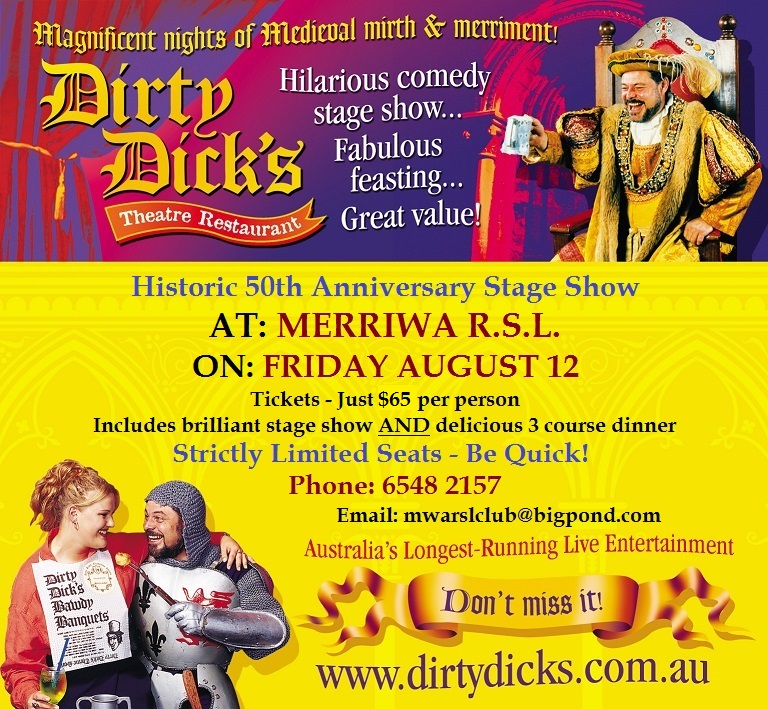 On: FRIDAY 12TH AUGUST, 2022
BOOKING/INFO: Phone: 6548 2157 or Email: mwarslclub@bigpond.com
Come and enjoy a brilliant night of Medieval mirth and merriment featuring a spectacular ALL NEW 50th Anniversary stage show with sidesplitting comedy, witty and wacky songs, madcap parlour games and hilarious audience involvement PLUS a most magnificent 3 course sumptuous feast; hearty home-made vegetable soup with crusty bread, plate served prime roast beef with jus, roast potatoes and seasonal vegetables, followed by tasty apple pie or sticky date pudding with custard sauce
Tickets: Just $65.00 pp Includes brilliant stage show AND 3 course dinner
Bookings essential. 6.45pm arrival for 7pm start – Information for members & guests
DIRTY DICK'S – "IT'S SO FUNNY, IT HURTS" www.dirtydicks.com.au
______________________________________
St Joseph's P&F Merriwa
JUNIOR CAMPDRAFT & FETE

Click image to enlarge
____________________________________
Can Assist Merriwa
VARIETY & DINNER EVENING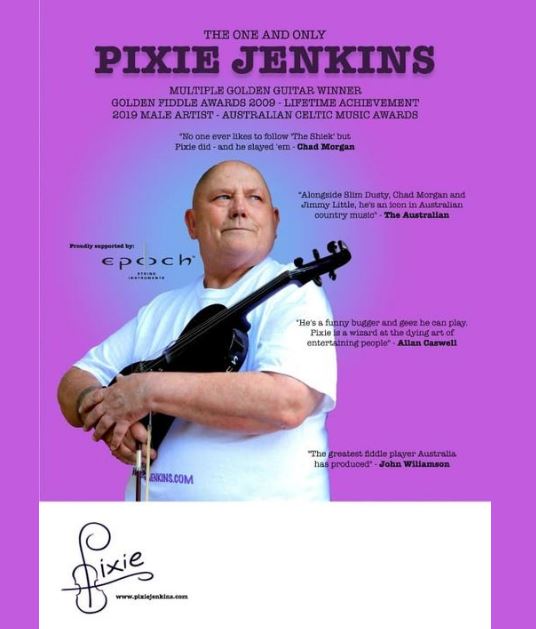 Can Assist Merriwa are hosting a dinner and variety evening with the one and only PIXIE JENKINS.
WHEN: 13th August 2022 from 6.30pm with DINNER commencing at 7pm
WHERE: Merriwa Sports Club.
CATERER: EAT@153 with 2 courses of delicious
COST: $50.00 per head, tables of 8 available
18+ as content may be a bit OTT
LIMITED AMOUNT OF TICKETS…LIMITED AMOUNT OF TICKETS…
Contact
Marlene Rogers
0478847064 OR contact
Sheree Kelly
for Can Assist bank account details. Tickets will be dispatched upon receipt of payment. We are hoping to give Dave a bit of a rest if that's even possible.
LOOKING FORWARD TO SEEING YOU ALL AGAIN FOR A FEW LAUGHS.
Marlene for Can Assist Merriwa
____________________________________
Crazy Beanie Day
HOSTED BY THE MERRIWA TOURIST WELCOMING CENTRE & MEN'S SHED
Donate here: https://hostyourown.markhughesfoundation.com.au/page/MerriwaTouristWelcomingCentre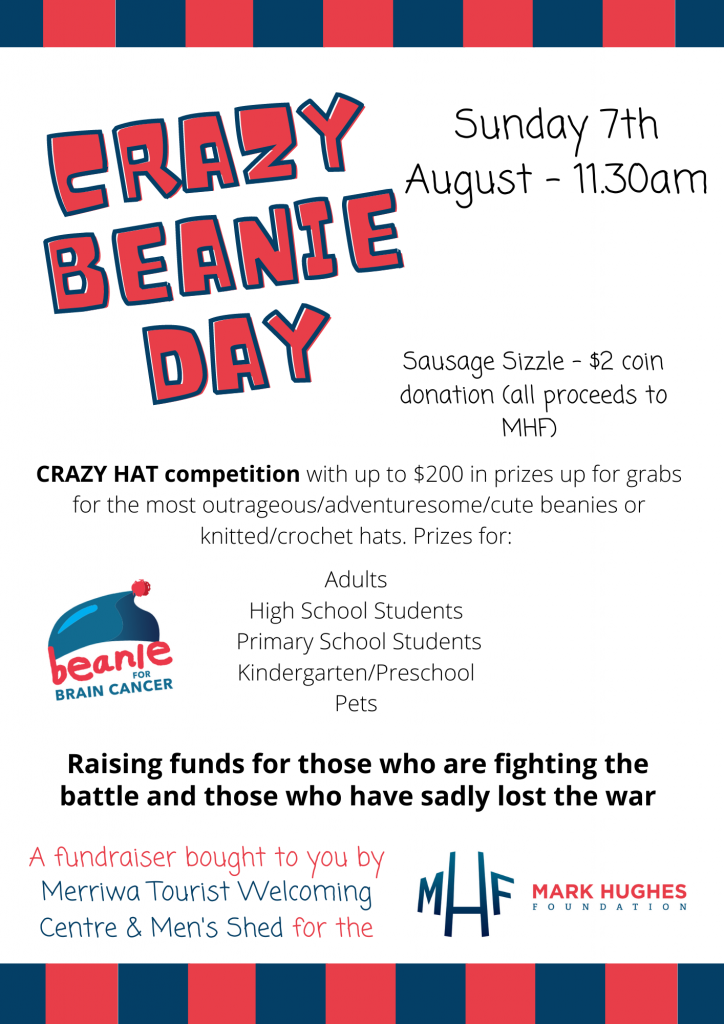 Raising funds for those who are fighting the battle and those who have sadly lost the war.
Hi there! We have decided to fundraise for this campaign as CRAZY BEANIES to make an even bigger difference! If you would like to support our fundraising efforts it would be amazing! Any donation, big or small, would be greatly appreciated! Thanks so much!
EVERYONE is invited!! Help us raise money for a cause that is close to many of our hearts.
Join us on Sunday 7th August from 11.30am for a Snag and a great time – make sure your sporting your crazy beanie, as there are some prizes up for grabs!!
____________________________________
Merriwa Gallery
CALLING ALL CONTRIBUTIONS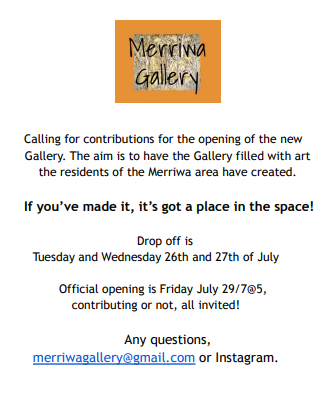 Calling for contributions for the opening of the new Gallery. The aim is to have the Gallery filled with art the residents of the Merriwa area have created.
If you've made it, it's got a place in the space!
Drop off is Tuesday and Wednesday 26th and 27th of July. Official opening is Friday July 29/7 at 5pm, contributing or not, all invited!
Checkout the June/July Newsletter here.
Any questions merriwagallery@gmail.com or Instagram
Merriwa Gallery – 133 Bettington Street, Merriwa
____________________________________
Local Land Services
CULTURAL BURN DEMONSTRATION – MERRIWA
Farmers and land managers are invited to one of our free field days to learn about traditional cultural burning land management practices and how these might benefit restoration and management of woodland remnants and understorey on farms! The field days will include an information session with Den Barber, a Cultural Burn Practitioner at Yarrabin Cultural Connections, followed by a cultural burn demonstration within remnants of Box-Gum Grassy Woodland. Each field day will provide an opportunity to share knowledge and understand the benefits of traditional land management practices for modern farming and woodland restoration.

Details of events:
Wednesday 24 August or Thursday 25 August 2022
Time: 9:30am – 4:00pm
Location: Golden Highway, Merriwa
Locations of the field days will be provided on confirmation of attendance.
RSVP by Friday 19 August 2022 via this link.
Morning tea and lunch will be provided (free)
________________________________
Royal Hotel Cassilis
MELBOURNE CUP LADIES DAY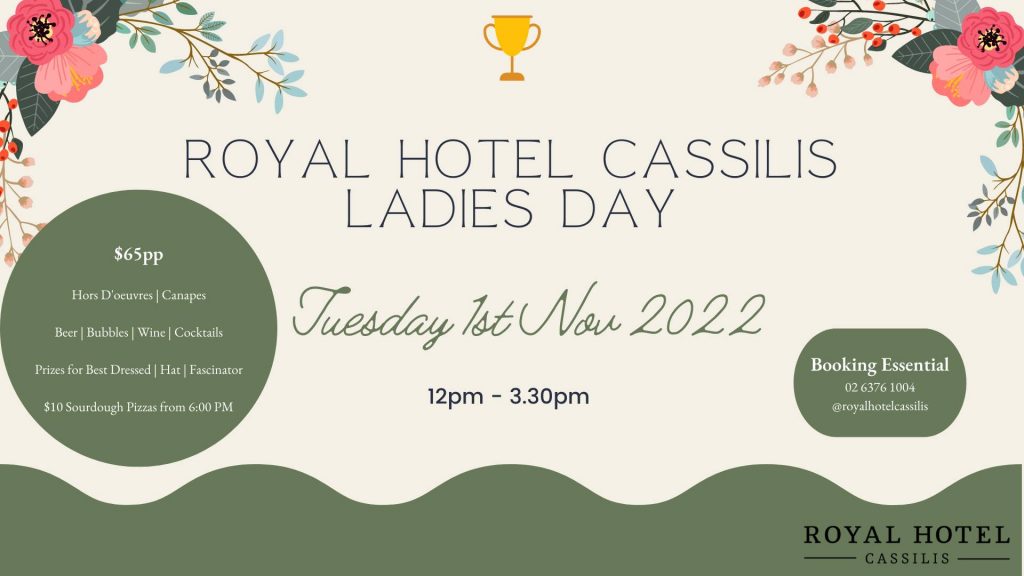 The Melbourne Cup Ladies Day is back and better than ever!
Not only the race that stops the nation but also a perfect day out to catch up, with entertainment, fashion, good food, and drinks.
Join us for the Royal Hotel's Classic Melbourne Cup lunch.
Prizes for best dressed, live coverage of the big race, sweeps, and some lucky door prizes!
________________________________
Upper Hunter Community Services Inc
TOYBOX
Click here for further information on Toybox by Upper Hunter Community Services Inc.
You will also find a brochure with information here.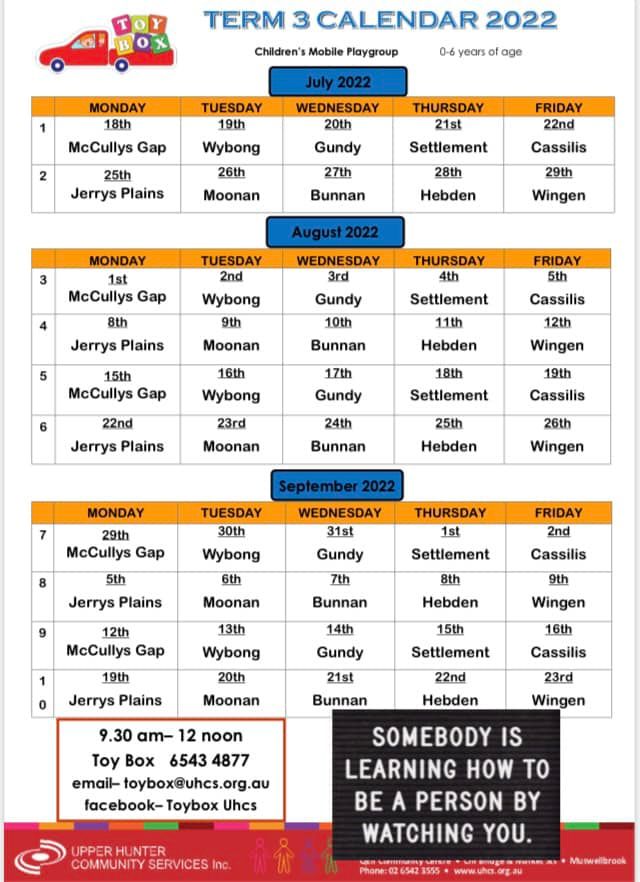 ________________________________
Merriwa District Progress Association
MEETING AGENDA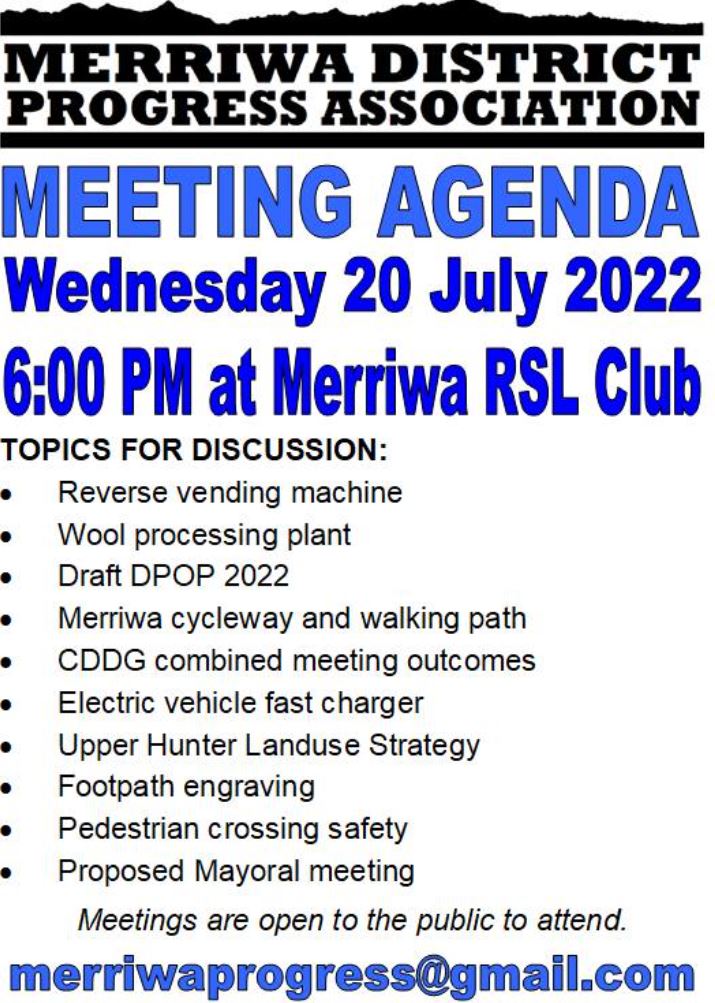 Wednesday 20th July 2022
Meetings are open to the public to attend.
________________________________
If you have anything you would like included on our website, email us at merriwaportal@gmail.com