Free Men's Health Check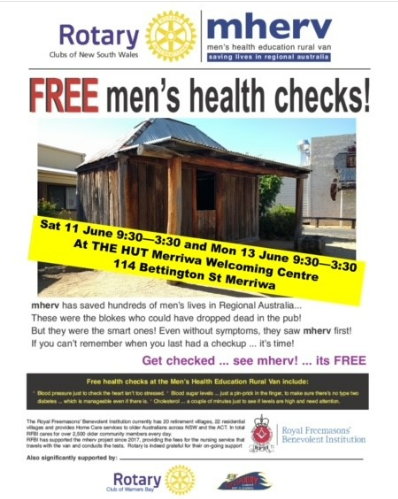 FREE men's health checks are back!!
Thanks to Rotary, MHERV will be back in town and open on Saturday 11th & Monday 13th June from 9.30am to 3.30pm.
You will find mherv next to Sansko Cafe, out the front of The Hut, under the Merriwa Mural
MHERV – The Men's Health Education Rural Van is a regional project made possible by fundraising, generous sponsorship and time freely given by hundreds of Rotary Volunteers.
A custom built caravan with a dedicated Registered Nurse travels the state of New South Wales offering free health screenings to regional and rural men, who are notorious for being completely in the dark about the state of their health.
______________________________________