Merriwa NSW
Merriwa Community Portal provides the community and visitors with a complete source of information on Merriwa for shopping, accommodation, medical, food and other information to make your stay pleasurable.
______________________________

This is your Community Notice Board
Keep up to date with the latest local news updates for Merriwa and the surrounding area by visiting our 'blog' page – News Updates!
As we regularly update the local news which include meetings, activities and points of interest. Items that are shared via social media are regularly deleted, meaning that the item of interest cannot be viewed any longer. By moving our local news to a 'blog' style, any items of interest can be shared and will be available for unlimited viewing.
___________________________________
Happy New Year 2023
______________________________________
Merriwa District Progress Association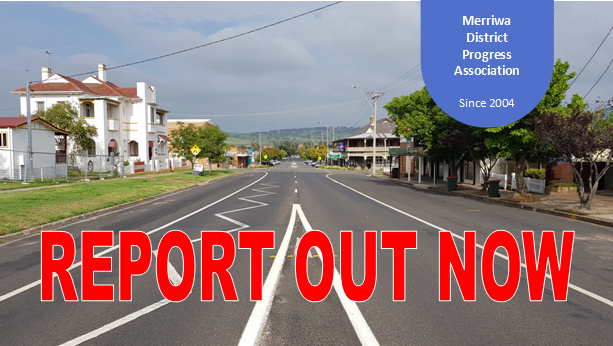 On Saturday 5th November 2022, the Merriwa District Progess Association hosted a community forum to seek ideas on the best ways to shape Merriwa's future.
We promised to share the results of the community forum with attendees and the whole community. All suggestions have been complied into a report that can be viewed on the MDPA website. It is hoped that Council, businesses, community groups and individuals will use these suggestions to make popular improvements to the Merriwa District.
Further suggestions can be posted on the "Suggestions' page or emailed to the MDPA.
Stephen Gowlland, President
___________________________________
Merriwa Reverse Vending Machine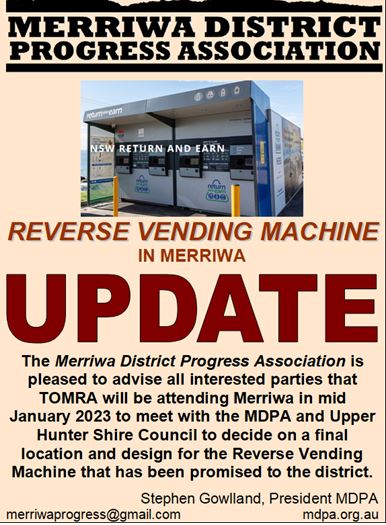 ______________________________
Merriwa Christmas Street Party 9/12/2022
A MERRIWA COMMUNITY PORTAL INITATIVE
Below are the Winners from the Merriwa Community Portal Colouring Competition and Scavanger Hunt. Each Colouring winner will be recieving a $25 My Merriwa Local Investment Gift Card, and the Scavenger Hunt winner will recieve a $50 My Merriwa Local Investment Gift Card. These are Proudly sponsored and provided by the Merriwa Community Portal.
Preschool

Harry Marshall

Kindy to year 2

Alby Armstrong

Years 3 to 6

Ashton Marchese

Year 7+Libby Gear

Scavenger Hunt Winner

Mia Richards

(drawn at random from submitted forms)
The below slideshow features some images from Merriwa's 2022 Christmas Party.
Christmas on Bettington
– part of the Upper Hunter Twilight Christmas Carnival.
–
Regional Australia Bank
for their financial assistance and the donation of promotional items for the childrens goodie bags
– Michelle Loft & Miranda Boland for bravely helping with the Kids Craft, from all accounts they did an amazing job.
– Cheree Walmsley for assisting children with their letters to Santa – these have all been delivered!
– Cheryl & John Dallimore for becoming Santa's Elves and assisting with the Santa Bags
– Brydie Moore for stepping up and becoming our face painter extraordinaire
– John Hardwick for assisting Santa
– Trudie Byfield for representing
Regional Australia Bank
and helping our Elves hand out Santa Bags to all the children
– Merriwa River RFS, Merriwa VRA, NSW Fire and Rescue & NSW Ambulance Service for ensuring the safe arrival and departure of Santa
– The Merriwa Community Portal Committee for organising the food stalls and other stalls, Santa, kids craft, face painting, letters to Santa, scavenger hunt, colouring competition, Santa goodie Bags and prizes
– All the shops that stayed open later than usual
AND
– All the wonderful community members who attended and supported the Merriwa Community Portal
It was great to see local organisations and businesses benefiting from this event and all the children and families enjoying themselves!
If you have any videos or pictures to share – we would love to see them and as always, we would love to hear your feedback!
________________________________
Hunter Medical Practice Merriwa
Merriwa current opening hours are:
Monday 8am – 5pm
Tuesday 8am – 5pm
Thursday 8am – 5pm
Friday 8am to 12.30pm
To book an appointment call (02) 6532 5013 or book online
________________________________________
Non Emergency Medical Transport
We are required to give Area Health at least 48 hours notice of planned trips. To do this we need Clients to make their booking with us in that time.
Telephone 6548 2653 or Office, Bottle Museum, between 9.30 and 3.30 weekdays.
_____________________________________
Tour Merriwa
CLICK ON THE LINK BELOW FOR A GREAT VISUAL TOUR OF MERRIWA
http://www.twominutepostcards.com/…/merriwa-nsw-stay-a…/
Many people have driven through the Golden Highway town of Merriwa
Merriwa in two minutes! While it's impossible to fit everything we love about Merriwa into two short minutes, journalist Cathy Stubbs has done a great job at packing a lot into a short time.
In the spirit of the ABC's Backroads, Cathy showcases towns in her Two Minute Postcards videos, providing brief insights into the attractions and delights of rural Australian communities.
A grant from the NSW state government allowed Merriwa business and community members to engage the Cathy's services to feature our town in one of her Two Minute Postcard videos.
We gave Cathy a few tips but left her to discover for herself the natural beauty, rich history and quirky features that make our town unique.
We hope you love it as much as we do!
________________________________________
TransCare Hunter Ltd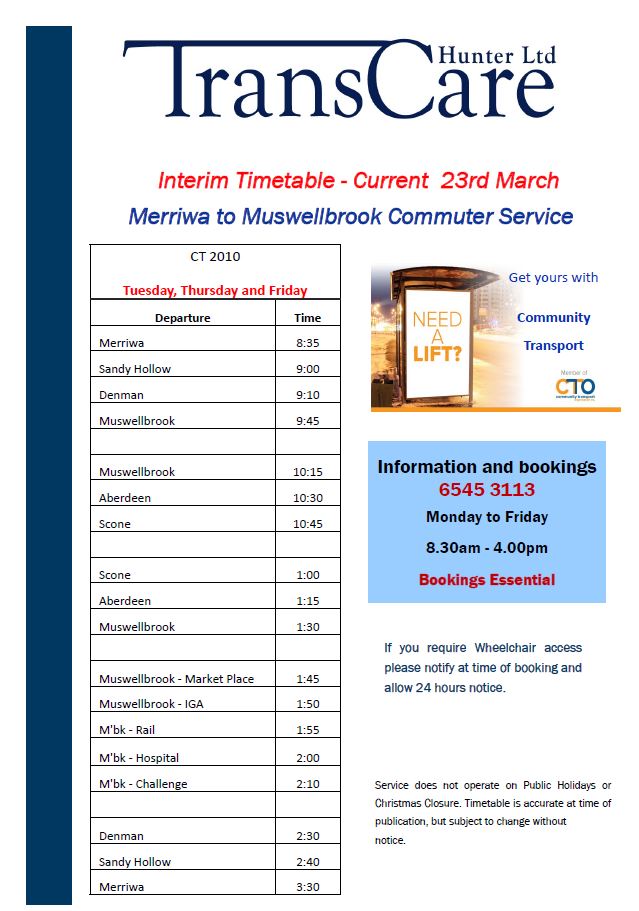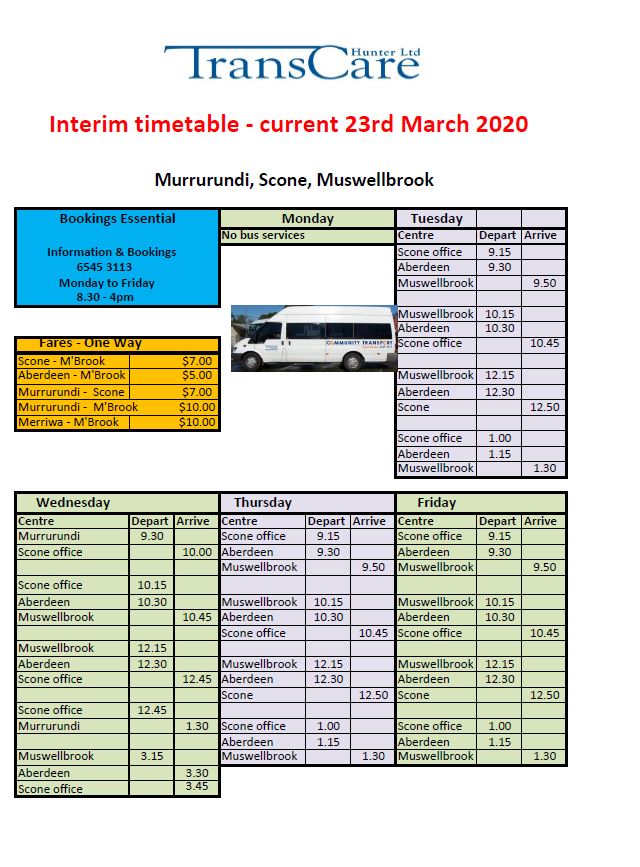 Bookings are essential. For bookings or information, please call 6545 3113, Monday to Friday, 9am to 3pm
___________________________________________
Merriwa Surgery
FOR ALL YOUR MEDICAL NEEDS
Opening hours
Monday to Friday 8.30am -5.30pm
Closed for lunch 12.30pm to 1.30pm daily
For bookings please call the surgery on 02 6548 2305
Merriwa Surgery would like to advise Dr Jasem will be on leave from July 15, 2021 until September 6, 2021. For those that are concerned Dr Jasem is returning following his leave and will continue to provide ongoing healthcare to the community.
During this time Dr Plaskitt will be in the practice three days per week working Monday's through to Wednesday's, unfortunately the surgery will need to be closed for one week during Dr Jasem's leave commencing Monday August 9, 2021 through to Sunday August 15, 2021.
As of September 1, 2021, we would like to advise changes to our billing, we have previously been a Bulk Billing practice, this is no longer feasible for the practice and changes to mixed billing will commence in September, this means that unless you hold a pensioner concession card or are a child Under 16 years, there will be a fee for your consultation. These fee's will be available in the surgery in the coming weeks.
Merriwa Surgery continue with our COVID vaccination clinics, please phone reception for more information.
Dr Emad Jasem
__________________________________________
Merriwa Business Gift Card
CHECK. IT. OUT.
Why Leave Town (WLT) gift cards are here and ready to be purchased. These are a great way to support local businesses, as it ensures that the money stays within the Merriwa community.
The WLT gift cards can be purchased from:
Merriwa Home Hardware
Merriwa Pharmacy
newsXpress Merriwa
WLT gift cards can be redeemed at any of the following participating businesses:
Cross Country Merriwa
Di's Clothing Patch
Eat at 153
IGA Merriwa
Landmark Townsend Merriwa
Max's Country Cuts
Merriwa Café & Bakery
Merriwa Petroleum & Ag Supplies
Merriwa Post Office
Merriwa tyre and service centre
Sansko Cafe
Welderup MWA Pty Ltd
These gift cards can also be purchased online, so even if you yourself are not a local, you can still purchase them as gifts, and send them to locals.
https://www.whyleavetown.com/purchase-online
#merriwansw #supportinglocal #shoppinglocal #whyleavetown #whyleavetownmerriwa#WLTMerriwa
_______________________________________
Merriwa Cup Race 2019
________________________________________________
Timelapse Painting Merriwa Silos
________________________________________________
Merriwa Community Diary
________________________________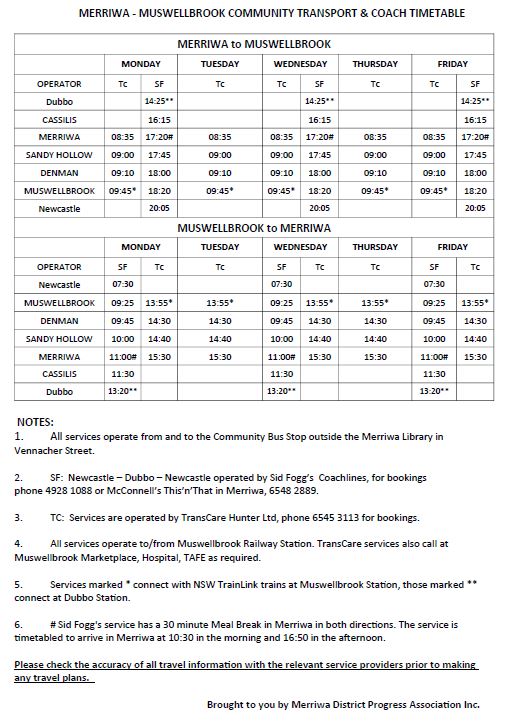 __________________________________
Merriwa Weather
Click on image to receive latest Merriwa weather